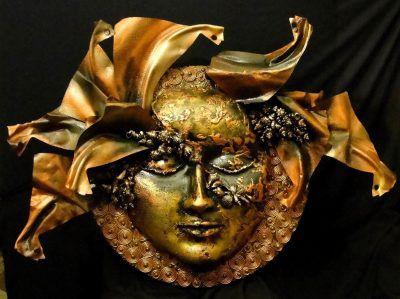 Are you ready for some FLAVA?
The sixth exhibition  FLAVA FRESH ! Artists' Reception and Awards Ceremony for 2017 is upon us! It will take place on Friday, Oct. 20th., from 6 - 9:00pm., at the North College Avenue Branch INDYPL, located 4180 N. College Avenue The artwork will be on view through January 13th, 2018.
I'm sad to say that I've never reported on FLAVA FRESH before. So I asked D. Del Reverda-Jennings, founder of FLAVA FRESH ! some questions by email to get me prepped for the event tomorrow.  And boy oh boy, did she respond: she gave me an encyclopedic history of FLAVA FRESH plus a bio for the artists involved this year.  I couldn't have asked for more!     
DAN GROSSMAN: What do you see as the mission of FLAVA FRESH?
D. DEL REVERDA-JENNINGS: FLAVA FRESH !  is our community's annual juried, multiple Exhibition Presentation Series which features over 55 Local and Regional Visual Artists... aspiring beginner, newly-discovered, emergent and early-career artists who practice in a diverse variety of disciplines, genres and levels of expertise. The 2017-2018 season marks the series eighteenth year under the title of FLAVA FRESH ! as a one of a kind multicultural exhibition presentation in Indiana, with the seven month long venue having received several honors and awards. The 2017-2018 season featured six exhibitions.
My initiative is to cultivate growth and development in visual artists that are unknown, marginalized or just starting out in the local art community. Our series brings a great deal of partnership to the table inclusive of artists, individuals and groups in the community as well as major art entities. We offer a full plate of opportunities tailored to showcase each artist's work and rounds of interaction with the public in commercial art venues. The exhibitions are designed to provide the participants with exposure, media promotion and professional exhibition experience as well as to give guests, art enthusiasts and potential clients, novice and established art collectors the opportunity to become more aware of, and to gain greater interest and appreciation for the work of these artists. Each segment of the series gives the public the opportunity to view their work and engage the artists in conversation. The encouragement and exposure also benefits the artists by their having to work hard by being actively involved and creating new artwork and documentation for each show/exhibition in the series each year.   
We have embraced a comprehensive model of inclusion.  With the world so greatly affected by malevolence, separatism and crazy violence, we utilize the series as a coming together of heterogeneity; different types ofindividuals creating art within various disciplines, genres and levels of expertise, sharing their lives through creativity.  What occurs within this union is a congenial meeting of like-minded creatives who seek fellowship and inspiration.  We are not here to outdo each other, to grandstand or flaunt our acumen, money or titles. Our participants are in search of common ground, a level playing field, a welcoming, non-judgmental environment to share their work, have a wonderful time and learn from others.
We have maintained diversity due to FLAVA FRESH ! being an all gender, intergenerational venue of individuals who are dissimilar but who have a similar vision, crave creativity, artistic information and love to share.  We have elder artists that are in their 80s a well as youth, whose work we began to accept in 2015.  In many ways we are like an extended family of sorts.  Diverse creatives and artwork breed a wide variety of perception, insight and opinion.  FLAVA FRESH ! promotes this facet by showcasing art intensely, by encouraging the creation of artwork and greater interaction between participating artists, their peers, family, friends, patrons and viewers.  
The series is inherently a reflection of the way that I want and hope for the world and the conscious co-creative life with which I celebrate and try to surround myself. I continue to strive for ways to help connect the bridges between the non-inclusive and to find ways to circumvent such issues. I work to take the series to a higher level of viability through positive partnerships and creative people producing an objective that can be embraced by the academic, layperson, child, adult, rich or poor. The arts in all its vastness is significant in that it offers individuals creative insight, a platform and a tangible product.  Art is for people who have a story to tell and share.  Art is a mechanism with which to expose imagination, creativity and information.  That is my intent, mission and initiative with FLAVA FRESH !
Dan: Why did you found FLAVA FRESH ! ?
D: I began displaying exhibits with the Indiana Historical Society and the Indianapolis Marion County Public Library (IMCPL) which is now entitled the Indianapolis Public Library (INDYPL), in the mid '90s, under the title of a "Celebration Of Spirit,"  but outside of those two welcoming entities there was an altogether different climate.   Being self-taught I had no academic or professional mentors or ties to offer advice or guidance when daunting situations arose.  When I began exhibiting my work in Indianapolis, I realized that I was actually really lucky to showcase work in prominent venues.   I was rather new to the concept of non-inclusion and as my journey progressed, I met others who had experienced much of the same or those who preferred to segregate themselves and their work. 
I found too many doors closed tight, clouded glass ceilings that artists of color here in Indiana couldn't see through, you didn't even have to slightly scratch the surface to find a bastion of non-inclusivity right here at home.  I had creative friends and acquaintances of all persuasions who aspired to have their work shown in a name venue in Indianapolis, but no connection to get their work out into the public's eye. I felt that because there was this hindering type of climate there had to be a formula to succeed, to be in the company of artists of all backgrounds in a welcoming environment, and to help others to enter the arts community.  I decided to conceive a way to overcome, thrive and offer a way for innovation and change.
FLAVA FRESH ! is a multicultural presentation with the goal to expose and cultivate appreciation for art, the artists and their works. My targeted outreach and implemented processes are to increase artistic diversity, growth and development in the area and beyond.  Main objectives include advocating for and serving an underrepresented demographic of the region's creative culture through cultivating artists, exposing their work and to assist their entering into the arts world.   We are a diverse group of artists; our complexion is rendered in creativity and artisanship and the Series is an all volunteer presentation which fosters a sense of community, gives the participants a formative experience and the opportunity to associate with artists from all walks of life, levels of acumen and degrees of melanin.   The Series acts as inspiration, acknowledgement and access for many artists who would otherwise be unknown and/or invisible. The platform that I conceived enables artists to contribute to the global art community and create a more inclusive dialogue. The programming and the activities are in fact a thorough training ground for participants to develop their craft, presentation skills and it gives our artists connection to acquiring access into the larger arts world. You have to work to participate. An artist can't just reach back into storage and pull out an old piece created a dozen years ago and expect it to be displayed in the exhibitions, it has to be fresh. Each artist learns in-depth from the experiences and the process of professional exhibition by being actively involved, creating new artwork and documentation for each show in the Series each year.  
The series is very popular and many of the artists are doing very well.  There has been a number of honors, awards and opportunities garnered by participants who have been selected and included in museum collections and exhibitions. Some have won national competitions or were showcased in national as well as international art expositions, others have been chosen for inclusion in prominent commercial gallery exhibitions, art venues, private/corporate collections, showcased on television shows and in movies and have been offered solo exhibitions.  A FLAVA FRESH !  artist has been showcased on an entire episode of the internationally syndicated HGTV's (Home and Garden Television show) "That's Clever" in addition to being featured on the DIYNetwork.   
One of the artists [Lobyn Hamiliton] who began showing with us years ago as a fledgling has had work featured repeatedly on "Empire," a hit television soap-opera stylized show.  We have had a fiber artist selected for an exhibition in Beijing China, one creative goddess had back to back museum solos, several have competed in the Bombay Sapphire Artisan Series, several have been featured in the acclaimed Harlem Fine Arts Shows and others have participated in Art Basel Miami venues. We can definitely say this about our participants, We Excel!
DAN: What were some of the innovations this year?     
D: 58 individuals created fresh new work for each of the six series exhibitions for the year, a number of whom had never set foot in an actual gallery or participated in a professional artist experience.  We're happy to say that we've had record sales this year! I also began showing pieces from a new Reliquary Series titled, "These Memories Bear Traces Of Tears"  as a part of having received a Puffin Foundation Ltd., Award.   
DAN: Were there any new venues this year?  
D: We have a Series 'beginning' home base which is the magnificent Indianapolis Artsgarden built by the Arts Council of Indianapolis, and our 'end' base which is the North College Avenue Branch - Indianapolis Public Library (INDYPL) which has been a base site for over a decade, hosting the final exhibition presentation, artists reception and awards ceremony of the annual series.  
We generally schedule out two years in advance and the venues that run between our home bases vary or alternate annually.   This year we had another fabulous show at the Butler Arts Center —  Clowes Memorial Hall of Butler University which included Clowes Conversations, a feature presented by Clowes and the Arts Council of Indianapolis. The whole building from the top Tier on both sides, to completely around the lobby was overflowing with over 175 pieces of fresh, vibrant new artwork! 
We also had a beautiful display of work in the Office of the President of Butler University.  Another awesome showing was our fourth exhibition this past September at the Indiana Landmarks Center, and for our fifth segment of the Series we were featured in the  Julia M Carson Learning Resource Center Gallery at Ivy Tech Community College.   
DAN: What are some of the challenges/advantages for some of the FLAVA FRESH artists, working in Indy?
D: Indiana does not have as large a market for visual art as say Chicago or New York: most artists in the Midwest have day (or night) jobs to compensate.  Mediums and materials are very costly: an artist may be able to conceive many pieces or one grand artwork, but find it hard to come up with the money to create the piece.   
I sell the majority of my work outside of Indianapolis, it may be because of the "The grass is greener," or  "From somewhere else is better" mindset syndrome. Or it may be because they just like my work. I just recently peeled off over $380 to send one piece of my work out of state and I definitely have issues with the prohibitive cost of shipping and the travel expense involved when participating in a exhibition outside of your area.  
Many of the artists that I know create their work at home, few have commercial studios due to the ballooning rent increases.  Most can barely keep up a home and create work, much less maintain a commercial studio and/or a gallery.  Just visit the Mass Ave. Arts District, it's now comprised of  restaurants, bars and shops.  It's a shame that there are so many vacant commercial spaces in Indianapolis though, vacant houses and buildings are everywhere.  Perhaps someone with a vision can see the potential in opening these latent resources to artists.   What on earth happened to the HUD houses and buildings that the government used to sell on the cheap.
DAN: Can you tell me a little about some of the artists who are displaying their work at the N. College Branch of the Library?
D: We  have art star Omar Rashan, whose work was snatched away by collectors while the paint was still damp throughout this FLAVA FRESH 14 ! season.  This Indy art entrepreneur works in 2 and 3-D., is a designer and co-founder of "The Design Crate" based right here in the city.  Rashan, has experience in various genres including photography, videography, concentration in Commercial Art/Visual Communication (Vincennes University 2001), Traditional Painting, Freelance Design.  Photoshop and Digital Illustration, 2003 - Current.
R.A.  Buys is a California transplant is a popular participant whose complex figurative drawing work has flourished as has his inventive installations.  He has sold work through his participation with FLAVA FRESH !  and he now works with several art groups locally including Generation Indy. He is an intern at Redman Art Restoration and is the owner of Blue Milk Studio in Indianapolis.   Buys has an Associates Degree in Fine Art from IVY Tech Community College, and is a Fine Art Sculpture Student at Herron School of Art and Design, in the process of earning a BA in Sculpture.
Tasha Beckwith;  one of our most well known artists has been a FLAVA FRESH ! participant for quite some time.   Her work has developed exponentially throughout the years and has flourished creating striking signature stylized pieces that are easily recognized. Tasha created a mural for KIB.  Was featured in the Arts Council of Indianapolis' 2015 presentation of Art & Soul at the Indianapolis Artsgarden.  Painted several Traffic Signal control boxes.   Participated in the High Art Billboard Project in 2015, the National Afro-American Museum and Cultural Center, and the 2016 Arts Council of Indianapolis' 500 "Welcome Race Fans" Project.
Felecia Wellington is a mixed media artist that is new to the FLAVA FRESH ! family.  She is an author, has never exhibited visual work professionally and earnestly desired to show her visual work publicly.  An artist friend and FLAVA ! participant re-introduce her to me after my having saw a piece of her visual work promoting her book in her booth at a booksigning.  I really liked the unusual media and the style and told her about the FLAVA FRESH ! Series.  After having participated in this season's presentations Wellington, says that she "Couldn't have dreamed that it could be like this.
Michael Evans is a self-taught artist and illustrator, has participated in the Series for years. He's also our (FLAVA's! graphics guy).     Evans acquired a formal graphic design education at The Art Institute of Indianapolis in Indiana.   His work is known internationally and he designs and commissions for high profile clients including; American Airlines and The U.S. Virgin Islands Hotel & Tourism Association.   The artist and entrepreneur has sold over 900 limited edition prints to fine art retailers and individuals in many states across the country including IN., NYC., TX., NC., and CA.  He recently created commissioned fine art works for the U.S. Virgin Islands 2017 Centennial Celebration commemorating the official acquisition and transition from Danish occupation to the United States.
Anthony Radford is a veteran FLAVA FRESH ! artist from the beginning in the1990's.  Radford is the founder of the annual Indianapolis Public Library's "Meet The Artists" exhibition and is employed by the Indianapolis Public Library as the Program Development - Artist In Residence.   He is a 2000 NUVO Cultural Vision Awards winner, the Curator and host of the annual Indianapolis Public Library (INDYPL) – African American History Committee (AAHC), presentation of "Meet The Artists'" African-American Exhibition of Art.   
Tony Radford feels that, "FLAVA FRESH ! is one of the most valuable exhibit venues in Indianapolis, and there is not another like it that he knows of.  I am always more than happy to participate and look forward to each years Series of presentations.  FLAVA FRESH ! has made many of the artists dreams come true by learning how to show their work, having the work exhibited in professional galleries, attending the opening events, having contact with the public, the other artists and even selling their work."   He goes on to say that "It is a great thing, and D., does it all.  She shows the artists how to present artwork, takes our work to professional galleries, writes about us, speaks about us, exposes our art, puts us out there in art venues that we didn't even know existed or only dreamt about getting in.  D., inspires, motivates and pushes us hard to succeed.  It's always a great show and presentation, time after time each year.  The art is always poppin, the artists are a great group each year and the food is always great." 
Radford, has shown his work in local and regional group exhibitions, is a former member of the local advisory committee of the Indianapolis Art Center (IAC), is a former artist mentor and instructor for the IAC's ArtReach Program (a youth art program which originated in the early 90's by noted local African-American artist John Andrew Spaulding).  Radford was also a longtime art instructor for Young Audiences of Indiana.
He and I were recently honored by the Indiana Minority Business Magazine (IMBM), the Indianapolis Recorder and IBM as a Golden Laurel Award recipients in 2017.   
Tony Radford reorganized the "We ARE" Artist Group (previously "I AM") with new members in 2016, and began the revival of the "Art In The Garden."   Radford, is a Co-Founder "I AM" Artists' Group (which included William Ryder, George Murff, Terry Wilson, and myself D.  Del Reverda-Jennings), and former Co-Founder of the "INDY Renaissance" an Indianapolis, Indiana., African American Artist Consortium.   In 2013 he was selected as one of the prestigious "125 Neighborhood Leaders" along with me and 123 others.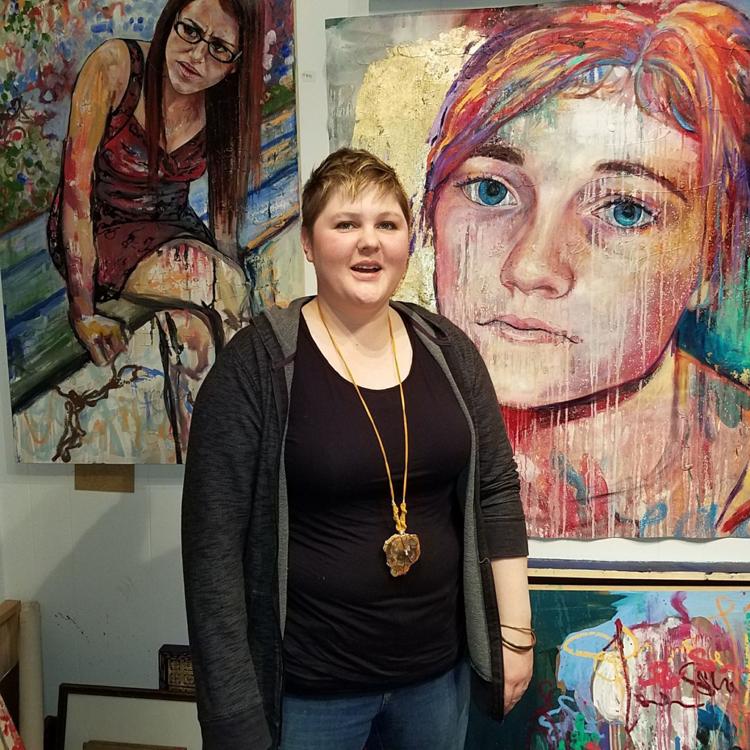 Andrea Jandernoa is an Indianapolis painter and painting instructor at the Indianapolis Art Center, uses bold dramatic color to reveal her narratives, with an added dimension often surprising to many, "embroidery" a traditional womans domestic task, sewn into the threads of the canvas that her brush lays pigment down upon as a way to manifest identity in her work. 
She holds an MFA in philosophy & critical theory, a BA in studio art, and a BA in English literature.  Jandernoa, has been a participant with the Series for several years now and is an invited participant with the "FLAVA FRESH ! Women In Art" Lecture Series.  Interest in her artwork has grown consistently.
 She recently mentioned that, "As an artist who has participated in FLAVA FRESH ! for the past three+ years, I noticed some remarkable differences between this exhibition series and other exhibitions of which I've been a part.   I immediately recognized a strong sense of community from my very first interactions with you and the other artists.  In many ways FLAVA FRESH ! encourages more interaction between artists and a stronger dialogue with viewers that contributes to a feeling of community often lacking in other group exhibitions.  In addition to fostering a sense of community, FLAVA FRESH ! exhibits work from a diverse group of artists working in many different styles and subjects.  While speaking to the other artists I've noted diversity in age, race, religion, sexuality, artistic background, and other things.  Often times group exhibitions tend to be more homogeneous either in work or in artists.  You have been able to achieve a constant level of diversity and it has affected the impact on the community and the artists by embracing a comprehensive model of inclusion."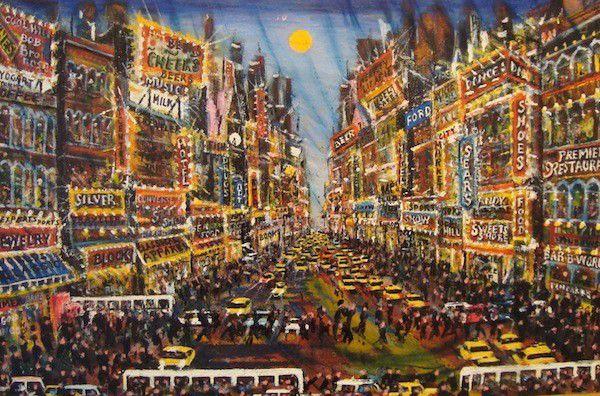 Jerome Neal is a veteran FLAVA FRESH ! artist from back in late 1995, '96.   He has had work surveyed by the Indiana State Museum while on display in presentations of FLAVA FRESH !.   His artwork is held in the African American collection of the Indiana State Museum, as well as in a number of area private collections.   Had a solo exhibition at the Arts Council of Indianapolis - Gallery 924 in 2016. 
Dana Rae Roudebush is a veteran FLAVA FRESH ! participant and a former president of the Hamilton County Artists Association (HCAA).  The painter has had her colorful and compelling work purchased through FLAVA !    Roudebush attended John Herron School of Art and taught "Applied and Appreciative Art" at Depauw University for four years.  She was selected as the "Artist of the Month" in 2012 by Hamilton County Tourism.  She is the owner of Sparkling Moon Art.
Lydia Burris is an emerging Indianapolis artist new to the FLAVA FRESH ! Series, is a creator of unusual, strange and peculiar artworks that manifest from an emotional inner fantasy realm.  Burris works in mixed media and her explorations into this unconventional preoccupation lead to her giving life to organic forms by adding human elements.  Her pieces are saturated with color and reverie, so very beautiful to view.  
She was awarded a Stutz Residency Grant for 2009-2010, received her BA from Indiana University Bloomington with a double major: Fine Arts and "Illustration of Mythology," a study through the Independent Major Program.   In 2005, she received her Masters of Fine Art from the Norwich School of Art and Design, Norwich England.  Teaching Artist; Ivy Tech College: Materials and Process.  *Ivy Tech: Drawing I and II.  *Ivy Tech: Painting I and II  *Nickel Plate Arts, Noblesville, IN.: Drawing Workshops.  Her work is held in corporate collections in Indiana.
Burris has participated many art venues in the region including;  The Stutz Association Art Gallery, Gen-Con - Indianapolis Convention Center, HorrorHound Weekend, the annual Stutz Open House, Curio Cabinet - Indianapolis Art Center, the Columbus Learning Center - Columbus, Indiana, Days Of The Dead Convention - Wyndham Indianapolis West, Fandom Fest -   Kentucky Exposition Center, Louisville, KY., Bizarre Noir - at the 5th Quarter, Indianapolis.
Stacey Maupin Torres has participated several season's with FLAVA FRESH !   Her work has been greatly exposed through her participation with the FLAVA FRESH ! Series and has been featured on the Criminal Minds (Season #10) television series, and she has had three recent solo shows including the Janice Mason Art Museum, in Cadiz, Kentucky.  The Art Association of Henry County in New Castle, Indiana and just closed an exhibit at the Henry County Community Health Hospital.   Torres, is a 2016 recipient of the Indiana Lt. Governor & State Treasurer Hoosier Women Artists, and received an Advanced Merit Award in the Whitewater Valley Arts Association Regional Exhibit in 2015.
[Hector Del Campo is a FLAVA FRESH ! artist.  The following is from his artist's statement:
Being a first generation Cuban-American, I use cultural color fields, as well as the aesthetics of street art to explore how one's upbringing is directly influenced by ethnic heritage. By exploring the dualities between culture and environment, the abstract movements of my foundational layers create an intense tactile landscape while my geometric qualities are a direct relation of the concrete jungle around me.
My work explores how we may be able to accurately record and express our experiences through memories. I commonly juxtapose the stenciling of parallelograms creating spacial, three-dimensional and atmospheric spaces. Throughout the development of my work, the clarity of my forms in connection with the tactile layers of bleeding physically controlled drippings creates a vivid duality rich of action in addition to constructed geometric planes.]