Who wouldn't want to be a part of something praiseworthy- everyday- if they knew it were attainable? If you're a business owner or manager, you know the effect praise can have on your employees. (I hope.) Unfortunately most in a management position believe that the motivational power of praise comes from them- that because the praise has been offered, the recipient should be motivated.
Wrong.
The power of praise lies within the recipient. The recipient must allow you to influence them. And there are really only two groups we as individuals will grant that authority to: those we fear and those in our Tribe. Some groups use fear effectively, but I prefer to focus on Tribe. Our social Tribes are extremely powerful due to their foundation. They are based on mutual respect and interest AND they are self-selecting.
So how could a marketer harness the power of praise from respected sources to motivate consumers? You deliver a product or service effectively branded as something praiseworthy. There are two popular methods of doing so.
Prestiege
Certain brands have leveraged the desires of the consumer and their need to impress the Tribe. Some do so via detachment and surrealism:
Others do so by highlighting quality and/ or refinement:

Both are proven strategies for the respective industries. Yet others do so by understanding that the Tribe may have a geographic relevance and capitalize on it: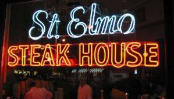 Association
What I believe to be an equally powerful tool is to craft a brand that is inherently praiseworthy. I'm referring to cause-related marketing- embracing a charity or cause to jointly craft a brand statement for mutual benefit. If you've purchased fair-trade anything, shopped the (RED) line at the Gap and other retailers, or participated in NUVO's own Shop Local campaign, this concept has impacted you as a consumer.
Over the last two years, we've seen a cause sprint past the tipping point: Going Green. Everyone from the government to local specialties are embracing the cause. But not all will be able to reap the rewards. By embracing a cause as a marketer you are asking to join that specific Tribe- and should do so knowing that there will be an expectation of transparency, honesty and service to the cause. In return, you may be embraced by a highly-concentrated, motivated, vocal, and loyal Tribe.
Cause-related marketing is a much more flexible and accessible option for the small business owner. Charities are always on the lookout for partners to help them spread their message. And you can be sure that if your product or service is sufficiently associated with a cause, it will resonate with that cause's Tribe. The members will earn that much desired praise from one another- simply by interacting with your brand.