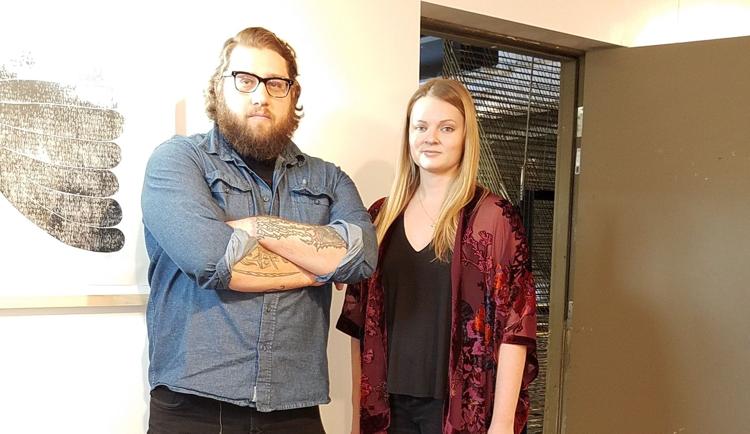 A theme asserted itself into my First Friday gallery hopping this month. It came unexpectedly as I was flipping through Facebook while sitting in Rabble Coffee. I came across a post from Julia Muney Moore, who just so happens to be director of public art at The Arts Council of Indianapolis, and whose Facebook page is a sort of Grand Central Station for art news.
After having stopped in Rabble earlier that day, she posted pictures of "Awesome Carl Pope Work at Rabble."  Well, of course, when I looked up, I saw the same posters she had posted.
Pope co-curated the exhibition Carl Pope: Mari Evans at Tube Factory artspace in 2017. His installation highlighted the late African American poet, dramatist, and writer linked with the Black Arts Movement.  
Evans' work is often very direct, and urgent. But the phraseology of Pope's posters currently on display is often more elliptical than what I've seen of Evans' work, with phrases like "SAY YES, DO NO," and "I THINK THERE 4 I THINK I AM." But one of the posters contained a pretty direct statement, "VENTURING INTO BLACKNESS CAN BE A LONELY BUSINESS."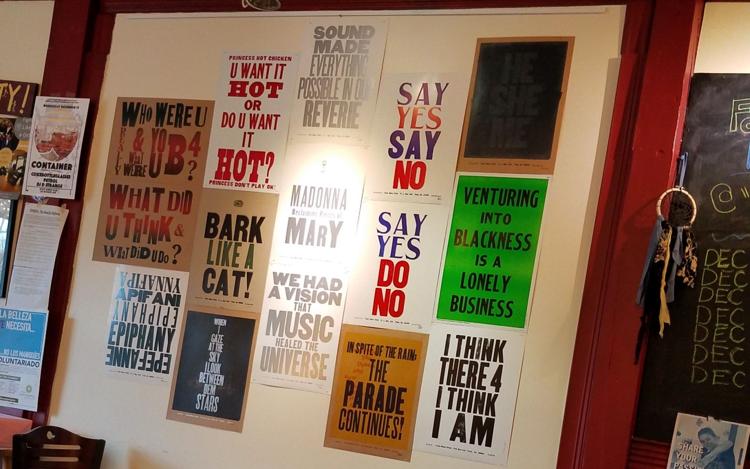 My first official stop, as it were, on my First Friday hop was not Rabble, however. It was Cat Head Press on the east side of town where I was able to check out Nathaniel Russell's playful exhibition of recent prints and drawings titled, Notes to Self. As with many of the exhibitions at Cat Head's Middle Space Gallery, the work here was produced in house by the exhibiting artist.
I particularly liked Russell's wood cut print "Big Black Bird," characterized by its simple design, clean lines, and for the way it showcased the grain of the wood used as a result of the printmaking process.  
It made me think of the all the emblems where the bird is used as a symbol, from the NBC peacock logo, in the German coat of arms, to the eagle standard used by the Roman empire.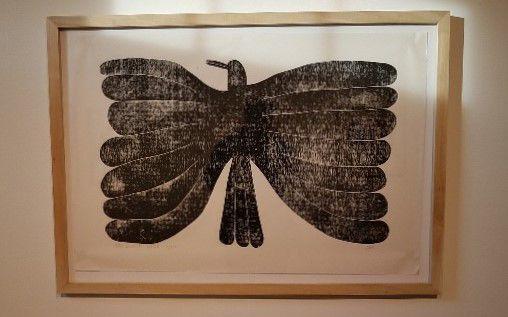 But here—in this time, in this space—such a work can mean whatever you want it to mean. In a way I'm grateful that I live in a time where art can be appreciated in such a manner, however long it lasts.
The Indianapolis-based Russell, who had his "fake fliers" showcased in Sarah Urist Green's The Art Assignment in 2015, frequently returns to the San Francisco Bay area, where he spent several years after college, to collaborates with friends on various projects.
While I was at Cat Head, I chatted with Executive Director Dominic Senibaldi and Program Director Liz Wierzbicki about the Create Indy grant they received from the City of Indianapolis. The money will be used to facilitate CHP's work with 10 artists in multiple genres of art-making to make custom images to be printed in limited editions. As an end result of this process, CHP will host an exhibition to showcase these artists' work. You can check out my full interview in next week's print edition of NUVO.  
My next stop was the Harrison Center, where I caught up with Executive Director Joanna Beatty Taft in the Harrison Gallery.
Taft was excited, when I talked to her, about having just received a $2 million + grant from the Eli Lilly Endowment for its "Convertible" project, the goal of which is to make its facility more accessible to the community, including to people with disabilities. Plans call for a karaoke elevator, an LED tetherball, and a rooftop garden.
In the Harrison Gallery we were surrounded by the annual color show. The mostly 2D hanging works were "onyx" colored referring to the sponsorship of the real estate developer Onyx & East, which developed the townhouses at 16th St. and Central Ave., a few blocks from the Harrison Center.
I asked Taft about this sponsorship.
"Onyx and East is a logical partner for promoting community" she said.  She also pointed out that such partnerships, such as a 2008 UPS-sponsored "Brown Bag" holiday exhibit, were not new for the Harrison Center. 
There was also the 2011 holiday exhibition partnership with the Nottingham Realty Group.
"The arts will not survive without such partnerships," she added.
I confess that I haven't really paid a lot of attention to such partnerships before.  But that was before the Harrison Center started its second annual one-day Pre-Enactment festivals. The 2018 festival, which wrapped on Oct. 6, was billed on the Harrison website as an event where "art fights gentrification."
Maybe it's time to start asking questions about such partnerships.  
Downstairs at the Harrison, in Hank & Dolly's Gallery, Bloomington-based Mark Blaney was on hand answering questions about his exhibition of paintings Learning about Light which included landscape paintings, portraiture, and 3D ceramic work. When asked about his work, Blaney says that the process of composition for his landscapes takes place not "en plein air," but in his studio, from drawings that he's made from life.
There is a fox in his landscape "Fox," but what might be more engrossing is the landscape beyond where the treetops and the clouds sort of do a Vulcan mind meld.
His oil painting "Orchard Bees," in which you see bee houses scattered among trees is set at a twilit hour of day. Approaching the painting at first, without knowing the title, I was struck by the the lighting of the painting, and the sense of mystery it gave off.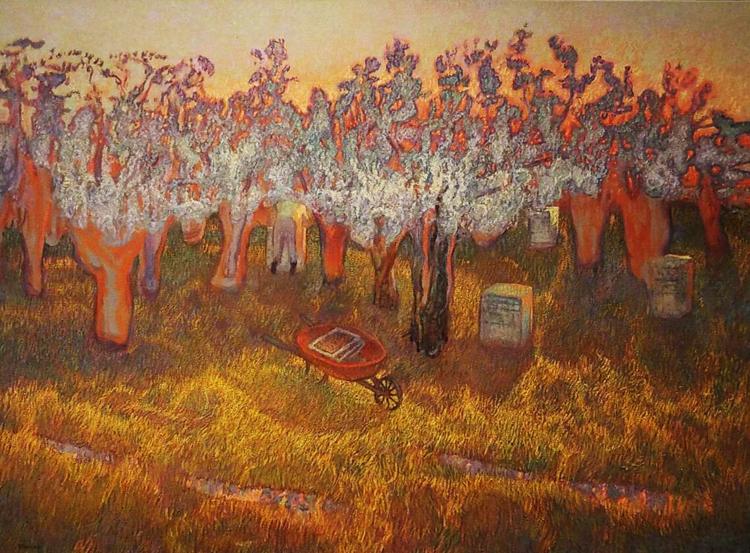 Up in the Harrison's gallery annex, I got to check out Ball State senior Tonya Wong's large-scale charcoal on paper drawings that mashed up the Indy skyline with all sorts of pagodas, dragons, and hanging lanterns with Chinese characters.
Wong told me that she grew up in Indianapolis, and that her father was born and raised in Singapore.
It was exciting to see such work, where the landscapes blend and blur together here as if in a dream.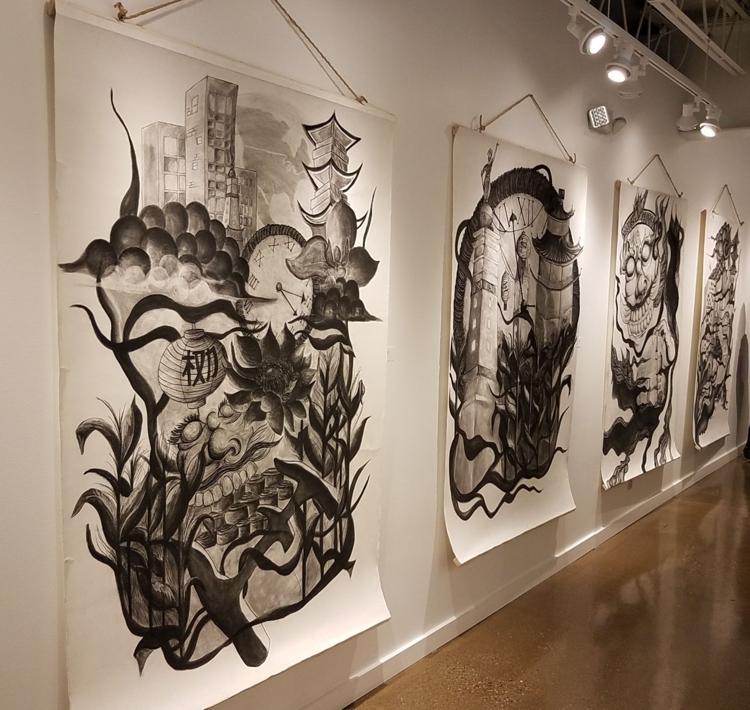 My last stop of the evening was Future Friends Holographic Magic Club at the Murphy Art Center where Tatjana Rebelle, a spoken word artist and host of the biweekly VOCAB series at White Rabbit Cabaret, was scheduled to read work from her first chapbook: This is America: When They Use Your Words Against You, which was for sale that evening.
The work that she happened to be reading was the speech she gave at the March for our Lives Rally on March 24, 2018. Her speech filmed by a family friend, and then shared on a Facebook page. A white supremacist vlogger, Vincent James of Red Elephants, got a hold of that video clip, and used that clip as fodder in a ten-minute racist diatribe, where he labelled Rebelle as being "anti-white."  
Rebelle's installation at Future Friends not only included a screen with that YouTube video on repeat, where you see James expounding on why "Blacks are inherently prone to violence" using skewed statistics, and non-peer reviewed tomes like Charles Murray's The Bell Curve in an attempt to justify the points he was making. The YouTube video gained over 80,000 views and more than 2,000 comments.
Other parts of the installation included said comments, blown-up large-scale as wall placards, as well as Rebelle's own artwork.  
Among those also reading to an overflow crowd were the Tuesday Xavier Collective, Salma Mohammad, and Too Black, who recited "Blood Splatter," a piece that he's read previously to the accompaniment of the jazz band Clint Breeze and the Groove, a piece that expounds on the 400 + years of oppression directed at Africans and African-Americans.
Despite the music bleeding over from neighboring venues in the Murphy Art Center, which is a recurring problem at the venue—I'm thinking in particular of the experience of iMOCA which was located near the HI-FI until late 2016—the readers managed to make their voices heard.  
Among those in attendance at this event were members of Muslim Youth Collective, Jewish Voices for Peace and the American Friends Service Committee.  
I suspect that it was not the intent of Vincent James in any way to have anything to do with bringing so many different people together for an art installation / community gathering such as this.
But that's exactly what happened this First Friday.