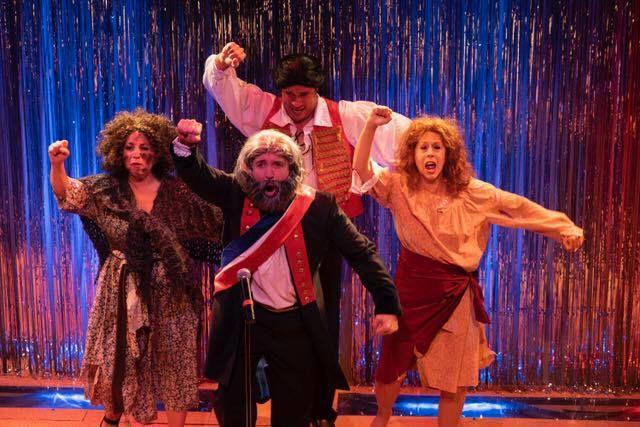 Sometimes, there is brilliance—an idea that is truly groundbreaking, pushing and challenging fellow artists to the next level. Let's use Les Miserables as an example. When it premiered, it was considered a musical masterpiece. Now, 30-odd years later, if I ever have to sit through another production of Les Mis, I am going to throw myself on that barricade in the hope that a stray kitchen chair takes me out.
For those of us who can't take another rendition of that lazy Susan musical, as well as other musicals that have descended into the tedious (or just WTF, ahem, SpongeBob), there is Forbidden Broadway.
The inaugural production at The District Theatre, formerly Theatre on the Square, is a (literally) nose-snubbing show presented by Actors Theatre of Indiana. The cachinnating-worthy performance parodies and bullies musical theater in ways that go beyond irreverent and into territory that some mainstream musical-lovers would find blasphemous. And it's divine.
Granted, this means that a working knowledge of musical theater history and present trends is a necessity to cachinnate at—or even "get"—this show. Various popular show tunes have been re-lyriced to indulge in how hokey and/or hackney their sources really are.
Since its inception in 1982, Forbidden Broadway has continued to evolve. As new musicals/actors/producers hit the stage, many ripe with potential parody material, they have been incorporated into the show. Hence, we have the unbelievably hilarious Lion King with a demented Rafiki and neck-braced actors forced into costumes the Inquisition would have envied. There are some classics in there too, rehashes that won't die, making the "saucy Fosse" number hysterical in its truth.
Director Billy Kimmel is the Mad Hatter to this insanity. With the fab-u-lous Brent Marty on piano, Don Farrell, Logan Moore, Cynthia Collins, and Judy Fitzgerald outdo themselves in their sheer glee of the devastatingly ludicrous. Special goof awards do need to go out to Farrell and Moore for the foolishness that so often falls to them. Donning those Mamma Mia costumes is a tame example, but they take to them like cats to chlorinated swim trunks. Farrell also belts out some awesome notes, and Moore was born for this kind of show (see my review of Edwin Drood, which contains many of the same descriptors I use here).
And Terry Woods' costuming is absolutely brilliant. These are not merely costumes—they are a fifth actor, as essential as the cast wearing them. Some are infected with details a keen eye will appreciate. And while props are sparse, the itty-bitty baby chandelier for the Phantom is adorable.
This is an excellent opening for The District Theatre. A standing ovation to ATI for making it so.