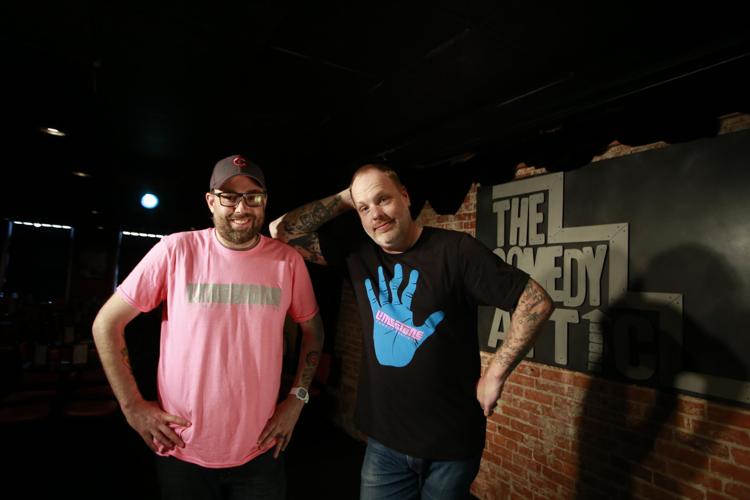 EDITOR'S NOTE: Before Limestone's fifth year kicks off in Bloomington this weekend, we prevailed upon the comedy fest's co-founders Jared Thompson and Mat Alano-Martin to tell us five things about their excellent fest's history. And then five more. And then five more. And you see where we're going with this. This year's fest is headlined by W. Kamau Bell, Colin Quinn, Janelle James, Fortune Feimster and more. 
5 very serious Limestone Comedy Fest facts 
1. Every year the festival brings over 50 comedians from across the country for 30 shows and events to 5 different venues over the course of 3 days.
2. Limestone is not only Indiana's first comedy festival, it's also one of the biggest in the Midwest and in the top 12 nationally when it comes to number of national headliners, shows and attendees.
3. Our unofficial tagline is "The Greatest Weekend of Your Life," which is great except on Twitter where it takes up most of the characters.
4. Similarly, we christen those who donate to the festival "The Greatest Human Beings To Have Ever Lived," that designation is completely accurate and simply cannot be shortened.
5. The number of downloads of the various episodes of podcasts recorded live at Limestone over the years now reach in the millions. Which is pretty cool, especially if, you know, any potential festival sponsors are reading this.
5 memorable moments    
1. Opening night of the opening festival, seeing a year's 
worth of planning and work come to life, capped off by 
a stunning performance by Tig Notaro.
2. The Doug Benson Movie Interruption of Breaking Away 
at the Buskirk-Chumley Theater, especially when the 
words "Filmed in Bloomington, IN" came on the screen.
3. Patton Oswalt headlining our second year, battling a cold 
and a mysterious beeping noise somewhere in the venue 
and still delivering an unbelievably great set.
4. Alex Brown lifting Ryan Singer over his head Dirty 
Dancing-style during "I've Had The Time of My Life" 
at our "Islands In The Streams Karaoke Duets With 
The Comics" after-party.
5. Every year The Blooming10 Showcase is a highlight for us as we watch 10 of our scene's most talented and hardest working comedians shine on the city's best stage. Jared usually cries.
5 Big Problems We Solved In 5 Minutes Or Less   
1. One year one of our headliners was not happy with the chairs that were provided for their podcast taping, and let us know about 10 minutes before showtime. We quickly "borrowed" some chairs more fitting to their particular "chair vision" from The Bishop and then returned them again before The Bishop opened for business. Thanks, Stephen! 
2. A mic cable decided to crap out a few minutes into Erin Foley's set the second year. It took us a few minutes to run a new one over to that venue and resolve the issue, but on the bright side Erin rolled with it and made the whole thing hilarious.
3. Year four, we had two last minute cancellations by headliners that affected the schedule and the shows that badge holders had pre-selected. Festival friends Geoff Tate and Tom Thakkar jumped in to fill in and the Buskirk-Chumley Theater Box Office staff contacted every badge holder affected and helped them adjust their schedule to new selections. A huge reason the festival runs as smoothly as it does is due to how phenomenal the BCT staff is at every level.
4. Something that we did not plan on last year was that The Blockhouse, the new music venue located below The Back Door, would unknowingly book a loud punk show to take place during our Saturday late show at The Back Door. We discovered this when they started doing their soundcheck at the very end of the early show. Nicci from The Back Door and David from The Blockhouse helped us negotiate with the band to push back the start of their show until after our late show ended. We accomplished this by giving the band free tickets to the comedy show and a case of beer, the official currency of punk rock and comedy diplomacy.
5. "The beep" during Patton Oswalt's set that we mentioned earlier. Let's face it, we didn't solve this, but (knock on all the wood) it hasn't happened since and won't again this year. Fingers crossed, lucky rabbit foot rubbed, sacrifices made to the old gods, etc....
5 Former Limestone Headliners You Can Watch On TV Right Now
1. Tig Notaro stars in the dark comedy One Mississippi on Amazon, inspired by her life. Tig returns to her hometown in Mississippi, where she contends with the death of her mother and her own mortality. 
2. Pete Holmes relives a fictionalized version of his early days in stand-up on the Judd Apatow produced Crashing on HBO.
3. Maria Bamford teamed up with Mitch Hurwitz, creator of Arrested 
Development, for the Netflix original series Lady Dynamite, which deals with her move back to Los Angeles after spending six months away in recovery for bipolar disorder.
4. Michael Che and Sasheer Zamata can both be seen every weekend 
on the comedy institution that is Saturday Night Live on NBC. 
5. Roy Wood, Jr., Michelle Wolf and Gina Yashere are all correspondents on Comedy Central's flagship program, The Daily Show.
5 Comics Who Came To Us Through Our Open Submissions Who Went On To Do Great Things 
1. Adam Conover. A relatively unknown comic with an amazing head of hair at LCF14, now Adam is the host of fantastic Adam Ruins Everything on TruTv. 
2. Saurin Choksi. A Chicago based comic who made such an impression on us our first year that we had him back for year two. We weren't the only ones impressed by Saurin as soon after he became the host of the White Guy Talk Show on Fuse.
3. Rachel Bloom. The Golden Globe and Critic's Choice Award-winning (and Emmy-nominated) creator and star of The CW's Crazy Ex-Girlfriend brought her musical comedy to LCF14. It was only a few months later that her show got picked up and her path to the red carpet began.
4. Brad Wenzel (LCF14/15) and Emily Galati (LCF15) have both appeared on Conan after performing at Limestone, and Anthony Devito (LCF14) recently made his network television debut on The Late Show with Stephen Colbert.
5. Tom Thakkar, Janelle James and Ben Moore have all returned to headline the festival after coming to the us via the submission process. Janelle (headlining this year) was also recently featured on @midnight and has been touring the country opening for Chris Rock.