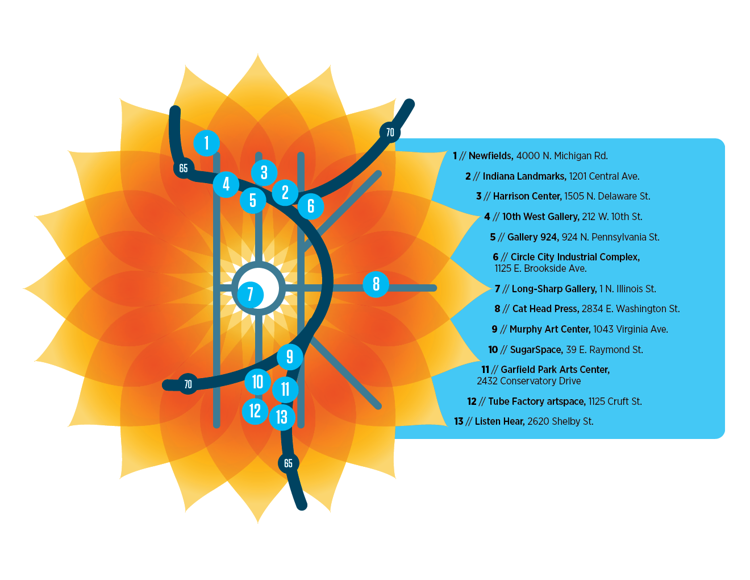 If you can afford the $175 ticket price, the Evening with Penrod at Newfields—the night before the 52nd annual Penrod Arts Fair—it would be well worth your investment. That is because ticket proceeds benefit Indy arts programs. You will also have your pick of 150 Penrod artists selling their work at this event. But as you'll see in this preview, going to Penrod isn't the only way to give back to the Indy arts community this First Friday.
Oh yeah. I suppose that I should talk about the food available at Evening at Penrod. If you're hungry, you'll get to munch on food from some of Indy's finest restaurants, from Sangiovese to Artie's Paleo OnTheGo.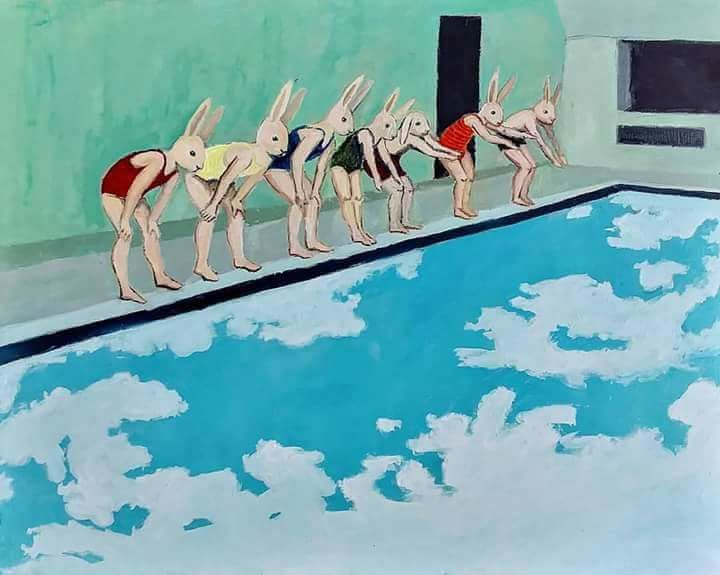 For the more budget-minded, you can munch at Indiana Landmarks at the Sankofa exhibit presented by We Are Indy Arts, a collective of local African American visual, performing, and literary artists. There will be complimentary food and drink available. Some of these artists you may have seen in exhibitions about town, such as 2018 Beckmann Fellowship winner Gary Gee, and some may be new to you. You can also check out a performance by Griot Drum Ensemble.
Aside from the free food and wine also available at the Harrison Center, I'm particularly looking forward to seeing the new paintings of Harrison Center studio artist William Denton Ray. While the subjects of Ray's paintings often appear to be tribal mutants from other worlds, his show Configurations will highlight his new abstract work.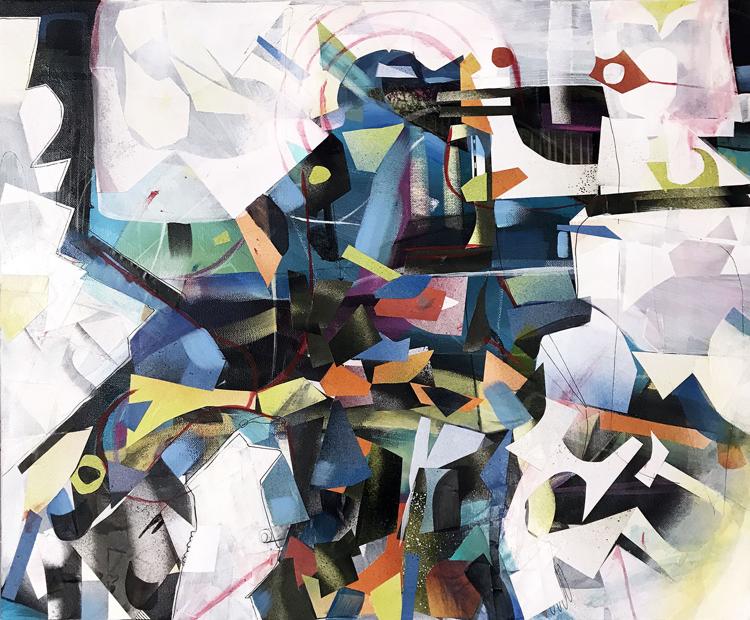 "I think of this new body of work as visual instances, brief snapshots from my subconscious and vague dream-like memories that explore new realms," Ray says in the Harrison Center press release. "What I enjoy most about this new work is by not forcing the subject matter these paintings are revealing new forms and configurations that are abstract with hints of things slightly recognizable. This new process is key in developing new imagery, abstraction and distorted worlds for the viewer to explore."
In the Harrison's City Gallery, you'll find painter Courtland Blade's Non-Place, Supermodernity 2.0, which I'm assuming, going by the Harrison Center press release, will continue his exploration of curiously empty urban spaces.
In the Speck Gallery, you'll find The RONLEWHORN Portrait Show by illustrator and screen printer Aaron Scamihorn, described in that same press release as "a collection of unique and interesting faces with an emphasis on pop culture."
Again from the Harrison Center press release,
"HC studio artist Christina Hollering guest curates the Underground Gallery in with Vuja De, an interactive and experiential group show. Local artists will showcase artwork, installations and fashion wear that is either UV responsive or uses light creatively to interact with the audience. Opening night will also feature UV face painting by artist Julie Young and one-of-a-kind outfits by local fashion designer Katy Newton that can be worn by the audience."
I wonder about the title of this show. If it were titled, Déjà vu I might have a problem with it but Vuja De doesn't sound like anything I've ever seen before. But I could be wrong, pas n'est?
You'll also find work by Bobby Gilbreath and C.J. Martin in the Gallery Annex.
And if all that weren't enough, Sept. 7 is also Open Studio Night at the Harrison where all 36 Harrison Center studio artists will have their doors open to you.
At 10th West Gallery, Garbage won't feature any garbage cans with Oscar the Grouch popping out and bitching at you for some sort of perceived slight. Instead, this exhibit will be all about repurposed materials that artists use in order to make art, in particular the Hoosier artists Patrick Driscoll, Matt Kräck, and invited Georgia resident Scott Silvey.
The group show at Gallery 924 honors the inaugural (2017) DeHaan Artists of Distinction award winners—Indy-based artists Philip Campbell, Shawn Causey, Nhat Tran, and Lauren Zoll—no strangers to repurposed and/or unusual media  in their artworks.
The award was created in 2017 in order to honor Indy-based contemporary artists with grants up to $10,000 to fund future work.
Phillip Campbell used that money to work with textiles and sewing machines, after working extensively in wood carving, and he calls quilting "the ultimate tactile art." You might also call it the ultimate tactical art, considering that one of the "textiles" he is using is Kevlar.
These days in Indy there's not just an abundance of artists' media out there, there's an expanded range of artists' display spaces. SugarSpace, a gallery based in a residence—a "house gallery"—has two exhibitions come First Friday. Shirts vs. Skins, featuring works by Gustavo Ayala and Jon Love, will be at ground level. If the image on the Facebook events page for this one is any indicator, it's going to have a sexual charge to it. Autozone by Austin Reavis is featured in the upstairs gallery.
At Cat Head Press, there will be an opening reception for an exhibit of new work by Anna Martinez. In August NUVO's Jennifer Delgadillo wrote the following of her work then on display at 10th West Gallery, "Martinez's paintings are muted pieces that seem to reference or exist more as minimalist sculptures than they do as paintings with their bold form and assertiveness."
Inside the ginormous Circle City Industrial Complex, From I to Eye, by Full Circle Nine artist Eve Eggleston will open in CCIC's second floor Schweitzer Gallery. Her mixed media work is influenced by mythological allegories. (Speaking of mythological allegories, you might just find a minotaur or some other creature, or at least a representation of said creatures, if you get lost in the labyrinth of CCIC and wind up in Casey Roberts' studio.)
Meanwhile, at Satch Art Space, guest artist Kerrigan James Clark and Satch will have a show entitled Inside Outside, an exhibition of Clark's contemporary mixed media paintings and Satch's assemblages created from recycled material.
What's on display at Long-Sharp Gallery isn't recycled but reformed: ISIS Bullet Hole Paintings by Piers Secunda.
This from the Long-Sharp Press release:
Secunda is a British painter and sculptor who has traveled around ISIS-ravaged parts of Iraq. The purpose of Secunda's travels is to make molds of ISIS inflicted damage from ancient artifacts and buildings, to "capture the texture of geopolitical violence, with a focus on the destruction of culture." Secunda superimposes the ISIS damage on casts of ancient objects—creating an unsettling impression that the ancient works have been shot and smashed.
At LO-FI Lounge at the Murphy Art Center, you'll find Brian Presnell's Face Jugs show that you could, I suppose, amply demonstrate the role of building up culture rather than tearing it down. Presnell and his friends Corey Jefferson and Sam Welsh got about 50 people—a "who's who" of Indy artists including Benny Sanders, Justin Vining and Barbara Zech, he says—to come and "throw pots."
"I had tears in my eyes a couple nights, man," Presnell says. "There were so many badass people in the room together all making art together.
For you to be able to purchase a Benny Sanders face jug is super-rare and weird," he said. "Face jugs are a southern folk art tradition that we're paying an homage to if you will."
Presnell's work in the arts in Indy, he says, has given him a lot of friends who he relies on to create exhibitions like this. Part of the proceeds of this exhibition—those raised in an auction—will be donated to children's education programs at the Indianapolis Art Center that help at-risk youth.
"You're talking to a kid who was at risk and [such] programs saved my life," he said.
Also at Murphy Art Center, there's an exhibit featuring Muslim artists and curated by Umaymah Mohammad of the Muslim Youth Collective. You'll find Muslims Aren't Interested in Being Afraid at Future Friends Holographic Magic Club at Suite 213 in the Murphy.
At the Garfield Park Arts Center is Spectrum, A LGBTQ Exhibition, an homage to Indy's LGBTQ community featuring local artists of all ages.
Just south of Garfield Park, coming to Big Car Collective territory, you will encounter Tube Factory artspace, where Juan William Chávez's interlinked projects, Indianapolis Bee Sanctuary and Mesa Hive will be on view for a second month.
Also at Tube Factory, Flava Fresh ! will exhibit 50 local and regional visual artists in their annual juried series showcase, now in its 15th year. There will also be an artist's "Walk & Talk" Q&A on opening night.  
At Big Car's satellite space, Listen Hear, there will be a reception for a show called Four.
According to the Facebook's event page, Four "is an exhibition of the eclectic mediums of Kevin Hofmiester, Kayla Pappas, Sean Smith, and Jeremy E. Tubbs." The only one of these artists I'm familiar with is Tubbs.
I recall his mixed media work that I wrote about back in 2011, at the IDADA Member show.
"Joe Bffsplk," I wrote, "verged on the photo-real in its depiction of street traffic in front of the Chicago Board of Trade building. Mind-blowingly, Tubbs used five different types of duct tape on paper as media in this composition."
I suppose that if I was blown away by his work then, I'd be negligent if I didn't check out his current work, right?