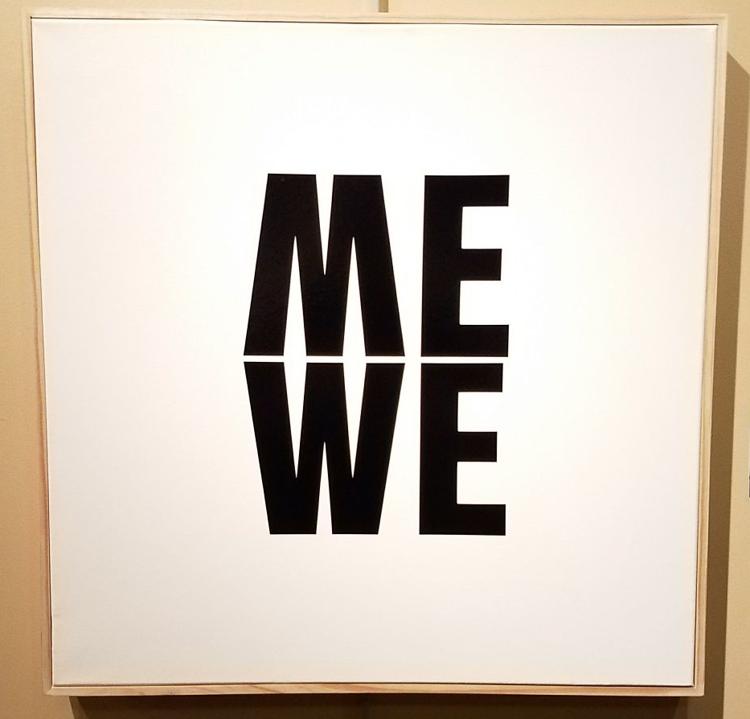 I went around the downtown Indy art galleries this June First Friday with the recent Kathy Griffin photo controversy festering in my head.  For those sane enough to keep their distance from social media and cable news and don't know what I'm talking about, here's a brief summary: on May 31, comedian Kathy Griffin was photographed in a blue dress —  shades of Monica Lewinsky? — while holding up a likeness of Donald Trump's severed head. The image went viral a few nanoseconds later on the internet.
There's a certain irony here. It's inconceivable that someone like Griffin would ever attempt to assassinate the president. She can't even stand firm in defense of this campy bit of agitprop! In fact, she apologized in a press conference just yesterday, having claimed that Trump and his followers had nuked her career. (Tyler Shields, the photographer, has not apologized.) Griffin is probably right in assessing that the president, having tweeted that his son Barron was upset by this image, will not soon forget. The Secret Service is investigating.
This brings me to a work here in Indianapolis that Trump supporters might find equally offensive. It's a black and white film short entitled "Black Jackie" by Kassim Norris. You can see it at the Robert B. Beckmann Jr. Emerging Artist Fellowship: A 10 Year Retrospective at Gallery 924 that opened Friday. Norris is a 2015 fellow.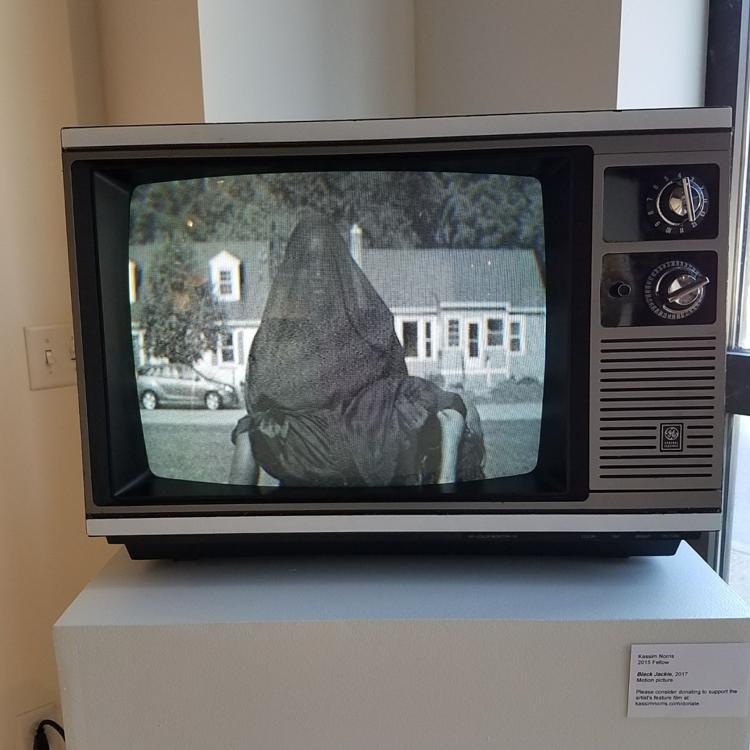 In Norris's video you see a bearded white man killing a black teenager on a basketball court, and doing so with bloodlust. The murderer, it almost goes without saying, is wearing a "Make America Great Again" cap. Only thing that seems ironic about this particular video is the music, "Oh my Love," composed by Riz Ortolani, featured in the 1971 motion picture Goodbye Uncle Tom. 
Norris is accepting donations on his website for a future feature film.  
"Black Jackie" is not the only political art on view here, but it's surely is the most provocative.  However, the portrait of the late rapper Tupac Shakur by 2017 Fellow Derrick Carter entitled "The American Dream" is no slouch in the provocation department. (It's also no slouch in the skill department, using acrylic and sand to achieve a painterly, roughly-textured likeness.)  The painting depicts Shakur in a straightjacket bearing the white stars on blue of the American flag. The backdrop: red and white bars.*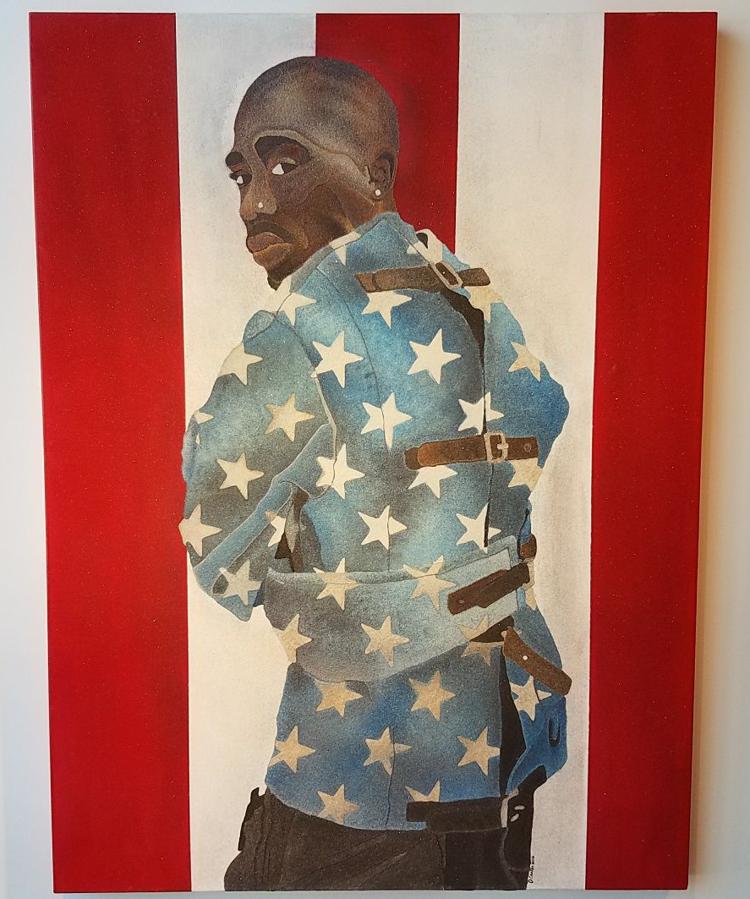 The title of 2008 Fellow Kyle Herrington's "The Party Ain't Over" features text reading  "honey the party ain't over, it's just on pause" over the surface of a dark landscape where you can see a deflated smiley face but the Gay & Lesbian Rainbow Pride Flag still stands. The mixed media on canvas work recalls something Barack Obama told his emotionally-deflated staff on Trump's inauguration day. He reminded his staff that the Trump presidency "is not a period; this is a comma." Well. Yes. Maybe. But. Caligula's reign over ancient Rome might have been described in similar fashion by his cousin Tiberius Gemellus before he was decapitated by order of the deranged emperor.
Obama's likeness leapt at me an hour later from the wall of Indy's ritziest gallery space, the Long-Sharp Gallery at the Conrad. Their June First Friday exhibit was entitled "Back to Basics: Art 101."  This Obama likeness was in fact a screenprint by Russell Young. Gallery owner Rhonda Long-Sharp told me the story behind it.
"In 2006 Russell Young did some photographs.. of then Senator Barack Obama," Long-Sharp said.  "He was very moved by some of the things he had said. And began to follow him at the time. This January someone said to me 'It's kind of strange that there are children in America for eight years they didn't know anything but a black president.'  I thought that was pretty cool. And at a time when there was a lot of negativity… I thought the one thing we could all agree on was that America has come a long way.  So I contacted the artist and asked him if he had any of the original pieces of Barack Obama. He said that he did. We re-launched them exclusively with Long-Sharp Gallery in Indianapolis and New York, the Obama Legacy Portrait Series."
Starting this January, she went through the Obama's publically available tax returns —  something she wouldn't have been able to do with Trump —  and pulled out the 20 charities to which Michelle and Barack Obama  donated: the gallery decided to give 25 percent of the purchase price to the 20 charities.
"Whoever acquires the piece gets to select which charity it goes to," Long-Sharp told me. So we've raised about 20,000 dollars for charities."   
Per usual, I found the offerings at Long-Sharp to be a mixed bag . (An exception for me was the stunning show of Nelson Mandela's artwork in the fall of 2016.)  However, the point of this show that claimed to explore, per its publicity, "the wide variety of media used to create art today."  And you can usually find something good in a mixed bag. While the 3-D printed "Biscuits" by British artist Wayne Warren struck me as art bling, I can't say the same about the Robert Indiana prints on the adjoining wall.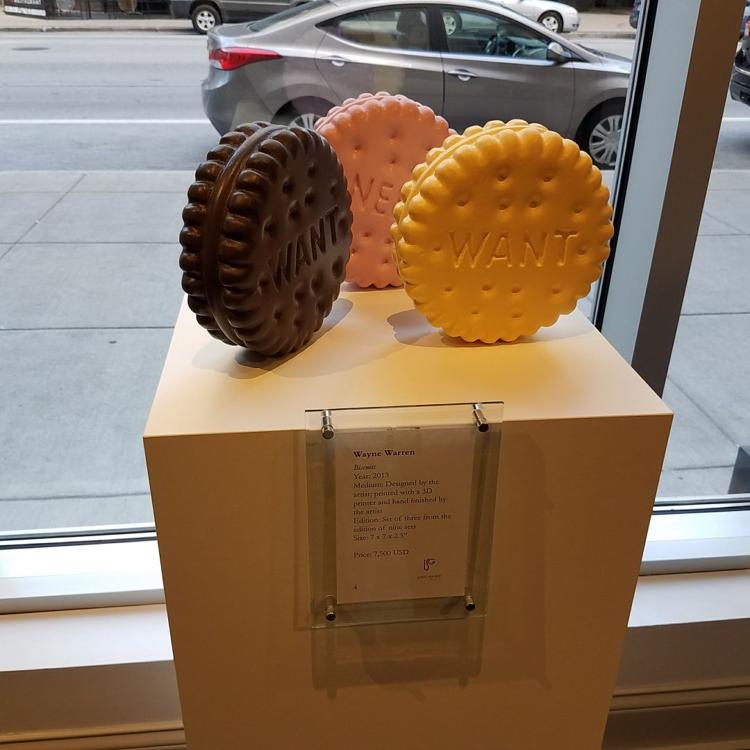 Long-Sharp, in addition to representing nationally and internationally established artists, also represents locally-based artists with growing reputations such as Constance Scopelitis and Jason Myers.  
The Logansport-based Myers has an upcoming solo show in the Polk Museum in Florida and had his work displayed at the entrance of Art New York in May in a show entitled "The 99%, United We Stand" features 99 small mixed media self portraits, one third of the proceeds of which went to Direct Relief, a group providing humanitarian aid.

 Some of these paintings are on display at Long-Sharp. The finely polished mixed media work plays with themes of alienation: looking at some of these these portraits feels like looking at a mirror covered with vaseline lit by strobe lights that also offers X-ray images of your skull. The work is both colorful and dark like much of the work of this artist. One thing you can certainly say about Myers: his output has been remarkably consistent over the several decades that he has been working as a fine artist.
There was a lot going on in terms of mixed media at a show entitled WE ARE 2.0 Restoring the Culture at the Indiana Landmarks Center, featuring the work of 11 eleven African-American artists in all varieties of media.  One of the highlights was the group installation featuring painted chairs entitled "Black Hollywood: the Good, Bad, and the Ugly."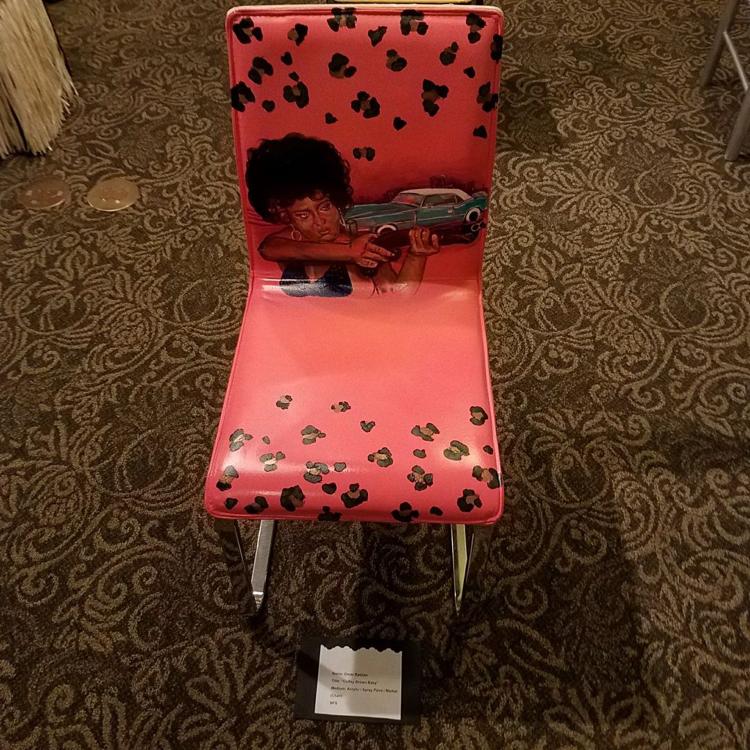 Omar Rashan's contribution is a chair painted with the likeness of Coffy, the eponymous hero of the 1973 Blaxpoitation flick. Looking at the trailer of Coffy while writing this blog, it seemed good, bad, and ugly to me all at the same time. Can one enjoy such films that traffic in stereotypes?  It might be a cool exercise to watch films back to back with such films as "Moonlight" as a way to measure how far African American film has come in the past few decades.
Gary Gee's mixed media "Soul City" seemed like a still from an animated movie where tall buildings themselves were boogying like dancers on Soul Train. And Bruce Armstrong's ME/WE spoke to the electric energy on opening night where the "WE ARE" group of 11 African-American artists were gathered together as a community, where each artist had a chance to come up to the microphone and introduce themselves and their art.
The line from John Donne poem "No man is an island" seems like an apt paraphrase of the sentiment embodied by ME/WE (and also an apt rejoinder to the self-made man mythology peddled by Trump and his ilk as a prescriptive for those born into less fortunate circumstances than himself.)
Considering the current situation, it's even more important now for people to shed the rugged individualism bullshit and come together. This applies to artists as well as activists. One of the upsides to Indianapolis is the very rich tapestry of nonprofits pushing the arts forward (Big Car Collective, Harrison Center for the Arts, the Indianapolis Art Center -- the list goes on) as well as ad-hoc organizations. I look forward to seeing more work from the very young "WE ARE" group.
And the need to band together also applies to writers like myself who spend too much time pouring content into Google Docs (My daughter certainly thinks so, at any rate.)
Speaking of writing, one wonders what Indy-born Kurt Vonnegut would make of the Orange Menace. The current show of prints by 20 artists at the Kurt Vonnegut Memorial Library, "celebrates the work and legacy of Kurt Vonnegut through the medium of printmaking," doesn't really speak to this question. But it play upon the pessimistic humanism found in his books and allows it to interface with the 21st Century in the form of 2D prints.
I was particularly struck by one aquatint engraving entitled "POE TEE WEET:: Aleppo" by Oscar Gillespie. In this work you see a bird in profile, perhaps crying out in agony, drawn in black against deep reds and sepia.   
POE TEE WEET was a refrain in Vonnegut's novel Slaughterhouse Five, which was probably another way of his saying "So it goes," another constant refrain in that novel, that borrows from Vonnegut's own life story but reads like science fiction.  Slaughterhouse Five centers around the fact that Vonnegut, as a young prisoner of war in Dresden, Germany during the latter days of WWII, was only able to survive the Dresden firebombing by locking himself in a slaughterhouse freezer.  And as it went with Dresden, so it goes with Aleppo, the name of the Syrian city that presidential candidate Gary Johnson couldn't recall.  
 I don't want to put words in Vonnegut's mouth, but I'm pretty sure that he would've stood up for Kathy Griffin if he were still among the living.  
I'd also like to think that he would've stood up for the artist Emma Sulkowicz as well who was derided last week in an article entitled "The Pathetic Journey of 'Mattress Girl' Emma Sulkowicz"  (Kyle Smith, National Review) on the occasion of her performance of The Sinking Ship, a protest against the Trump Administration.  In this performance, at the Elizabeth Foundation Artspace in New York City, she allowed herself to be put in bondage by a dominant by the name of Master Avery. She was clad only in an American flag bikini.
Sulkowicz achieved a certain notoriety for carrying a mattress around the Columbia University campus as an undergrad. She did this to protest the fact that the fellow student she had accused of raping her in August, 2012 was not punished by the university. To some it's political correctness gone amok. The accused was never convicted, they say.  Regardless, I find Sulkowitz's art installations and video work deriving from this alleged incident impossible to ignore, challenging me both as an arts writer and a man. I also take into account, again, the current situation, considering the fact that a man who has faced multiple rape allegations now sits in the White House.   
In 2015, Sulkowicz created a video entitled "Ceci C'est Pas un Viol," (This is not a rape) which depicts, on a security-camera type screen split into quandrants with different viewpoints, a sexual encounter between Sulkowicz and a male actor that quickly escalates to what appears to be rape. You are free to watch this video. But Sulkowicz asks you to take into account -- and to hold yourself accountable for -- your own feelings and actions if you do watch it.  
"It's about you, not him," she writes in the "Trigger Warning" on her website. "Do not watch this video if your motives would upset me, my desires are unclear to you, or my nuances are indecipherable."
Viewers can comment on the video on her website.
There has been a blitz of controversial art in the Post-Obama ere. I think of Ilma Gore's pastel drawing of a naked Trump with a micro-penis, the Griffin photo, Sulkowitz's most recent performance, and Kassim Norris's short film. If such art crosses a line, as long as no threats are made or laws broken, what of it? Isn't the role of the artist —  or the comedian, as Jim Carrey said in his defense of Kathy Griffin a couple of days ago —  to cross that line?
Previously, I had my own doubts about Sulkowitz's work. I wondered myself in a blog last year if her work constituted art, or mere posturing. This was in light of the 2015 Plain Airs exhibit curated by Kyle Herrington at the Indianapolis Art Center which featured mattresses as canvases but I'm no longer in doubt. I'm impressed with her stick-with-it-ness.  I also think that she's pushing the right buttons.  Likewise, I've also had occasional doubts about some of the work that I've seen exhibited in the Indianapolis Art Center.  But I've also been impressed by curator Kyle Herrington's stick-with-it-ness, in his drive to challenge —  both conceptually and in terms of media used —  conventional notions of what constitutes art.   
It's worth noting that Sulkowicz's video references the surrealist painter Rene Magritte's oil on canvas painting, "The Treachery of Images." Here you see the phrase Ceci n'est Pas Un Pipe (This is not a pipe) as text under the painted image of a pipe.  Of course it is only an image, just as the images in Sulkowicz's video do not constitute a rape but convey meaning nonetheless.   
An artist I know also takes many cues from the surrealists, though hardly in the same manner as Sulkowicz. His name is John Clark, who I should acknowledge here, has been a friend of mine for over 20 years. A retrospective of his work was on display at Benny Sanders' Standard Studio Gallery in the Garfield Park Neighborhood. So I paid a visit Friday night.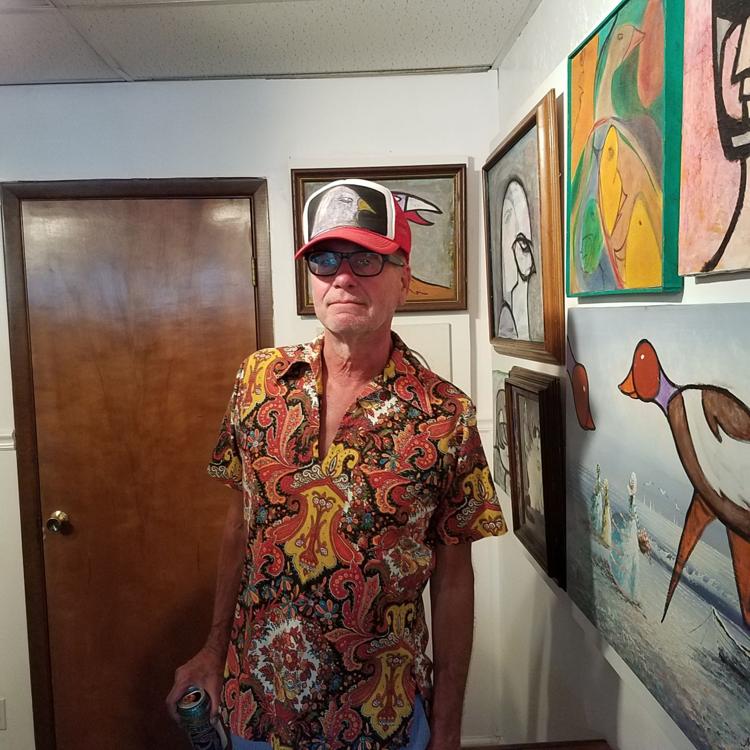 Clark is fond of appropriating imagery in playful surrealist fashion.  In his case, that means taking canvases from thrift stores and repurposing them. On a realistically rendered canvas featuring ducks, acquired from a thrift store, he paints colorful cartoonish ducks. In another acquired painting featuring women in Victorian age dresses on the seashore, he adds a monster duck/dinosaur.   He also creates original canvases painting in bold confident black lines superheroes with names like Super Peace and PlexiGirl. (Look out, Wonder Woman.)
Clark also runs a press called Geekspeak Unique that published a magazine called pLopLop that  published all kinds of weird surreal art and writing (including some of my own poems). One of the contributors, in the early 90s, just so happened to be Kurt Vonnegut.   
Just as I arrived,  a young boy came up to Clark and asked about his work.  After they discussed the work a little, they did a collaborative drawing together.  The particular painting that the boy asked about  depicts the Arc de Triumph with Clark's add-ons….bull's horns.


"I like that one," Clark said to the boy.  "That was easy because it was very simple.... the less that you have to do to change [the painting], the better. So I just put horns on there.. And a couple of birds."

*Note: In a previous version of the story, I made a comment about Derrick Carter's painting "The American Dream."  I said that "it might just serve as a reminder" of the high rate of African-American incarceration in this country. I did this in part because Tupac Shakur himself had been incarcerated. But that was not what the artist intended.