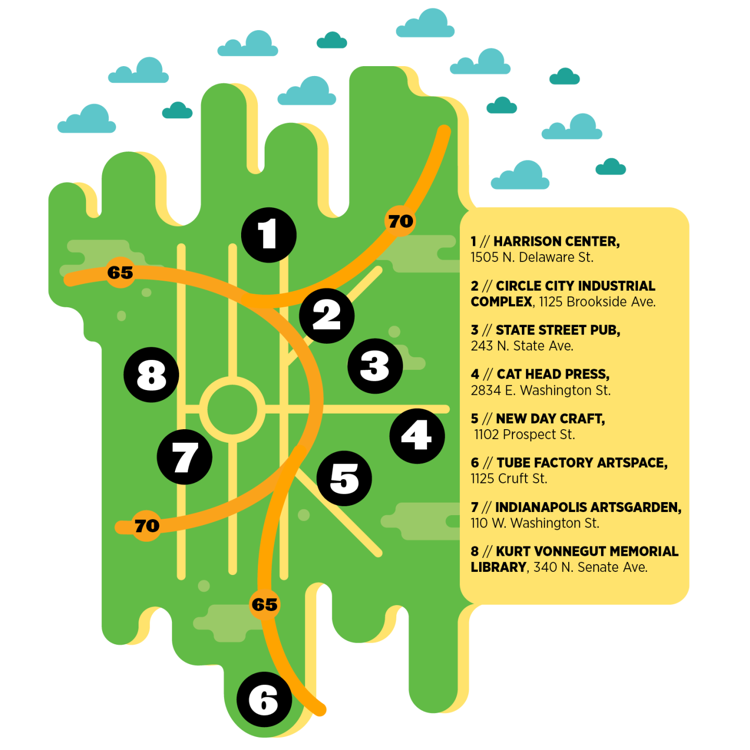 I caught up with Gary Gee at the Art & Soul Kickoff on Saturday, Jan. 27 at the Indianapolis Artsgarden — the perfect launching point for a First Friday visual art adventure, if you have the time and the inclination, this Feb. 2.
Gee's work is on display as part of Art & Soul, on view in the Artsgarden — which you might call a gallery without walls.
But walls are exactly what Gee is riffing on in his new work. You might consider his ceramic sculptures walls in miniature.
 "Actually it's a broken wall; the wall looks like its been put back together," Gee said to me about one piece entitled "Rise and Resist," painted in street art motifs.
"It's kind of like a joke on the H&M ad," he said.
(The multinational retail clothing company's recent advert, widely reviled as racist, featured a photo of a young African-American boy in a sweatshirt with the logo "the coolest monkey in the jungle.")
"But I flipped it," Gee explained. "There's a monkey in the White House. I've got some jabs at 45; if he spent less time golfing and on Twitter and get in the White House, maybe he'd get some stuff done."
Programming for Art & Soul, featuring African-American performers across the spectrum of the arts, continues on select dates through Feb. 28. But Gee's work, part of this event organized by the Indianapolis Arts Council — will be visible through that date anytime Circle Center Mall is open.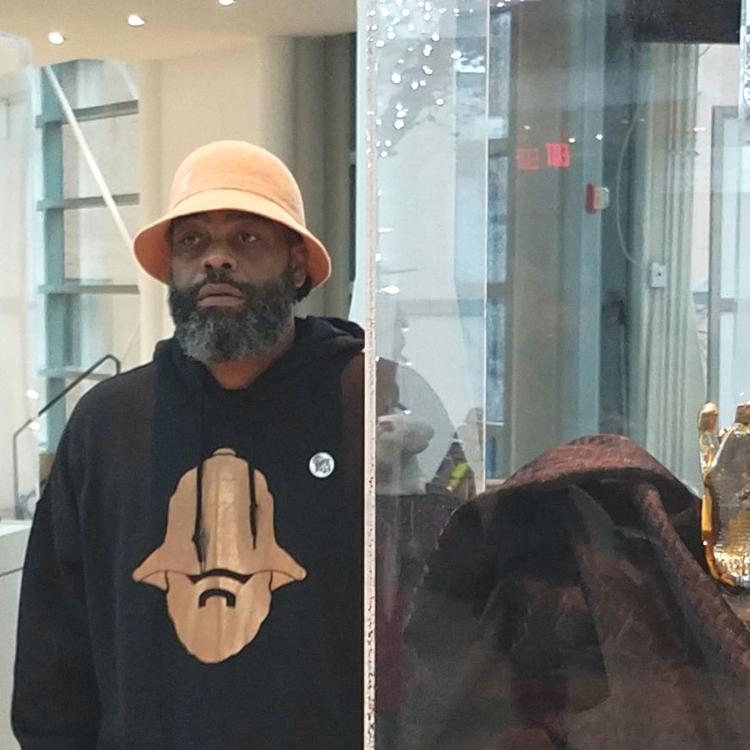 "As a visual artist I also got to be a vocal artist today and speak about work and what made me create and that was just an amazing feeling in itself," Gee told me after he spoke at the podium at the kickoff. "It's like a dream come true for an artist to actually take the stage and talk about what we do is an honor because most of the time people just look at what we do and they either like it or they hate it."
Vonnegut, van Gogh, Pamela Bliss and... Mike Pence?
Another not to miss exhibition this First Friday is entitled We cannot speak other than by our paintings, at the Kurt Vonnegut Memorial Library (KVML) starting at 6 p.m. 
(The library and museum usually charges admission but on First Friday it will be free and open to the public.)
You might not have heard of Pamela Bliss, the curator of this exhibition, but you know her work if you've been on Mass Ave in the past five years. She painted the 38-feet tall Kurt Vonnegut mural overlooking Downtown Indy's trendiest district.
Bliss was also one of the 125 painters who participated in the animation of the film Loving Vincent, the first-ever feature length animated film to use oil paintings for each of its frames — all 65,000 of them. In the film you will be able to recognize recreations of many iconic van Gogh paintings that have become part of the animated background — as well as the foreground.
The film employed actors, among them Saoirse Ronan  — who are recognizable in the film despite their rotoscoped transformation into animation. (The painters/animators used the footage of their performances as references.)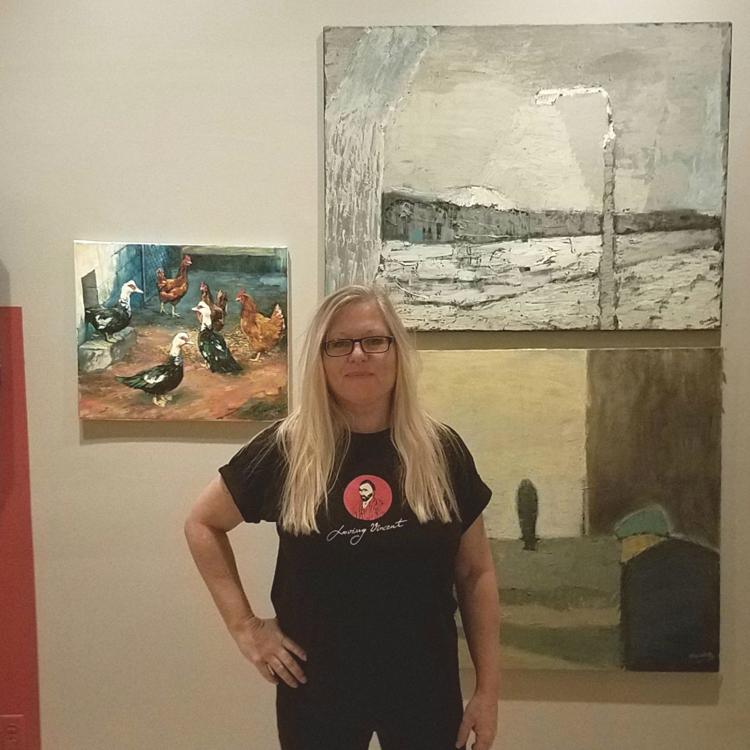 On Jan. 26, KVML held an opening for the exhibition, as well as a showing of the film. The exhibition of paintings consists not of work from Loving Vincent, but of personal paintings by some of the artists who worked on the film along with Bliss.
For me the most compelling paintings on display were those by Dorota Kobiela, the film's director. Mostly her paintings consisted of cityscapes. In "Lodz, Wires & Sky," you see the moody gray clouds divided into quadrants by wires as the sky itself diminishes into the distance.
It was in Lodz where Kobiela originally got her inspiration for the film. Originally, she wanted to do a short film, after being inspired by van Gogh's letters. At the encouragement of her husband, Hugh Welchman, they developed it into a full-length feature. 
"I became friends with many of the other artists and while I was there," said Bliss about her experience at the film studios in Gdansk, Poland, where she spent much of 2016. "I lived with them, in the same place, and we worked together every day and while I was there I got the idea to put an art show together because we all have our own arts lives not just creating painted frames in Poland." she said.
On the way out the door of KVML Bliss told me that she would be visiting the White House on Jan. 30 — the day of the State of the Union address — during her forthcoming trip to Washington D.C. She would be taking with her a signed copy of the Loving Vincent DVD. 
"Not sure if I will actually get to meet Pence but then I was invited, so who knows," she wrote me in a text two days later.
Bliss said that she would also be also giving a short presentation at a showing of Loving Vincent at the Polish Embassy during her D.C. visit.
The signed copy of Loving Vincent, in any case, probably won't be much consolation to the White House, which had recently requested the acquisition (on loan) of the van Gogh painting "Landscape with Snow" from the Solomon R. Guggenheim Museum, which rejected their request.
An 18-karat gold toilet, which 100,000 people had used in the museum washroom, was offered instead.
Art on an industrial scale
I'll definitely stop by the Circle City Industrial Complex (CCIC) with its plethora of galleries, artists' studios and shops this First Friday, per usual. Also of note is the fact that the Indiana Writers Center, which just moved into CCIC on Jan. 31, will be having a First Friday open house starting at 6 p.m., where you can learn about all the programs and the classes that they offer.  
Satch Art Space will be having a show entitled Love, Sex, and the Zodiac concentrated on those very subjects, and inspired by the vintage jazz album by Cannonball Adderley. You might even have your questions answered by Zodiascope, the fortune-telling game, and have your future told by a palm-reading. All this fun starts at 7 p.m. 
Another CCIC destination worth checking out is the studio of Casey Roberts, a painter who uses photographic chemicals (cyanotype) as a painting medium.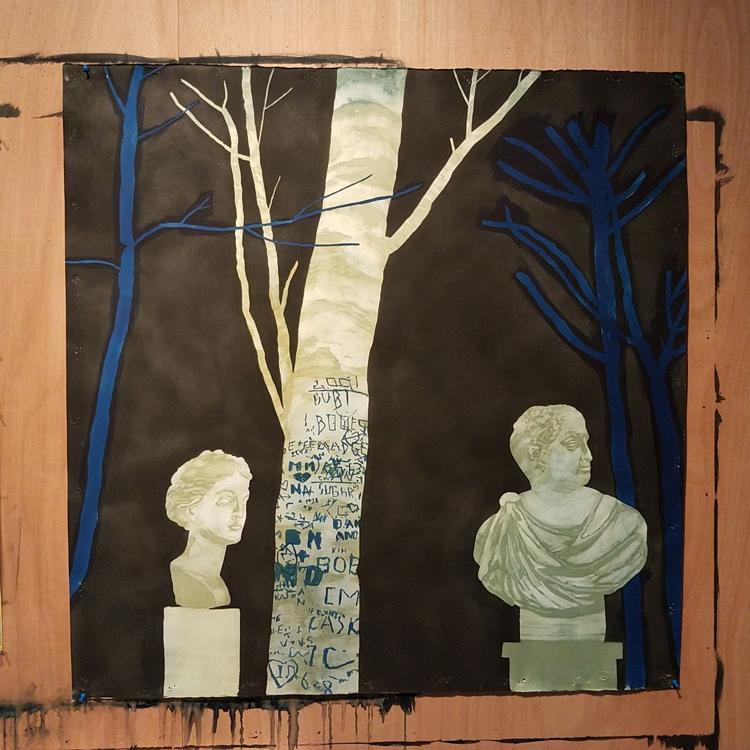 One of his new paintings features depictions of classical Greek sculpture against a background of aspen trees carved with initials. After seeing this contemplative work, I realized it had been more than 10 years since I first reviewed a Casey Roberts exhibition for NUVO.
And then I thought of the Pink Floyd lyrics "And then one day you find/10 years have passed you by…" (It's worth mentioning here Roberts has made paintings that riffed on Pink Floyd's Dark Side of the Moon album cover motifs.)
Monsters, Monoprints and Memorabila
There's also a lot going on at the Harrison Center including an exhibition of articles, essays and photos by John Sherman. The exhibit relates to his Peace Corps service in Nigeria in 1966 and subsequent trips to the country.
I'm partial to Peace Corps memorabilia, I suppose, being a returned volunteer myself (Niger, 1992-94).
But the main event will be the exhibit "Quantum Leap" by Quincy Owens and Luke Crawley. 
It's a show sponsored by a partnership between the Harrison and the Indiana Humanities Council, celebrating the 200th birthday of Mary Shelley's classic horror novel Frankenstein.
"Luke and I decided, for this exhibition, to read Mary Shelley's Frankenstein for conceptual and visual inspiration," Owens told me. "We've taken her characters and the archetypes they represent into consideration along with the settings of the book. Much of the work focuses on our continued exploration of light and optics. There will be nearly all new work in the gallery, some installation-based light pieces and maybe even our first video project. The show will be visually very sleek, bright and minimal."
I'm also intrigued by an equally spooky-sounding exhibition at Cat Head Press put on by Benny Sanders entitled No Authority. Sanders veers in his artistic output between abstracted portraiture and plein air landscapes (you can see an example of the latter in the cover art he did for the Dec. 6 edition of NUVO  depicting Yellowwood State Forest).
No Authority features abstracted – almost ghostly – portraiture...and an apparently fraught production process.
"In December, I accepted an interesting challenge to fill a gallery space with enough work to constitute a solo exhibition of print work…" Sanders told me. "I obtained full access to Cat Head Press the first week of January with a very unsure outcome in mind. The work has been an intuitive process where I let the ink, the copper plates, the paper and the press make the majority of decisions. I have no time to make ambitious decisions, to sleep, to consider the history of printmaking or to connect with others. I am at the mercy of the wonderful space I am inhabiting for three weeks and hoping for a warm bed and a peaceful breakfast on the morning after the exhibit."
Heading South
After checking out Sanders' work, I'm going to hit New Day Craft in Fountain Square. That's where you can encounter the patchwork color field paintings of Melissa Parrott Quimby. The sample of her work that I saw on Facebook reminded me a little of Sol Lewitt's humongous mural "Wall Drawing no. 652" on the second floor of the Indianapolis Museum of Art/Newfields.
I'll go not just for the bright colors but also to help keep the art scene alive in Fountain Square. And then I'll head southeast to Tube Factory artspace in Garfield Park to check out Audrey Barcio's solo show Under Influence.
Look for a feature on Barcio by Jennifer Delgadillo in the pages of NUVO next week!
Feeling The Droops
If you like ingesting art with your beer or vice-versa, then head down to the State Street Pub to see the paintings of The Droops, a group of six millennial, Herron grads. These artists specialize in making very colorful, stylized paintings that might make you recall Big Boy adverts, Sears & Roebuck catalogs, Andy Warhol, Roy Lichtenstein…. in no particular order.
You'll be able to see their work — work that they've painted collectively — hanging in the bar. (By the way, I've seen a lot of great art in bars as of late including previous shows by the Droops and Benny Sanders at Pioneer in Fountain Square, as well as New Day Craft.)
When I messaged The Droops on Facebook, and asked them about their work at State Street, they answered in a collective voice.
"Oh, just supporting our favorite local watering hole," they said. "This will be their second First Friday showcasing art on their newly painted walls. They've also installed a new hanging system to hang art. There will be a green screen karaoke and that's always fun to watch and participate starting at 9 p.m. It will showcase some video work from us too!  We will be showing a mix of old and new pieces."
I'm wondering if The Droops will have on display the Warhol-esque beer packaging that they that was on display in the Cat Head Press exhibition at Herron Galleries in the fall of 2017.
( "We tried collaborating with Kuma's for about a year but that fell through. We went ahead and printed the box anyways," The Droops told me.)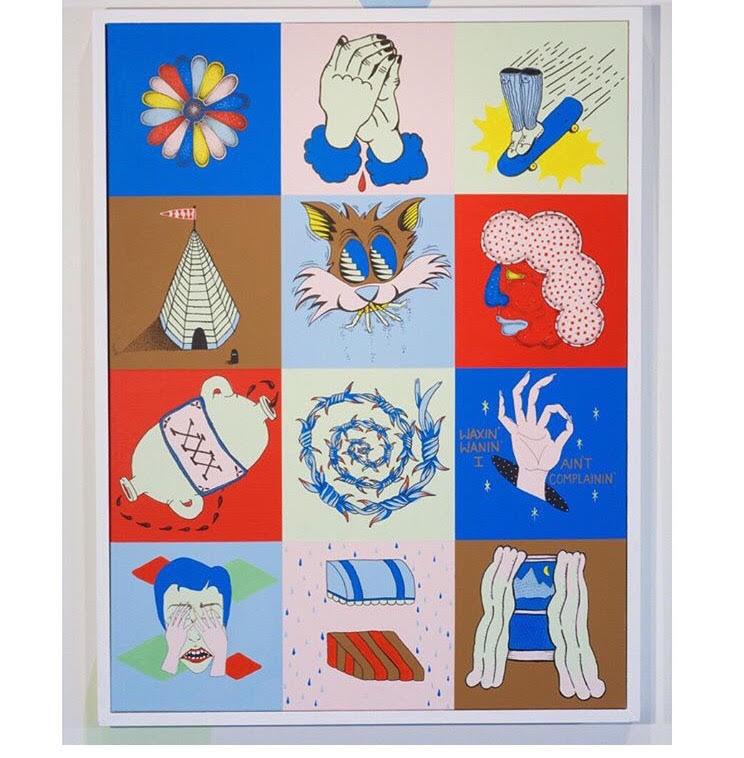 Now, after writing all of this, I feel very much in need of a Droops beer. There's none in my fridge, of course, because it doesn't exist — yet. Would such a beer, I wonder, be a stout or a pilsner? Regardless, I figure it might make me feel more colorful....
Because I'm feeling kinda colorless right now. I had pledged to myself that I would, for once, write a First Friday feature without talking Trump, which sucks the oxygen from my brain. After all, shouldn't it be enough to focus on the fact that First Fridays are still very much alive despite the demise of the Indianapolis Downtown Artists and Dealers Association ? (The long-running artists' trade organization, which first organized the First Friday openings in Downtown Indy, officially dissolved at the end of 2017.) I tried to maintain this discipline, but I failed.