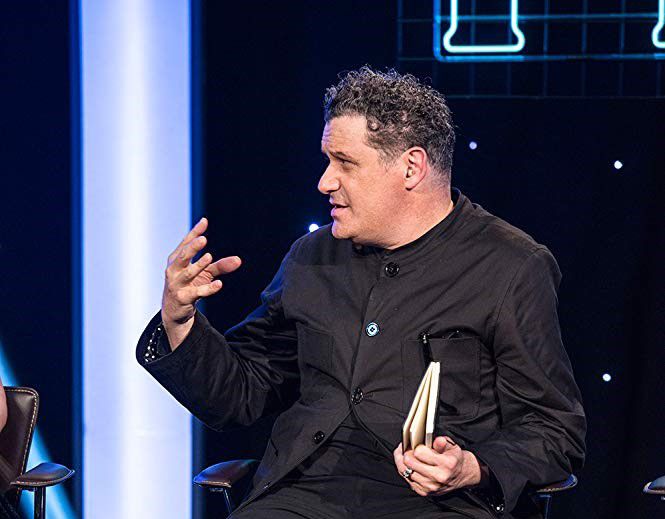 Isaac Mizrahi got his start in the fashion biz in New York with his eponymous fashion line in the '80s. In the '90s inserted himself into the entertainment world in Sex and the City and in a slew of Woody Allen films among other productions.
More recently he's become a star on Project Runway.
Marking his Indy debut October—with a mishmash of jazz performance and stand-up comedy—Mizrahi is part of The Cabaret's just-announced first full season at its swank new venue.  
Tickets go on sale August 14 at TheCabaret.org. We have a sneaking suspicion here at NUVO that the tickets will disappear like mullets in Seattle at the onset of grunge. Chances are that the other shows this season will be equally in demand considering the talent involved.
Tony Nominees Stephanie J. Block and Kate Baldwin will take a short break from their roles in The Cher Show  and Hello Dolly to entertain local Hoosiers. Returning by popular demand will be Shoshana Bean (Hairspray, Wicked), Betsy Wolfe (Waitress, Mystery of Edwin Drood) and Norm Lewis (Once on This Island, Les Misérables).
See below for show dates and beaucoup de snark.
Stephanie J. Block, The Pros and Cons-cert, Sept. 14-15
Stephanie J. Block made her debut on Broadway playing 2003's, The Boy From Oz, and right after her second Tony nomination for her role in Lincoln Center Theater's Falsettos,  Her tremendous voice and confident charm will radiate throughout The Cabaret to give her audience goose bumps. She's not only been nominated for Tony Awards for Falsettos and The Mystery of Edwin Drood, she also played roles on Broadway in Wicked, Anything Goes, 9 to 5: The Musical and Pirate Queen. Recently she's had a solo show on Live From Lincoln Presents - Stars in Concert; a show on PBS that was televised nationwide. She currently stars as Cher in The Cher Show while the real Cher is hitting the red carpet at various venues debuting the Mamma Mia! film sequel in which she stars as Meryl Streep's mother. Go figure.
Shoshana Bean, Spectrum Soulful Standards, Sept. 28-29
Shoshana Bean debuted on Broadway in the original cast of Hairspray before she played the role of Elphaba in Wicked. She's a breathtaking vocalist, songwriter, and Broadway star who can captivate audiences with her vocal acrobatics. She's recorded four albums that made the top charts and she's performed worldwide with artists such as Michael Jackson and Brian McKnight. If you hear shades of Frank Sinatra, Aretha Franklin and Barbra Streisand in her singing, it figures. These are her acknowledged influences.
Isaac Mizrahi, Does this Song Makes me Look Fat? Oct. 12-13
Fashion designer, Project Runway: All Stars judge and media icon, Isaac Mizrahi is bringing it—  whatever it is—in Does This Song Make Me Fat?  The New York Times applauds the show as "raucously funny." Mizrahi will thrill you with a collection of standards and pop songs, ranging from Cole Porter and Charles Aznavour to Blondie and Bob Dylan.  (Wethinks the Bob Dylan thing needs to be seen to be believed.) His six-piece band led by jazz phenomena Ben Waltzer. Will he make endearingly rude comments about various audience members' sense 'o fashion?
Betsy Wolfe: All Bets Are Off, Oct. 26-Oct. 27
She's one of the most precise and sharp minded performers in musical theater, being acclaimed for her performances in The Last Five Years and Falsettos. But, really, the fact that she's sold out concerts at Carnegie Hall is all you need to know. With the help of songs by Stephen Sondheim, Jason Robert Brown, and Peter, Paul and Mary, she's going to have a lot to talk and sing about.
Gala Gunhild Carling from Postmodern Jukebox, Nov. 10 (Annual fundraiser)
This Swedish sensation sings, tap dances, juggles and she can play almost every instrument out there. She's even played three trumpets at once. Gunhild Carling is someone you must see live. She's heavily inspired by Louis Armstrong  and Billie Holiday, which makes her something of an old school jazz artist. She's been included on Scott Bradlee's Postmodern Jukebox adding a '20s spin on the '80s tunes on Madonna's "Material Girl" and Rick Astley's "Never Gonna Give You Up." But can she play Rick Astley on three trumpets at once?
An Evening with Kate Baldwin, Nov. 30- Dec. 1
Come see the two-time Tony Award nominee Kate Baldwin (Hello Dolly, Big Fish, Giant, John and Jen, Finian's Rainbow, Songbird) as she gives us a night of songs and stories. There will be a wide range of Broadway, standards, indie pop, folk and even some melodies from such artists as Fiona Apple, Ingrid Michaelson, and Elvis Costello.