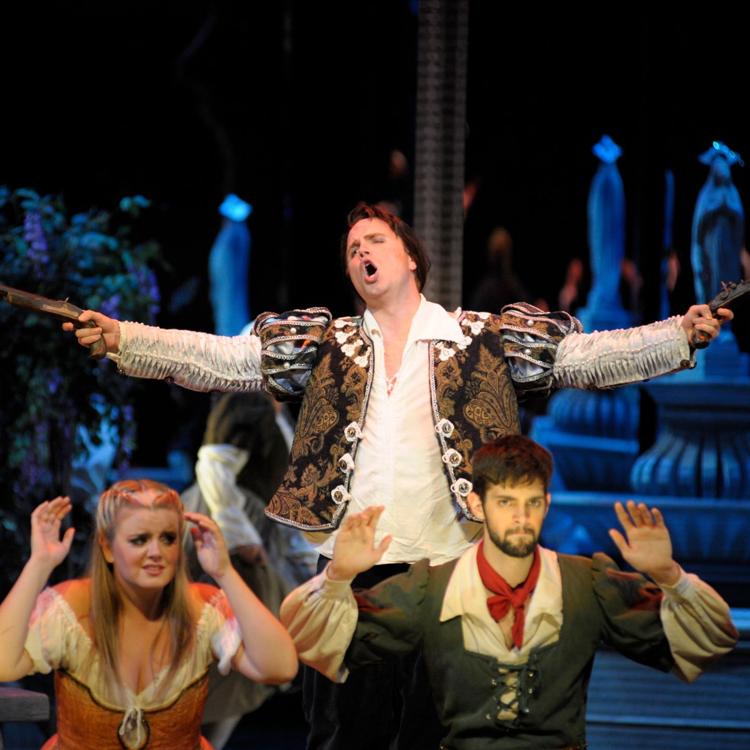 This list is part of our fall guide arts schedule bonanza, rolling out over the next week or so. For a complete list of all our lists, click here. 
1 // La La Land: Indianapolis
Symphony Orchestra at Hilbert Circle Theatre, Sept. 13, Sept. 17
A struggling actress (Emma Stone) and jazz musician (Ryan Gosling) meet in modern day L.A. The serviceable, light-hearted romantic fare of this film really cries out for something, like Salisbury steak in your local roadhouse diner. Enter the ISO to provide you the A1 steak sauce, as it were. 
2 // Broadway Seth Rudetsky Style: Indy Cabaret
Indiana Landmarks Center, Sept. 15
This one isn't the usual diner fare. It stars Seth Rudetsky, SiriusXM host, who will interview his co-star, Will Swenson, one of Broadway's hottest commodities onstage.  He'll even play the piano as accompaniment while Swenson, currently starring in Broadway's Waitress, launches into fan favorite tunes expertly, like a seasoned chef with your favorite risotto dish.
3 // Barbecue by Robert O'Hara
Phoenix Theatre, Oct. 27-Nov. 19
Variety says of this one, "Robert O'Hara's cruelly funny new play, Barbecue shrewdly turns the formula for the American domestic comedy on its head, forcing uneasy thoughts about the facile presumptions we make about poverty, race and social class, as applied to dysfunctional families." But as the plot centers around a barbeque, it's guaranteed to make you hungry as fuck! 
4 // Ashton Wolf Presents Dueling Pianos
The Cat, Sept. 30
Ashton Wolf describes himself on his own website as "one of the premier dueling piano players in the country."  The idea of piano playing as sport or war is… intriguing. And so is this the out-of-the-way venue The Cat, which is located in the building that used to be the music venue The Warehouse. The Cat's seemingly modest goal is to be the Off-Off Broadway of Carmel, Ind.
5 // La Cage aux Folles
The Studio Theatre in the Performing Arts Center, Sept. 15-Oct. 1
Is it a sign of progress for the LGBTQ community that productions of this musical, depicting the lives of two gay protagonists, are now almost as common as Hello Dolly!? In the Trump era, maybe it's a good thing to look at the glass as being half-full once in a blue moon. An Actors Theatre of Indiana production.
6 // Don Giovanni
IU Opera & Ballet Theatre, Sept. 15, 16, 22, 23
Back in the '80s, I recall seeing an IU Opera performance of Carmen sung in English and the performance fell flat largely because of that. Maybe it was the sense of mystery lost when José held the knife for eons while spouting out Midwest-accented librettos. Why didn't Carmen just run away? I thought. Despite the advent of Trump and his admonishment to Americans to speak in English at all times — and presumably to sing in English too — this Don Giovanni is sung in Italian (with English supertitles). Believe me, this Mozart opera is better off as it is, in Italian, considering its superstud protagonist. Italian is, after all, a Romance language.
7 // The Simon & Garfunkel Story
Clowes Hall, Oct. 7
A girl I knew in middle school had two goldfish: one named Simon, the other Garfunkel. She cried when Simon & Garfunkel split up, I think that's what she told me. But this doesn't make a lot of sense considering she was just a toddler at the time. Or maybe she cried when one of her goldfish died. I forget. But she was obviously a Simon & Garfunkel fan. I suppose this story says something about the popularity of this group, and why they connected with their audience so well. Which is why, I suppose, that there's demand for this sort of performance. There are classic songs here, as well as commentary, by two actor/performers done up to look like young Simon and Garfunkels. The Garfunkel even has the poofy hair.
8 // Giordano Dance Company
Clowes Memorial Hall, Nov. 4
As a child, I went every year to see my sisters dance in this annual performance at Clowes. Good God. But, nowadays, I go back frequently to Clowes, not only because I learned to appreciate dance, but I also appreciate the venue, designed by Evans Woollen, built in the early '60s. It's the perfect venue to check out Giordano's cutting-edge jazz dance choreography.
9 // Magical Mystery Tour: Dance Kaleidoscope
IRT's OneAmerica Main Stage, Oct. 19-22
Dancers dressed in 1960s style clothing will be dancing to "Fool on the Hill,"  "Lady Madonna," and other classics from the Beatles canon.  The copy from the website promises that the dance will culminate, costumery-wise, with a "cleansing symplicity."  Does that mean they'll be dancing naked? Peace out, dude.
10 // Celebration!
The Tarkington Theatre, Sept. 22-23
The Gregory Hancock Dance Theatre is celebrating its 20th season with an all-out bash, containing highlights from its finest performances.