Fairmount hosts ultra-nostalgic weekend with the Deaners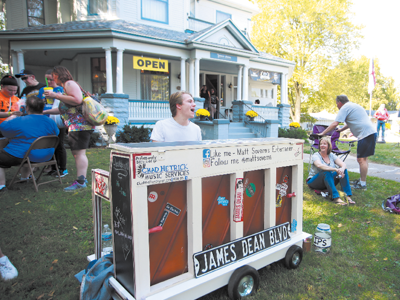 My 13-year-old daughter Naomi came along with me to check out the James Dean Festival in Fairmount, Ind. on Sept. 23. It's not because she is a James Dean fan, exactly, but because it was a Saturday, and the alternative would've meant a day at home alone.  
The previous night in preparation for this trip, we watched part of East of Eden, the 1955 film based on the John Steinbeck novel, in which Dean starred. (I had seen it before, but it's been a while.) 
It's a good role. And James Dean's emotive, brooding acting style, derived from the Stanislavski method – a style of acting which actors deeply immerse themselves in their roles – hadn't been seen much on screen before.  After his death in a car accident at the age of 24, two more films starring Dean were released, Rebel Without a Cause and Giant.  And these two films, combined with his early death, lit the fuse of his enduring fame.
The 37-year-old Remembering James Dean Festival, in the town where he grew up and is buried, is a visible manifestation of this. During this annual four-day festival, there's free showings of Dean's classic movies, a James Dean run and a car show. There's also James Dean lookalike contests — separate contests for both adults and kids — carnival rides, deep-fried food and a parade.
Photos from the James Dean Festival
We drove up taking I-31 from Indianapolis. An hour later, we found a parking space at the James Dean Gallery at 425 N. Main St. We were lucky to find parking because the surrounding streets were already crowded with vehicles.  Wandering around, we saw a substantial amount of memorabilia — correspondence, childhood photos, and personal items of Dean's — available for view, behind glass.   
There was a finely rendered painting by Chris Osborne showing Dean behind the wheel of his automobile, looking at the viewer.  A book lying on a table — David Dalton's James Dean: A Life in Pictures  — that drew my daughter's interest because it was written in German, a language that she's studying in school. 
There's demand for such foreign-language books; the Gallery, which functions both as a museum and a gift shop, receives visitors from all over the world, including Germany. And the Gallery also hosts music performances.  
(Later in the afternoon, rapper Dekota Clemmons, a.k.a D3X — a shoe-in if there ever was one for a James Dean lookalike contest — would rap skillfully over mashups of pop and rap music standards on the James Dean Gallery lawn.)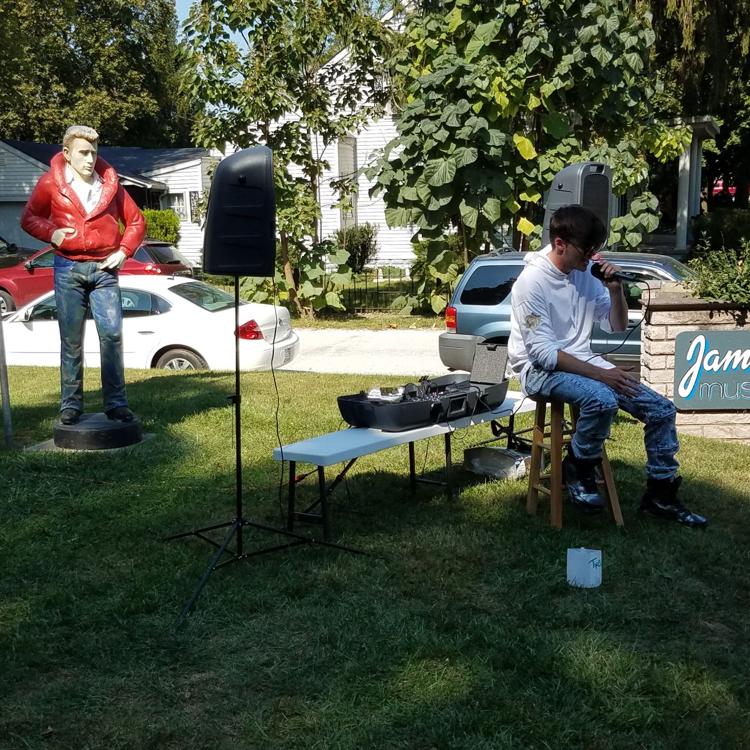 The owner of the Gallery, David Loehr, 67, was once a visitor as well.
"I grew up in Pittsfield, Mass.," he said. "But I lived in New York City and Los Angeles for a while. And I was in LA 1979 driving to New York and I came out of my way to stop here. And then I came back in 1980 to the festival for the first time.  I just kept coming back and forth and just got this house in 1986 and opened this in 1988. So it's turned this little hobby that I got carried away with, and turned it into a fulltime job." 
His fascination began in 1974, when he read the biography James Dean, the Mutant King, by David Dalton.   
"I was intrigued by his life and I hadn't seen his movies yet," he said. "I was out in California, and I saw three films on the big screen and I was knocked out by his acting skills.  I picked up another book and a poster and a pin and before I knew it, I was collecting stuff.  And I had a whole box of James Dean stuff and it just kind of got out of control and I had a whole house full.  We opened in 1988.  We've been doing the festival since 1980 with just a T-shirt booth uptown before I opened this." 
I asked Loehr why he thought that Dean had become an American icon.
 "Of course, [there's] his dying young: 24 years old," he said. "But he's fortunate to have had three good movie roles that still hold up strong today:  three good roles, three good directors, and the movies still hold up today. We get a lot of young kids in here, young girls and teenagers, and college kids they're crazy about him still; it's not like it's something from the past. It still feels very modern." 
These kids might not know who Cary Grant or Gregory Peck is, he said, but they know James Dean. 
"I think the thing is, people can identify with him in a lot of different ways," he said. "The Midwestern farm boy, the New York Bohemian; he was an artist; he painted and sculpted; photographer, movie star, race car driver; a lot of people can identify with him in a lot of different ways.  I think a lot of that's just in his looks —  his look is so incredible; he still looks modern today with the haircut. He doesn't look like an actor from 60 years ago. He looks pretty fresh and modern."
For the diehard James Dean fans, he says, they have next July to look forward to.
"It's our 20th year doing that during the last weekend in July for more serious James Dean fans," he said.  "The festival is great, but a lot of people that want to come and get a corn dog and go on the Ferris wheel, not particularly James Dean fans." 
Corn Dogs and Polish Sausage
I'm not a wild Deaner, like many attendees of this fest. Having hit the age of 50 last July I keep hearing in my head comedian Denis Leary's classic response to people telling him he still has half his life ahead of him. To which Leary says something like "Face it folks, it's not the better half."  I sort of understand the appeal.  I mean, who wouldn't want to be 24 forever?
But being a father has its rewards too. One of the biggest rewards that I've had in my life so far is that I have a daughter who doesn't seem to mind hanging out with me.
After talking to Loehr and walking past the Ferris wheel and other carnival rides, we found a vendor among numerous food vendors along Main Street who served corn dogs. That's what Naomi had, while I had the Polish sausage with marinara sauce and onions, the works. 
Afterwards we made our way to the Fairmount Historical Museum, which sponsors the festival and has a substantial collection of James Dean memorabilia and artifacts, including James Dean's motorcycle.
Right in front of the museum, under a tent, author Lee Raskin had the two books that he'd written about James Dean including James Dean at Speed, written in 2005 and the more recent James Dean: On the Road to Salinas (2015).   
And I asked Raskin, who lived in Baltimore MD., about how he became what he terms a "Deaner."  
(Raskin as well as James Dean Gallery owner David Loehr are featured in the short documentary film Deaners directed by David Garry, and screened this past July at Indy Film Fest.)
"My sister dedicated her whole bedroom to photographs of James Dean," Raskin said.  "And on good behavior, she let me in to see the photographs and I was just enamored of James Dean gracing the Porsche and I was only 10 years old but I liked stuff like that.  And the year before [my father] had taken me to a sports car race.  I was impressionable.  Then I saw pictures of the other Porsche that he was killed in.  I just got so caught up in what was happening, this is the wrecked car.  As time goes on, you do other things.  You get involved in girls and sports and college.  Anyway, I never forgot the James Dean thing.  At 18, I bought a Porsche, a used Porsche, not to emulate James Dean, but just because I thought it was a cool thing."
I asked Raskin if he had checked out the 1200-vehicle car show — which of course he had, being a Porsche aficionado — and he encouraged us to check it out as well.
Too hot for a hot rod show, but just right for a parade 
Naomi and I then walked four blocks to the car show, at Park Elementary School.  When we finally made it we looked all around, but it was really too hot to linger. I didn't see any Porsche Spyders, the car that Dean had crashed, but I was worried about how my daughter was holding up in the heat.  We bought a bottle of water and headed back to Main Street.  When we got there we sat down in the grass, in the shade of some oaks alongside residents, who had gathered along the sidewalks to watch the parade that would soon be starting.
I made my way to one of the residents seated in lawn chairs.  I asked her if she'd be willing to answer some questions and she said that she would. Her name: Jane Allen.  
I asked her if she was a contemporary of James Dean, who was born in 1934.
"He was a bit older than us," she said. "He died when we were seniors in high school. But Fairmount was such a little town that 7th grade was at the high school. Because it was such a small town, you knew everybody in town … 
"He rode a motorcycle to school. It's painted black and gold because it's Fairmount school colors.  And you could hear him coming from the edge of town, it was so loud."
It was, in fact the same motorcycle that was on display at the Fairmount Historical Museum.    
"He was very good in all the school plays and that sort of thing and Adeline Nall, was his drama coach," she said. "She was a classmate of my dad's in high school, and so we thought she was wonderful.  He was very active in debate team and all the plays and all that kind of thing," she said. "But there were a lot of kids that were."
Allen grew up in Fairmount, but spent most of her professional life in Indianapolis, where she worked in property management.  She currently lives in Florida [Note: we slipped up in the print edition and neglected to include this information]. She still spends summers in Indiana, she used the annual festival as an opportunity to get together with her friends in Fairmount.  And she also said that many people who had moved away in their youth came back each summer to do the exact same thing.
I asked Allen what the festival meant economically for Fairmount.
"They always say there's about 2,500 people in this town. And they guess there's probably 30,000 people here this weekend.  [It's great] for the businesses and it's such a fun weekend. It's amazing to me."