The Eiteljorg Museum's new exhibition, "Please Touch! The Sculptures of Michael Naranjo," opens on Jan. 18, and continues through July 26, 2020, as part of a special initiative to make works of art accessible to all. Naranjo's exhibition encourages visitors to experience the sculpture in multisensory ways -- including touch, audio descriptions and a video of Naranjo working. 
"While most exhibitions do not allow visitors to touch the art on display," this exhibit emphasizes "Touch," according to The Eiteljorg news release. Michael Naranjo, who is blind, wants us to experience his work from his point of view—by touch, and in a leisurely way. "Being blind makes the pace of life slower; you can't walk fast or grab for things quickly. Life is more gentle and soft and the change brought my creative energies out," explains Naranjo.
Born in 1944, in Santa Clara Pueblo, New Mexico, within the Tewa Tribe, and raised in Taos, New Mexico, Naranjo is the son of the renowned ceramic artist Rose Naranjo. He has described his childhood as being by the side of his mother and absorbing her dedication to pottery and art. As he was preparing to launch his own work in 1968, he was drafted to serve in the Vietnam War. According to his biography, when his platoon was ambushed, a grenade exploded, knocking Naranjo unconscious. When he woke up, he was blind and he had lost the use of his right hand. 
His determination, however, to keep his dream to be a sculptor pushed him to ask a volunteer at the hospital to bring him a ball of clay. With his left hand, he fashioned an inchworm. Johnny D. Boggs quotes Naranjo in a story posted on https://www.medicinemangallery.com/michael-naranjo. "The minute I made something that simple — something a child would make — [my entire career] began. I immediately knew that I could [become a sculptor] with one hand and no eyes." 
In Santa Fe, Naranjo "learned to work with oil-based clay and heat­softened wax, which he cast in bronze. He taught himself to use the fingers of his good hand as tools, sculpting naturalistic figures of animals and Pueblo dancers from memory. He began finishing his bronzes with a black patina — the shade he sees as a person without sight. Over time, Naranjo's skill — and life story — earned him international renown and countless awards," summarized Boggs.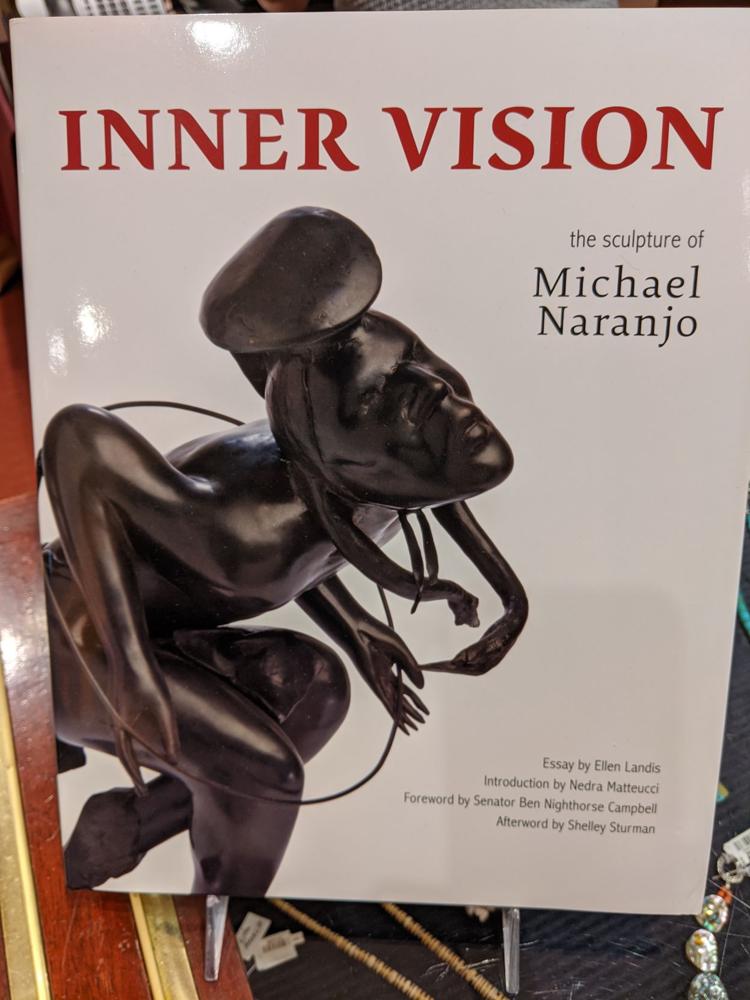 Inner Vision: The Sculpture of Michael Naranjo, by Michael Naranjo, with his wife, Laurie Naranjo, as editor, was published by Two Little Girls Publishing in 2012. "The book reveals the development of a compelling style and the growth of Naranjo's career as an artist - a lifetime of work in bronze. His complete collection of limited edition bronzes, created from 1970 through 2010 are represented here. Scattered throughout the book are short vignettes wherein Naranjo tells stories in his own words touching on many different aspects of his life and his art and the growth of his career to become one of the leading sculptors in America today," reads the jacket summary.
Naranjo will be at The Eiteljorg for meet the artist programs on Feb. 7, noon-12:20 p.m., and on Feb. 8, 11:00-11:30 a.m. 
Eiteljorg members have free entrance; non-members gain entrance to the Museum and all current exhibits on-site at 500 W. Washington St., or here: https://eiteljorg.org/visit/  Mon.-Sat. 10-5 p.m., and Sun. 12 p.m.-5 p.m.
Also, on Feb. 8, veteran-owned Hotel Tango Distillery, at 702 Virginia Ave., is hosting a special reception from 2:00 - 4:00 p.m., during which Naranjo will share the story of his journey as a sculptor. Reception cost is $35, and includes a drink and light snacks. Must be 21+ to attend. Reserve here: 317.275.1316. 
See more here: https://eiteljorg.org/exhibitions/please-touch-the-sculptures-of-michael-naranjo/
https://www.medicinemangallery.com/michael-naranjo  
https://www.cowboysindians.com/2015/10/michael-naranjo/
https://www.prnewswire.com/news-releases/sculptor-michael-naranjo-soars-to-historical-career-heights-300948454.html