Emily Gable's exhibit Slouch City, opening Friday August 23 at Cat Head Press, is something of an informal, grab bag of work. It comes from both past and present, from over the past five years, with lots of drawings hanging from string on clothesline clips, and brand new screen prints. There is some painted sculptural work and some paintings on glass.  
Gable's subjects look like they might just be right at home in TV cartoons. But in her unpacked folders of drawings —  items that she goes back and looks at again and again for inspiration — you can see hints and reflections of her life as an artist, wife, and soon-to-be-mother.
Because life, after all, is no cartoon. 
"I have about five stacks of folders that I keep referencing for ideas just to spark some kind of imagery," says Gable. "And then also, the new work is learning how to screenprint the process."
And you will see the same doodled ideas, colorful cartoonish characters, curious creatures and funky text in her screen prints.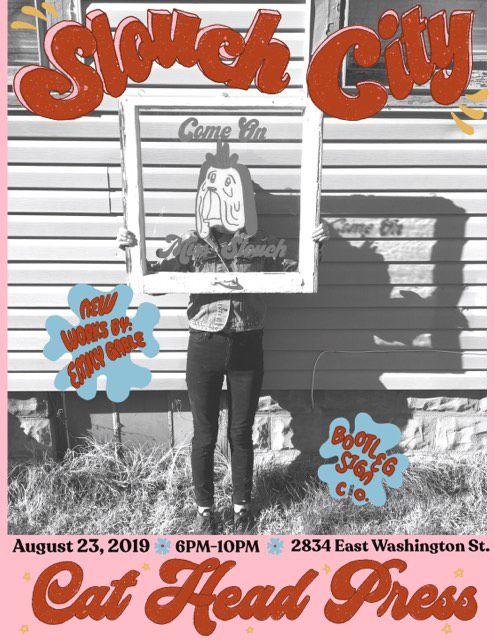 In order to trace her influences, you need to delve a little into her biography. Gable, who grew up  in Peru, Indiana, recalls being fascinated with the Madelaine cartoon character as a kid, an interest that, she says, has rubbed off into her art. She has other influences as well of course, including the late San Francisco Bay area artist Margaret Kilgallen and the artists profiled in The Beautiful Losers documentary, which follows the lives and careers of a group of do-it-yourself artists.
After leaving Herron School of Art of Design after four years, in 2011, she immediately started painting murals, although not of her own design. At first it was as a new hire for the Indianapolis-based arts nonprofit Big Car Collaborative. She also worked in jobs that had nothing to do with the visual arts, like a stint as a baker for Milktooth. 
She eventually founded her own sign company Bootleg Sign Co., in 2017. At first it was slow going but there was a turning point: she got an opportunity to paint a big red barn in Bringhurst, Ind.
"I think the turning point for Bootleg Signs was when a friend sent me a Craigslist ad asking for a muralist to paint this advertisement on a barn," she says. "It was in November two years ago It was godawful cold, windy. We were in the middle of a cornfield. The wind was just insane. My husband was on the scissor lift operating it while I was painting 32 feet in the air. It was insane. But I loved it. And we accomplished it. It was like the hardest job I've ever done."  
After the barn, Gable says, she began to get offers by local business owners to create signage and murals for them. "I think that one really helped me helped put me on the map," she says. "And shortly after, Duke's [a honky tonk bar, restaurant, and music venue] reached out to me, and I worked with Duke's."
Running a sign and mural shop, of course, requires more than just painting: it requires scheduling, meeting with clients, and dealing with Indiana tax law. 
"It's very draining, but it's also so rewarding," says Gable. "I can't believe that I've built something like this for myself and with zero knowledge of how to run a business, but I'm slowly figuring it out. And I'm having fun with it."
You can see her signage and murals at Jail Bird Pots & Pie Co., Upland Brewing Company in Broad Ripple, and 8th Day Distillery. As part of her exhibition and month-long residency at Cat Head, Gable will also be painting a mural on the exterior front of Cat Head Press.
"Dominic [Senibaldi], who's in charge of the space, reached out to me and was like, 'hey, we've got this month open; we'd like for you to do a solo show and kind of just make it like a month long residency.' And with that, I could get a key to the space, a free one-on-one class to learn how to learn how to screenprint, which I've always wanted to do." 
Her show with Cat Head was also an opportunity to learn all about screen printing. Making screen prints was a big part of the six-member collaborative group of artists called The Droops, consisting of Gable, Brock Forrer, Ally Alsup, Adam Wollenberg, Ash Windbigler, and her husband Paul Pelsue.
The Droops formed when they were attending Herron School of Art & Design at the same time.
"We all just kind of started hanging out, outside of school," says Gable. "[When] we all graduated, we all kind of tried to figure out this whole art thing after art school. So we would just hang out at bars and draw and pass pieces of paper around ... and collaborated on each other's drawings and just loved the community aspect of that. And so we just kind of started calling ourselves The Droops and getting projects like posters, to design posters for bands or design, like T-shirts for bands. I knew we could do more mural work as a team, and I brought that in and was like, 'Hey, we should paint buildings!'"
You can see one of their murals on the exterior of Cat Head Press itself, where they combine alternate universe cartoon character portraiture with a motto that might be worth recalling from time to time: "Life has its ups and downs: always keep your head up no matter what."  
If you were lucky enough to see The Droops' painting "Soft Serve" in the 2015 Indiana State Museum exhibition 200 Years of Indiana Art alongside art dating from before the Revolutionary War.
The Droops did a lot of screen printing of their collaborative drawings to which Gable contributed, but it was Wollenberrg and Forrer who handled the screen printing, a skill in which Gable herself had no experience until she was able to take the one-on-one instruction that she received at Cat Head.  
Rough Patches
Unlike her commercial work, some of Gable's current work at Cat Head takes a darker turn.  It focuses on a situation with which she and her husband Paul have had to deal in their home, located near Garfield Park.   
In a wall mural, you see images of a couch burning, a broken window, and a woman looking out from her house, wide eyed and afraid.  This imagery is also repeated in a screenprint.   
"My house was targeted by a neighbor who, unfortunately, has a mental illness," she says. "And we did nothing to cause him to target us. But apparently, he has targeted us multiple times; our house and our property. And it's just created a lot of vulnerability in my life and I have a great community willing to reach out and help me and my husband no matter what, and offer all these beautiful things for us, and which is a blessing in disguise. But it's just an awful kind of nightmarish situation to go through where your home is kind of being terrorized. And you're six months pregnant, and you're just like, do we need to leave?"
Gable is keeping her head up.
After posting about her dilemma on Facebook, she received an outpouring of support from the artist community of Indianapolis. Facebook is also a platform on which she's been outspoken as of late on the importance of businesses and nonprofit arts organizations hiring local artists to create public art, rather than relying on big names from elsewhere.   
"We all work hard," she says about her fellow artists. "And we all have built something that we're super-proud of. And we're going to continue to work our butts off for this city that we love so much," she says.