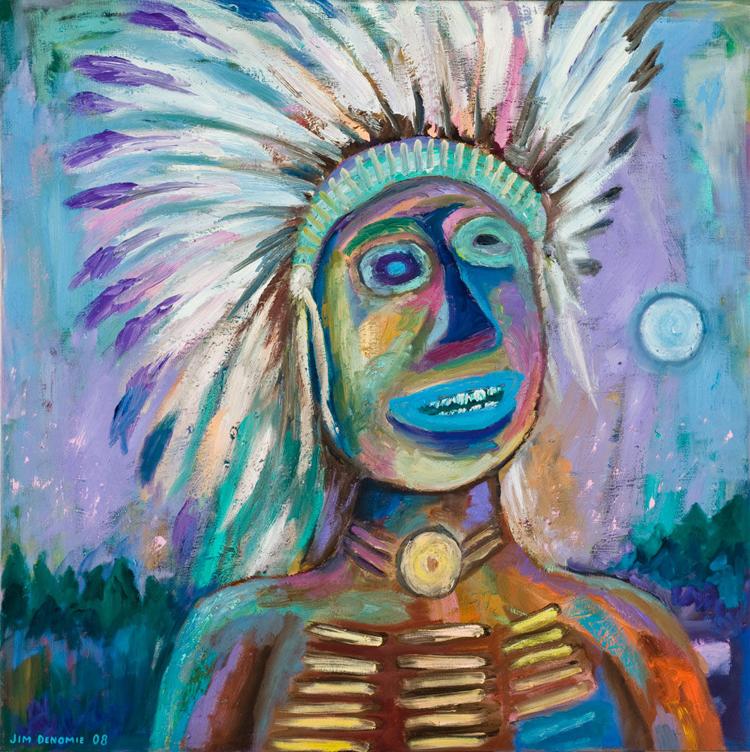 Among the artists in the Eiteljorg's Native Art Now! Exhibition is Holly Wilson, a member of the Delaware Tribe of Oklahoma/Cherokee, and a 2015 fellow. The artist's small bronze sculpture, "Enough" (2015), depicts a girl on top of pastry boxes surrounded by tiny cupcakes, including the two cupcakes she is holding, one in each hand.
"We don't enjoy what we hold when we have too much," Wilson says. To her, the cupcakes represent greed or excess, when we are trying to acquire specific things we want to have, or acquire more money to buy more things.
While the girl in the sculpture is a one-of-a-kind, Wilson has given away cupcakes made from the same mold used for this piece as gifts.
This piece, like other sculptures Wilson has done, tells a story. She added that everything in her work has meaning, comparing it to the oral tradition of her ancestors, including stories she would hear from her mother. She also said she hopes that her work can inspire connections.
"I do it because it's important to me, and I hope it will strike a chord with someone else. When people see my work and tell me, 'I get that,' there is a connection of their experience to my experience, and the more connections we can make, the better."
Nicholas Galanin, Tlingit/Aleut, of Sitka, Alaska, is a 2013 fellow featured in Native Art Now!
His "I Think It Goes Like This?" (2012) is a deconstructed "appropriated Indonesian totem pole" of disjointed and jumbled faces, hands, and body parts, all painted the same black, all facing in different directions.
 "The concept and conversation of the work is displacement of culture and knowledge and language," he says. But there is also the attempted homogenization and reconstruction of culture, knowledge, and language.
"Stereotypes oftentimes can feed how or why something is perceived in a certain way," he says. "As artists, we are creating something within that same space."
As for the recognition of Native artists, he stated there are still challenges to achieve success beyond just equity within the art world, an ongoing theme among other participants of the symposium. He added that the role of the artist is also important given the current political climate and ongoing struggles.
"In our communities, in a time of lies, art should play a role of telling the truth," Galanin said. "It should allow for dialogue and progression in the community. The idea that it is merely entertainment is privileged. There is so much important work to be done, and artists are on the forefront of this conversation."
Native Art Now! is definitely a part of that conversation, including 39 sculptures, photographs, paintings, and textiles depict modern and traditional concepts told through the perspectives of past Eiteljorg Contemporary Art Fellowship recipients who can trace their ancestry back to indigenous people in the United States and Canada.
Since 1999, the Lilly Endowment Inc. has helped to fund artists to dedicate more time to pursue their craft while opening doors to more connections in the art world. Every other year, five new fellows have been named. 
"Instead of naming new fellows this year, we brought them back to this convening," said assistant museum curator Dorene Red Cloud. "We wanted it to be participatory instead of people just talking at them." Native Art Now!, which will travel after the exhibit wraps up at the Eiteljorg, is part of the celebration of the history of the fellowship.
Red Cloud added that there are two other exhibits taking place to honor past fellows at the Eiteljorg this year.
The Geometry of Expression features the works of Kay WalkingStick (Cherokee), Wendy Red Star (Crow), and Anna Tsouhlarakis (Navajo/Creek/Greek), three women who use shapes to tell the viewer about what it is like to be Native American, including their individual identities and experiences from that perspective. That exhibit will go through Jan. 7, 2018.
Another exhibit, In Their Honor, features paintings, prints, and sculptures by five fellows who have passed away since the beginning of the program: Rick Bartow (Wiyot), Harry Fonseca (Nisenan Maidu/Hawaiian/Portuguese), John Hoover (Aleut), Allan Houser (Warm Springs Chiricahua Apache), and George Morrison (Ojibwe). All five were known to be groundbreaking in terms of bringing deserved attention to contemporary Native artists. Their works will be on display together until April 1, 2018.
Native Art Now! continues through Jan. 28, 2018. The Eiteljorg has not yet announced where it will travel next. A companion documentary film is scheduled to air on WFYI-TV 20 in Indianapolis on Dec. 14 at 8 p.m.