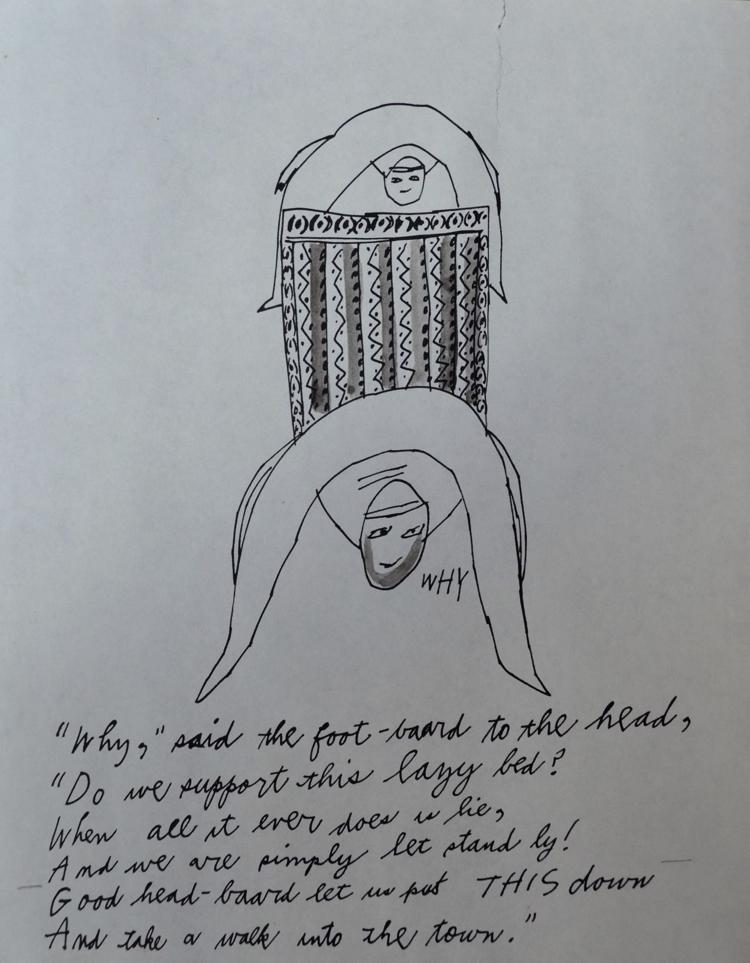 In late 1949, Andrew Warhola, fresh out of college, moved to New York. After dropping the a from his last name, Andy Warhol quickly landed a job at Glamour, won several awards for his commercial illustrations and would eventually become one of the most well-known icons of the 1960s art scene.
While multi-colored images of Marilyn Monroe and Mick Jagger may come to mind when one thinks of Warhol, an upcoming exhibit at the Long-Sharp Gallery in Indianapolis (running through Nov. 4) is looking to acquaint guests with the works of Andy Warhol in the 1950s, when he got his start.
With 27 original works of art hanging, many of which are up for acquisition, gallery owner Rhonda Long-Sharp hopes to share her appreciation for Warhol with Hoosiers.
"I decided to do this exhibit of Warhol's early works because you don't really get a chance to see a large body of his works from the '50s," Long-Sharp said. "I love the Andy Warhol Museum in Pittsburgh, and I encourage everyone to go see it, but it is rare indeed to see more than one or two pieces at a time from this era. So, to have 27 of them in one place gives you a real sense of what he was doing and who he was at the time... You get to see a side of him before he was famous. When he was struggling. What he drew when he took his first trip abroad."
Out of the 27 pieces, 24 are ink drawings on paper. All have been authenticated by the Andy Warhol Foundation for the Visual Arts, which opened after the artist's death in 1987, per his final wishes. 
Like many things, these works were kept by Warhol from the time he created them to the time of his death.
"Anyone who has studied Warhol knows that he was a bit of a hoarder; he kept just about everything," Long-Sharp said. "And I mean that in a very respectful, loving way, because I'm a giant fan of his."
The drawings that are featured in this exhibit were created by Warhol in the 1950s and found in his home after his death. They were stamped by his estate, and authenticated and stamped again after the Foundation was opened, separating those pieces of original Warhol drawings from the artwork that he collected throughout his lifetime.
Those familiar with Warhol's pop art may be in for a surprise when they walk into the gallery.
"I don't think they'll be recognizable to people unfamiliar with his work in the 1950s," Long-Sharp said.
"If you were alive and happened to be reading the newspaper and Glamour magazine in the 1950s, you would know it was Andy Warhol," she continued. "The 1950s was Warhol's most prolific time for writing books. 75 percent of the books he published were published in the 50s. A lot of these were done in editions of 100, and what we will be showing are some of the study drawings for those books."
As for Long-Sharp, who has been collecting Warhol's work for several years, there are three pieces in the exhibit that she finds especially intriguing.
"One is a pair of ink and tempera paintings on paper that are simply patterns," Long-Sharp explained. "I'm intrigued by how he was studying patterns in the early and mid 50s, and later, he translates that interest in patterns to repetitive portraits of Marilyn Monroe in various colors."
The second thing I find interesting is a particular piece that's a study drawing from a book that was never published," she continued. "He worked on a book called The House that Went to Town. If you happen to study Andy Warhol or go to museum exhibits on what he was doing in the 1950s, you'll see a lot about The House That Went To Town, but you'll never see anything from the book, because there was no book. So, the only way to get to know about what he was doing and how funny and charming he was in that time is to see the study drawings, and we have one or two of those in the exhibit."
Finally, Long-Sharp lists a portrait that she believes to be an early self-portrait by the young Warhol.
"If you look at it, and you look at photographs of him in that time, it looks like a self-portrait," she explained. "He became very famous in his later years for his self-portraits, in fact, portraits of him now on various mediums sell for inordinate sums." 
Over the years, it has gotten increasingly difficult to purchase an original Warhol work, and not just because of the price tag.
When the Foundation was started, selling artwork from Warhol's estate helped to fund the Foundation, along with auctions of Warhol's belongings, including his cookie jar collection. Throughout the years, the Foundation sold his art in order to fund scholarships and various art programs, as Warhol requested in his will. Currently, the Foundation no longer authenticates or appraises his work, and art collectors can no longer buy Warhol's work directly from the Foundation.
While there is a second Long-Sharp Gallery in Manhattan, it was a strategic move to bring this exhibit, being shown for the first time in America, to Indianapolis first.
"I really wanted to do this exhibit at home," Long-Sharp, an Indiana native, said. "I wanted to put it during our fall season, which is considered gallery season all over the world."
Long-Sharp's goal for this exhibit was to show Andy Warhol when he was still a new face in the New York arts scene, just a few years before he revolutionized an emerging American art form.
"Pop Art speaks to just about everybody," she said. "If you grew up in the 1950s, 60s, or 70s, I guarantee that you were served Campbell's soup. That is an icon of America. Warhol to me is the King of Pop Art."