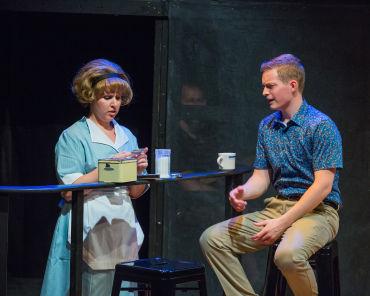 I don't know how Eclipse passed under my radar last year when they produced Spring Awakening, but Friday night, I was floored by their current production of the musical Dogfight.
Eclipse, now in its second year, is the young-professional arm of the youth-centric Summer Stock Stage, and it exclusively features alumni of SSS, providing paid opportunities for college and post-college artists. SSS has been providing theater experiences for teenagers for 15 years, and judging by the talent I witnessed from Eclipse, SSS is a damned good program.
Dogfight opens in 1967, with Eddie Birdlace, a U.S. Marine who has just returned from Vietnam, riding a Greyhound bus home. A fellow passenger asks him about his tattoo of three bees.
Flashback to 1963. A trio of friends refers to themselves as the three B's. They are fresh-faced, exuberant Marines about to ship out for Vietnam: Patrick Dinnsen as Birdlace, Joey Mervis as Boland, and John Collins as Bernstein. They are so young, so naïve—they have no idea what they are about to endure overseas.
To celebrate their last night before being deployed, they, along with some fellow jarheads, decide to have a "dogfight." This is a game where each participant adds his bet to the pool and then sets out to find the ugliest girl he can and bring her to the party as his "date." The lounge singer is in on the gamble, and during a predetermined dance, he rates each girl. Whoever gets the highest score wins and walks away with the pot, the girl usually none the wiser. However, Birdlace's "dog" throws him for a loop—he actually starts to respect and even like her.
The show is performed in IndyFringe's Basile Theatre, which is a pretty sparse space to begin with, and the simple set for Dogfight is two sets of stairs leading up to a second level, with the live band underneath. But I quickly discovered that the lack of color or copious props were completely irrelevant. The male leads, along with the backing ensemble and dynamic band, immediately knock you out of your bobby socks with their intensity, exceptional voices, unwavering energy, and immersive characters.
Equally stunning is female lead Leela Rothenberg as Rose, Birdlace's "dog," a thoughtful but inexperienced girl whose inner strength captures Birdlace's attention.
Seriously, everything about this production is awesome. Thinking that the cast potentially had somewhat limited performance experience, I set my expectations accordingly, but they blew away that unwarranted preconceived notion immediately. The show's execution is top quality, and every single performer completely engages with his or her character.
Just two ensemble examples of note are, at the party, Courtney Krauter as Ruth Two Bears (a fellow "dog") and Aaron Huey as the lounge singer—both of whom are hysterical, with Krauter's articulate WTF facial expression and Huey throwing himself into the singer's flamboyant persona.
Emily Ristine Holloway is a founding member and artistic director of SSS, and she produced and directed Dogfight. Forget the traditional bouquet of roses; she deserves the whole flower shop—as do the cast and crew of the show.
Coincidentally, another production of Dogfight also opened this past weekend, this one at Buck Creek Players. Sadly, I was not able to squeeze that performance into my schedule. (See www.buckcreekplayers.com)
Lisa Gauthier Mitchison covers local theater at IndianapolisTheaterReviews.wordpress.com.