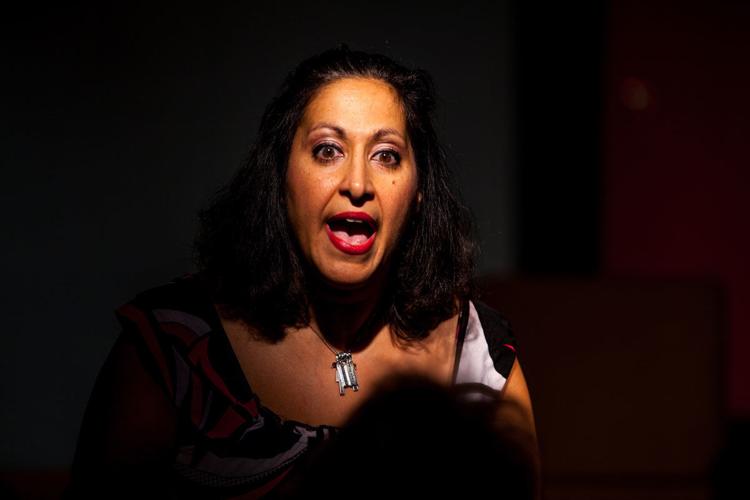 This year's DivaFest will be the first time the playwright of Operation Farley, Ramona Henderson, will see her work performed on stage.
Henderson, who retired from teaching at Marian University School of Nursing last year, got her start in writing at the Indiana Writers Center, and she encourages other writers to go there for inspiration and guidance.
Her play is about a woman who wants to destroy a Confederate monument. Jack wants to save his great-great-grandfather's Civil War memorial and enlists help from his friend Dale to do so. If the subject matter seems a little heavy, especially considering current events, Henderson says she wrote it as a lighthearted comedy.
"I just want people to laugh," she says. "I'm not making any kind of political statement. I just had these two characters I developed, two retired men who were kinda bored, their wives had passed away. One of them finds out someone wants to destroy a monument that mentions one of his relatives."
Operation Farley will be joined at DivaFest by an encore presentation of the IndyFringe Festival hit about Josephine Baker, Josephine: Stark Naked, by Carol Weiss, Moon Beneath Her Feet by Carol Stamile, and Cassandra's Dream by Maripat Allen. These are just some of the diverse offerings for this year's DivaFest.
Women playwrights submitted their scripts to be reviewed by a jury, says Pauline Moffat, executive director of IndyFringe. Since the first DivaFest in 2010, she adds, the quality and the artistic integrity of the shows have improved every year. She credits the Indiana Writers Center for fostering playwrights and encouraging their participation in DivaFest.
Ellen Shevitz, a longtime supporter of DivaFest, agrees, adding that one reason she supports the event is that it makes "theater accessible to everybody on every level," including connecting women playwrights to audiences. Shevitz and Moffat also credited Rita Kohn (a longtime writer for NUVO), one of the early supporters of the festival, for the event's continued success.
"Women are finding their voices," Shevitz says. "We need them to be heard. Theater is a perfect vehicle for that. The messages they have are told beautifully here at the Fringe."
Moffat adds that she has noticed a theme in the shows selected for this year's festival. "Women are incarcerated all the time, but you just don't see it. It can be physical, stereotypes, in [the] workforce, in the home."
For instance, she says, in Unholy Trinity by Mary Karty, about the internal conflicts of mind, heart, and body, "Women are portrayed as sweet, smart, or sexy—they rarely get to be all three at once." In Kimberly Easter's play about a survivor of domestic violence, Thin Walls, Moffat adds, "Society labels [women] as whores or angels."
Moffat also noted that Keeping the Pace is about "bringing life to stereotypes—irreverent, honest, human. You see how truly funny women are."
Stacy Post of Danville and Casey O'Leary of Indianapolis wrote Keeping the Pace. In the play, says Post, the treadmill is a metaphor for life because at each stage, women keep a different pace. "Sometimes it's too fast, sometimes it's too slow, and sometimes you get into a rhythm."
The characters are a bride in the mania of wedding planning, a new mom, a divorcee, and the main character, an elderly woman selling her gym where the women all work out together.
"I think women are deeply and diversely funny. They are smart and powerful and loveable and crazy all at the same time," says Post. "I think there is so much room in theater and the need to laugh, especially when things are hard. I don't obviously say I'm going to empower women with my show, but at the same time, it's in the background. It's a very frank kind of humor, very honest. It's not a play for kids—unless you want to have uncomfortable conversations about bodily parts and bodily functions after the show."
Moffat and Shevitz added that is the spirit of DivaFest: to give women playwrights an outlet they wouldn't otherwise have.
"There is a special energy about DivaFest," Shevitz says. "Just feeling like it's a safe, secure environment to express themselves and getting an opportunity to show their talents."
"This is the beginning," says Moffat. "Many [past participants] have gone on to do Fringe shows. We encourage them to go on the road."
And as far as Henderson is concerned, she didn't expect her Operation Farley to make it onto the DivaFest stage when she submitted her play. "I'm very honored and appreciative to have this opportunity," she says. "I never thought at my age I'd have a play that could be performed. I'm kind of amazed at the whole thing," she said.