Derrick Carter and Benny Sanders, two artists with very different styles and expedients, have exhibitions through June 28 at the Harrison Center that are worth checking out.   
"Ricochet" Sanders' show of new work, is this month's exhibition in the Harrison Center.  For those who have been following Benny Sanders' work for a while, "Ricochet" should be an apt moniker since he seems to bounce all over the place in terms of subject matter (and it's not his first exhibition where he has done so).
Lately he has been bouncing around the country, particularly the Western United States, in search of subject matter to inspire his palette. Sanders is following in the footsteps of Georgia O'Keefe in his some of his choices of location and subject matter, particularly Ranchos Chapel in New Mexico — the adobe church built by the Franciscans in 1710 — a subject of painter Georgia O'Keefe. But Sanders' painting of the adobe church is moodier, lit by moonlight, and less reductive in its approach.  
Sanders, who has been crowdfunding his trips out to the Western United States —  and has another one coming up soon — does not neglect the Midwestern landscape: he depicts numerous barns; the barns that he prefers to paint in oil on canvas, like "Barn at New Harmony."
Many of them seem on the brink of collapse, reflecting the collapse of the small farm economy in the U.S. But there's something extra in this work that seems akin to portraiture, because these barns seem to have a certain personality.  
And then there are the actual portraits. Among them is a self-portrait of Sanders himself wearing a yellow ball cap; it's a painterly painting of Sanders looking very down-to-earth. But that's not the only self-portrait of Sanders in this exhibition. There's "Self-Portrait: As a Buffalo" a depiction of a buffalo with expressionistic touches.
But hey, you wouldn't expect to make out layers of photorealistic detail if you were in the field looking at a buffalo in the moonlight. As with the other paintings here, it ricochets between different styles, exploring and restless. When these paintings are taken altogether, they add up to some kind of coherent whole; the reflection of Sanders' widely diverse interests as a painter.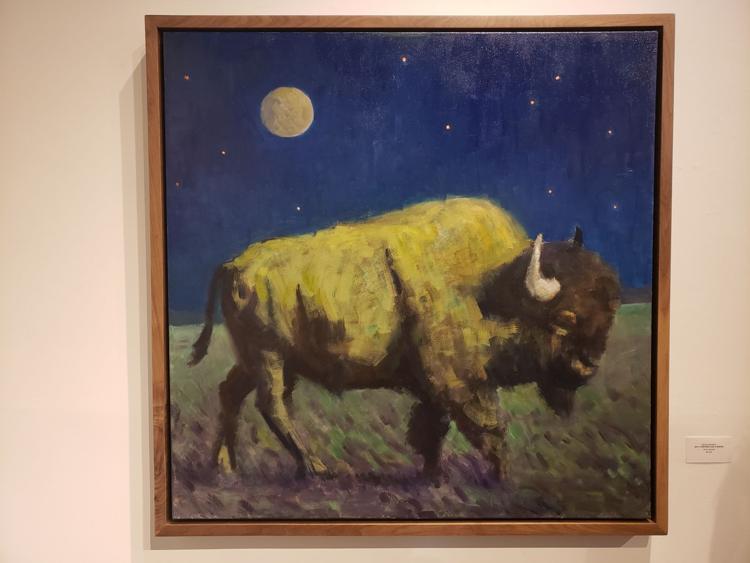 Showing concurrently through June 28 in the Harrison Center's Speck Gallery is The Art in Carter a retrospective of work by Indy-based Derrick Carter that is as focused as Sanders show of new work is eclectic.
If you've been at the Indianapolis International Airport in 2017, you may have seen his five panel painting "Dream" in a rainbow assortment of colors, consisting of portraits of African American icons in diverse poses including Rosa Parks, Martin Luther King, and Spike Lee. Carter's mediums give his work an added impact, using acrylic paint, and glue, his work sparkles and gleams in the light.
It's a painting that works on many different levels; historical, aesthetic, textural (that is, the sandy surface of the paintings), and textual (if you look closely you will see it spell out the title of Martin Luther King's most famous speech, "'I Have a Dream" and it has eye-popping color to boot).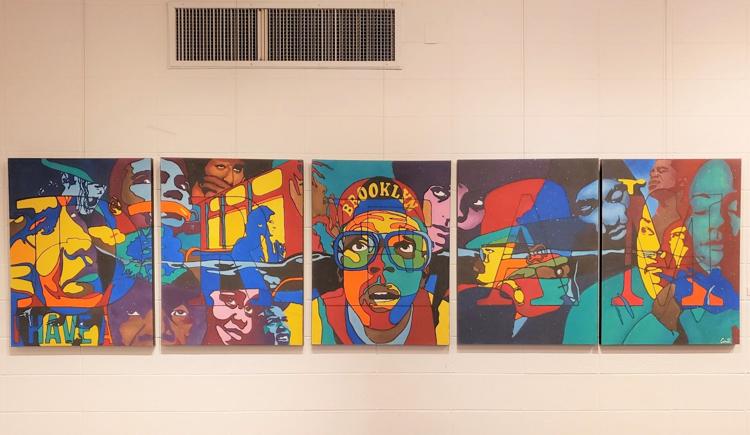 Another of his paintings here, similar in many respects to "Dream" also employs text. The painting "Show and Tell" spells out the phrase "I Can Show You Better Than I Can Tell You," over a portrait of Muhammad Ali with his his mouth locked and bound. The painting must be seen in reference to his outspoken history as a critic of the US government; his refusal to be drafted for the Vietnam War, and the resultant stripping of his passport and his boxing license.  
This exhibit is both colorful and revolves around color; informed by the African American experience. Consider "Blue Shade" the striking portrait of an African American woman reclining nude, on her stomach, lit in the scattered moonlight broken up by window shades. Or the portrait from behind of Chicago Bulls' Scottie Pippen, in the embrace of another Bulls player, titled 'My Brother's Keeper."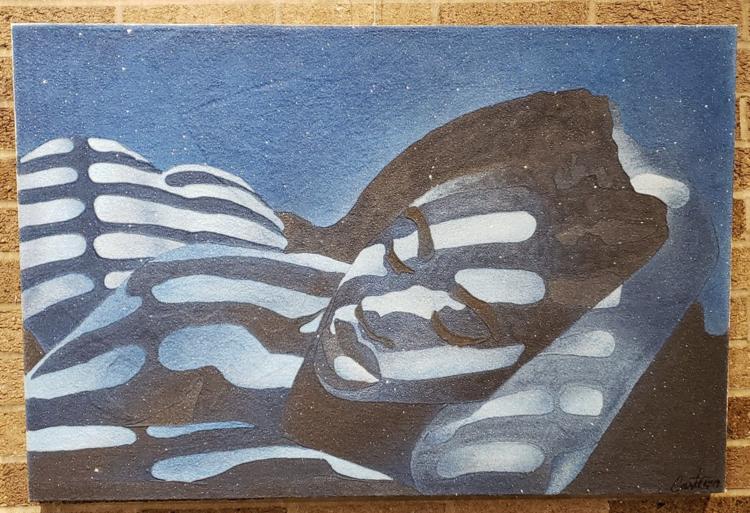 Some of his paintings show the striking range of talent, like "There She Rose," a highly detailed depiction of flowers that draws you in and make you wonder  —   as with the Georgia O'Keefe paintings at the IMA  — if there's anything anthropomorphic going on there.
Perhaps his most conceptual work in this exhibition is titled "His Queen, Her King"  The subjects of the two paintings are chess pieces. The first shows a black queen casting a much larger shadow, as it were, of a white king. The other shows a black king casting the shadow of a white queen.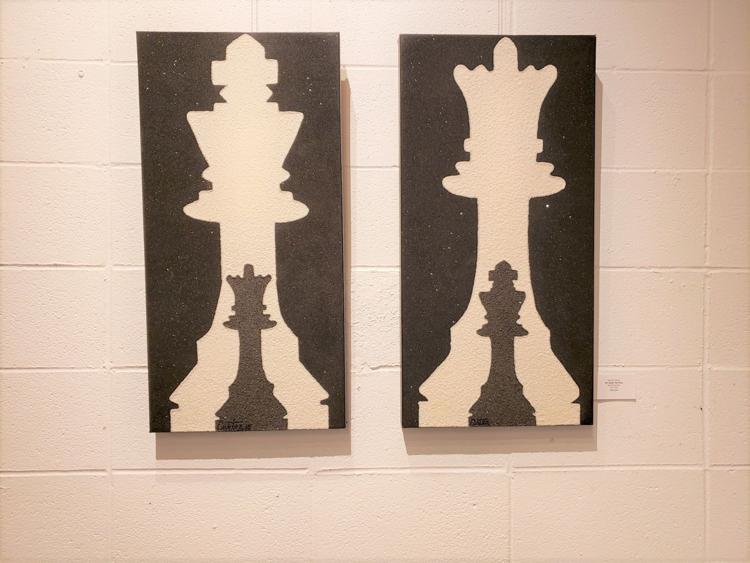 Is this a work of race relations and/or a work dedicated to the relations between men and women? (I think it's probably the latter.) At any rate, it's a pair of paintings that betrays no easy explanation. But it does reveal the questioning, engaging intelligence behind Carter's artistic talent.