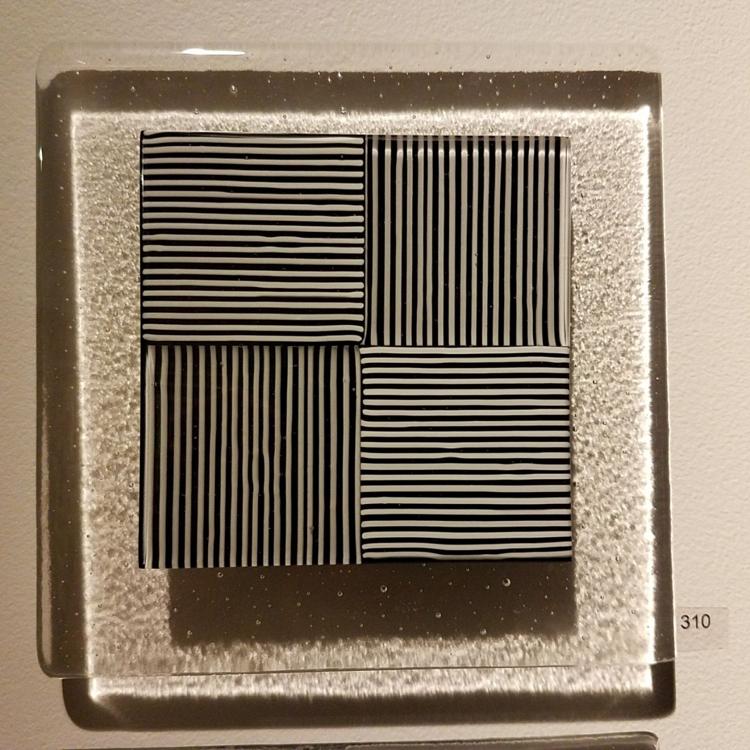 Tiny: the Year of Vonnegut at Gallery 924 through Jan. 5 is something of a misnomer of an exhibition: it's a very big exhibit involving 53 artists (all with tiny art). There are seemingly as many different types of media in this exhibit as there are characters in Kurt Vonnegut's many books.  
Vonnegut, born in Indianapolis in 1922, was a genre-buster of a fiction writer, combining science fiction and his own biographical history —  including his war experiences —  in his novels and his short stories in a way that hadn't been done before.
I keep thinking that if Vonnegut were alive, he would no doubt appreciate the diverse arts scene in Indy on view Friday Dec. 1. (Although I have no idea how he'd feel about the 38-foot-tall mural in his image, by Pamela Bliss, overlooking Mass Ave.)
That night you could see everything from the contemplative geometries of Anila Quayyum Agha at Long-Sharp Gallery to the collaborative canvases of Mike Graves at Murphy Art Center to the diverse group of artists riffing on the Vonnegut literary legacy at Gallery 924.
In the years immediately after WWII Indianapolis was nothing like it is today which is probably why Vonnegut chose not to live here. That is to say, it was about as forward-looking during that time as an overcooked Trump steak. 
Vonnegut served in WWII, fought in the Battle of the Bulge, and was taken prisoner by the Germans. He survived the firebombing of Dresden by hiding in a meat locker three stories underground. When he came up again to the surface, the entire city had been burnt to the ground and hundreds of thousand of its residents had been killed.
This episode had a profound influence on his output as a writer, particularly his novel Slaughterhouse-Five, published in 1969. This novel, as well as Breakfast of Champions, are referenced often in the Tiny show. Herron Associate Professor Lesley Baker is certainly riffing on Slaughterhouse Five in her saucer-size ceramic plate where you see a bomber jet flying through a forested, pastoral scene.  
Baker is a Vonnegut fan, she says, although she hasn't read everything.
"I realize that he's got a general theme going," she says. "You can bring up anything about war, anything about dystopian futures, and I felt like my work already played into that.  
It's more based on something's just not right here."
Baker says she likes working with smaller work.
"I tend to go back and forth," she says. "I've done some really large public art pieces and then I realize every time I do one of those, I go back to doing something really small."
It was an image not much larger than "Formation" —   "Secret Sub" —  that wound up on a billboard overlooking I-465 in 2013.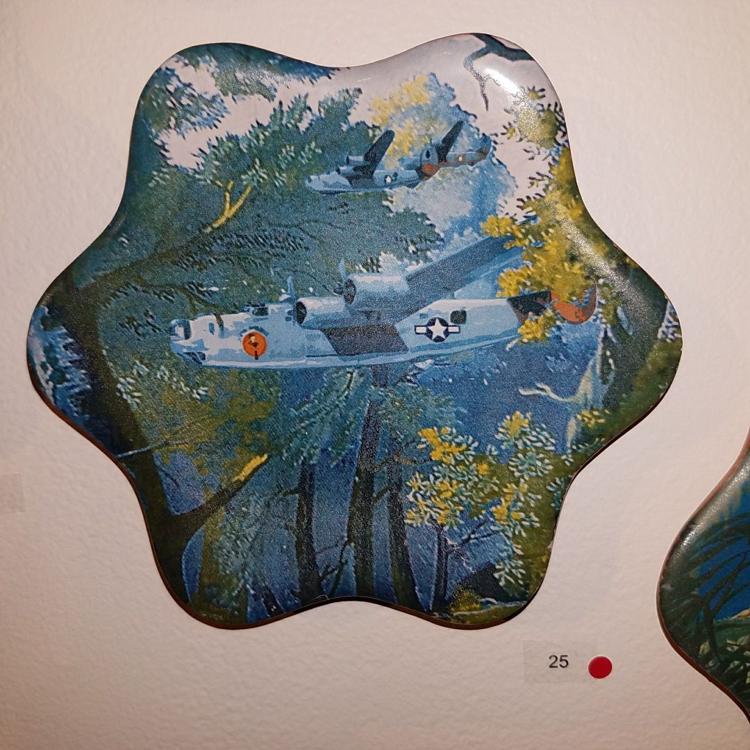 There were more specific references to parts of Vonnegut's work as well. Anna Lee Chalos-McAleese series of wall-hanging works "Ice Nine," made from fused glass — with their alternating squares of black and white parallel and perpendicular lines —  referenced an eponymous fictional substance in the novel Cat's Cradle.  It's a (fictional) substance that melts at 45.8 Celsius and acts as a seed crystal that can freeze the world's oceans. Their designs might be soothing, if you could block out the conceptual content, reminding us that there's a salad assortment of ways we humans might drive ourselves into extinction.
William Denton Ray's series of acrylic on wood mini-paintings "Asterisk or Asshole" references the novel Breakfast of Champions where Vonnegut added his own drawings of assholes, which also look like asterisks. Probably tangential to the conceptual content of this work is the fact that many famous men have been found out to be assholes toward women, and will forever have asterisks by their name (except Trump, at least so far).
The art world has been something of an asshole to women in terms of fair pay and other issues.  Well, that's not exactly how Rhonda Long-Sharp, who spearheaded  Athena Shrugged Remix —  currently exhibiting eight female artists at the Long-Sharp Gallery at the Conrad —  would describe the situation.   
Long-Sharp explains: "In 1971 a woman named woman Linda Nochlin, an art historian, asked the question: 'Are there any great women artists?' And the debate continues. Her conclusion: of course there are, but it's up to galleries, and museums to show that work. Ironically, although we planned this exhibit two years ago, a lot of studies have come out in fact one this week about how women artists are paid far less than men. And we're about to see the end of art created by women if we don't support that area of fine art."
This exhibition is the fifth in a series that began in early 2017 in Long-Sharp Gallery's New York Project Space. This particular show is the first group show in the series. It links locally known female artists Constance Scopelitis, Cagney King, Amy Kirchner, and Anila Quayyum Agha with four other female artists that Long-Sharp has previously exhibited in New York.  
With "Shockra" Scopelitis has ventured forth into the realm of interactive digital animation based on an image conceived originally as a graphite drawing on paper.  You touch various colored chakras or energy circles —   chakras —  on the screen and the black and white image explodes into life.  
Cagney King exhibits striking examples of her mixed media portraiture (seriously mixed media, combining paint oftentimes with cement).  She often embeds text in her highly textural canvases that contain detailed and convincing portraiture.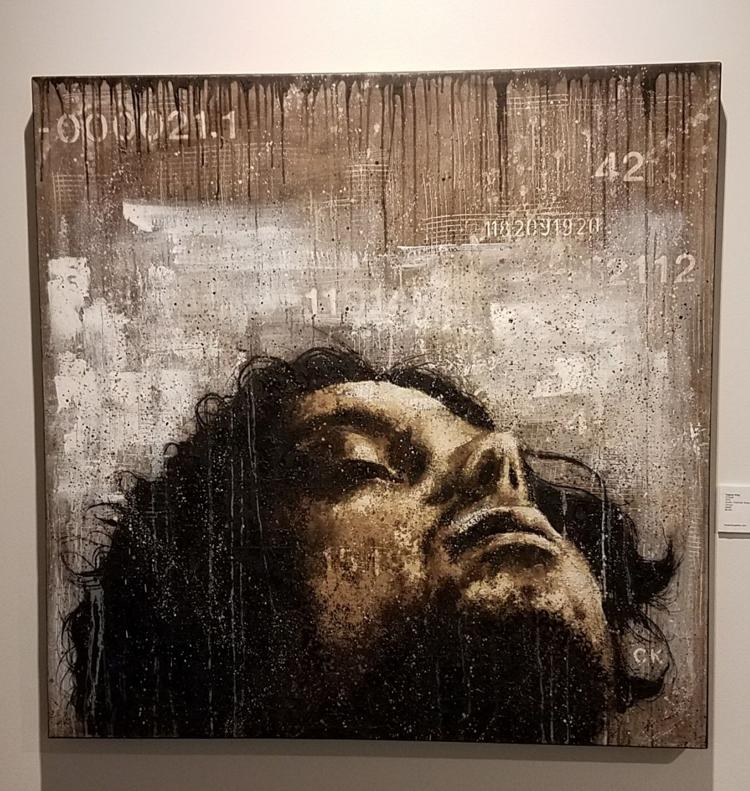 Anila Quayyum Agha, who constructed the 2014 ArtPrize-winning Intersections —  consisting of a 6.5-foot cube with sides of laser-cut birch wood illuminated by a light bulb from within —   continues to explore the realm of sacred space, using mixed media in "Catching the Light —  Red." In this work, she creates a circle in paper by weaving beads with thread and beads and then subdivides that circle into triangular quadrants. The triangles become smaller towards the edges of the circle so it appears to rise out its plane like a sphere, its beads glimmering with reflected light.
The tradition of Islamic art with its abstract geometric patterns —  which decorate the walls of Alhambra in Spain — is a clear inspiration for Agha.  Such elaborate designs reflected the popularity of geometry and science in the Muslim world in the Middle Ages, when Alhambra was constructed.
The Murphy Art Center was for a time something of an Alhambra Palace for visual art in Indianapolis, until the economics of Fountain Square changed, and most of the artists left for elsewhere.
Most artists, that is.
Some artists continue to hang on there. Mike Graves is one of them. His exhibition Still Here, a Bridge Collective Retrospective at Studio 213, featured his work with his many collaborators
"Bridge Collective is me and Shannon Wilson," Graves says. "Basically, it's an umbrella name for all the times I worked with other artists.
In the case of Leslie Dolin and Justin Cooper, two of the collaborators he worked with, their M.O. was to paint portraits on canvases that Graves created. Often the canvases are papered over with various music scores or newspapers in languages other than English.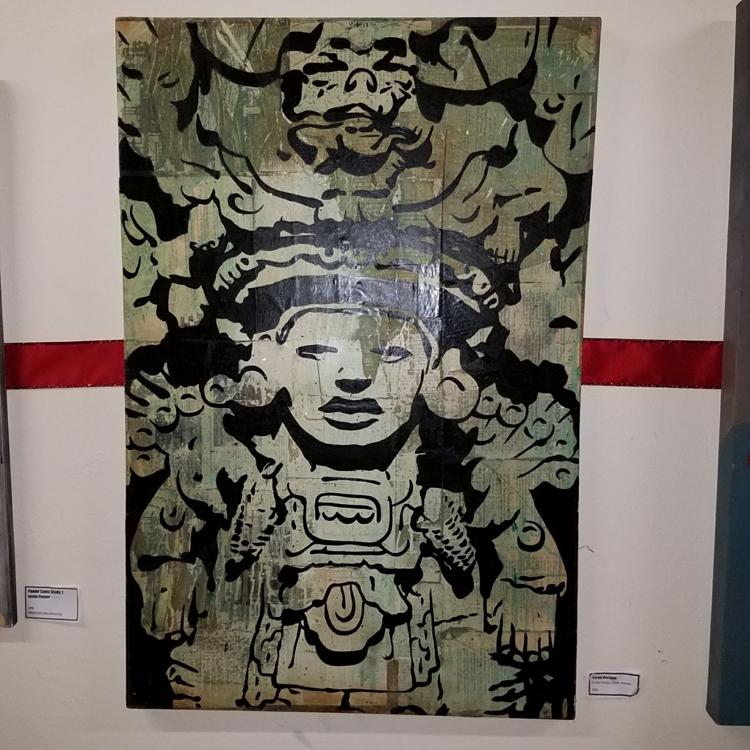 The diversity of subject matter in the exhibit was pretty impressive, as well as the representational ability of Graves' collaborators. Leslie Dolin's paintings in the exhibit featured Black female soul icons from the '60s while Cooper chose a variety of subjects, including ancient Mayan sculpture.
Graves himself is fond of painting trains and superheros. And as I checked out his collaborative paintings featuring both subjects, I recalled something Graves told me back in 2012, when I was interviewing him for a NUVO cover story. We were talking about his formative influences. And it made me wonder if Graves was in the same karass as Kurt Vonnegut (a phrase the author coined in his novel Cat's Cradle).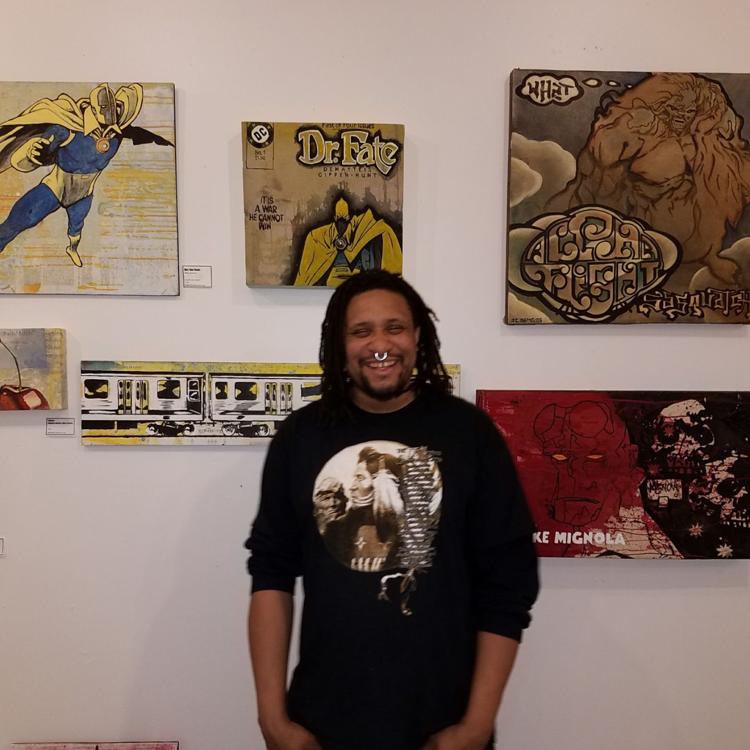 "My dad was in the Air Force," Graves told me. "I traveled every three or four years from the age of six to the time I was 19.  And a lot of that time was just on a plane, on a train, by myself, in a car… From base to base, wherever we were in the world I could always find a comic book store. It's like a really comfortable place for me."