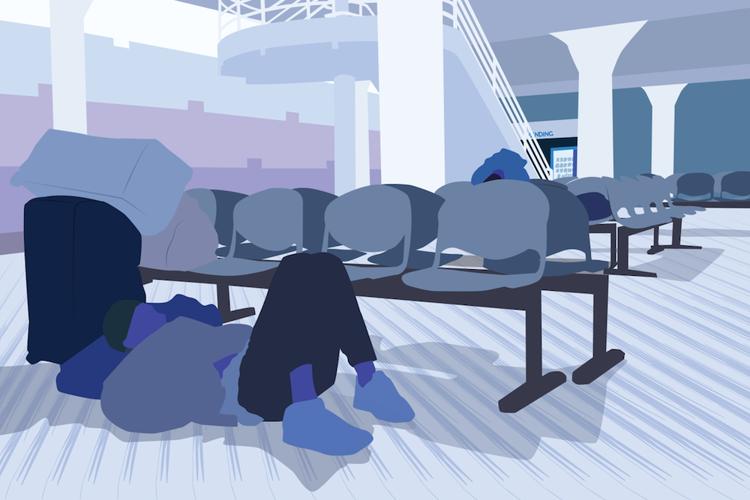 On Sunday, Oct. 28,  I chatted with Dan Fifer, printmaking, photography, and digital arts chair at the Indianapolis Art Center. He was standing beside a printing press, making woodblock prints on demand for patrons during the Fall Fest Cedar & Print Press, a free afternoon, kid-friendly event at the art center during which you could also grab a freshly pressed cup of apple cider or carve a pumpkin among other activities.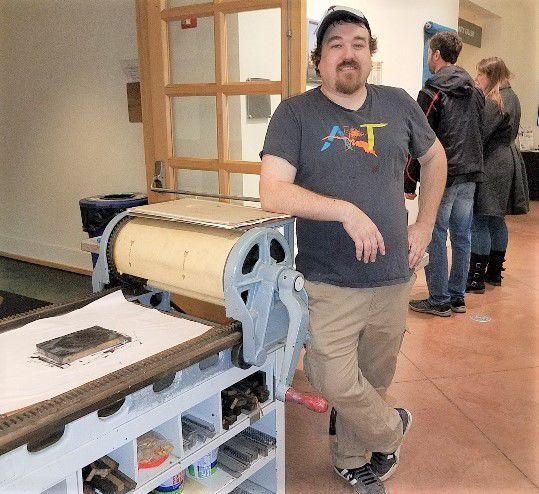 By the time  arrived at around 3:30 p.m., the pumpkin carving had wound down. There had been a good turnout, according the art center's' Shannon Bennett. So good, in fact, that the Art Center had run out of pumpkins.
But I had come not to carve a pumpkin or drink apple cider.  I wanted primarily to talk with Fifer.
Fifer was announced the winner of the 2018 Skip McKinney Faculty Award on Oct. 12.  
The annual reward, now in its eighth year, was created by the Robert H. McKinney Family Endowment to memorialize Arlene "Skip" McKinney, who was an Indianapolis Art Center student as well as a leader in the community. It is given annually to a faculty member who demonstrates excellence in teaching and community building. [Editor's Note: NUVO publisher Kevin McKinney is Arlene McKinney's son.]
I asked Fifer what he would do with the $20,000 fellowship.
"I'm going to build out my studio," he said I have a large garage, a large four plus car garage and so the award will [fund] insulation, storage, equipment, stuff like that."
Another perk of the award is that Fifer will have a solo exhibition at the art center come the 2019 Annual Faculty Show.
That exhibition space, in the Allen W. Clowes Gallery, was currently occupied by the exhibition A Life's Journey, by last year's winner Debbie Kirby which features installations and displays of her ceramic work, in which accumulations of bowls and plates take on symbolic significance.
"'A Life's Journey' is a representative installation of an adult's life through place settings," Kirby writes in her statement.  "Your adult life starts when you move from your parents' home. This is an exciting phase learning to live on a shoestring budget acquiring furnishings you can afford.  Eventually you meet a partner and marry, combining possessions, and the accumulation of stuff begins!"
I asked Fifer if he had any ideas of what kind of work he would make for that exhibition.
"Only as much as I need to do something," he said. "I tend to move around a lot in different mediums so I don't know where I'll be a year from now. But it will have something to do with photographic, printmaking."  
Fifer had an example of his work in the Annual Faculty Show on view through Nov. 25. "Study #8," is a wall-hanging work that combines photography, printmaking and digital arts. It depicts a nude woman bending over from the side, in black and white. She is half bathed in light, half cast in shadow. You can't see her face.The work hides as much as it reveals. The sense of mystery, paradoxically perhaps, doesn't repel, but draws you in.
I was also pleased to see two works by art center instructor Leena Dobouni, including a wall-hanging installation "Excuses" consisting of mostly of plaster sculpture and toe tags for morgue use. In one segment of the installation you see half of a foot sticking out of the wall. It's an installation meant to question U.S. involvement in Middle Eastern politics.
I've written of Dobouni before, and think she's one of the most urgent, and versatile, artists in the city. She's an artist who deserves as large a venue as possible. And who knows? Maybe she'll be the next McKinney award winner.