Of all the artists represented in Collecting Contemporaries: Recent Acquisitions from the Koch and Wolf Collections at Newfields, there's one whose work leaps off the wall for me: James Rosenquist.
His four-part lithograph with screen print, "F-111," presents the viewer with a jumble of images: fighter jets, a plate of spaghetti in sauce, nuclear explosions, and a girl with her head in a missile-shaped hair dryer. Rosenquist also composed a painting by this name dating from 1965, just a few years after the Cuban Missile Crisis.
Maybe the message of the painting is: if you want your canned spaghetti, you have to eat your Strontium-90 too.
"The idea of painting as overload, as a yowling discharge of images in torrential sequence, was Rosenquist's peculiar and memorable contribution to pop-art," wrote the late art critic Robert Hughes in his book The Shock of the New. "Elsewhere it hardly existed in painting, and its received context was poetry or the lyrics of some pop singers, like Bob Dylan."
There are other many works on paper worthy of attention here too: prints by Jasper Johns, Robert Longo, Sol LeWitt, Roy Lichtenstein, and Andy Warhol among them.
These works were collected by longtime IMA supporters Kay Koch and Joan and Walter Wolf. Their gifts to the IMA were some of the most significant in the history of the 135-year-old museum.
I asked curator Elisabeth Smith, who recently left Newfields, to answer some questions by email.
NUVO: Was there a lot of curatorial discretion with your selection? In other words, it's not just the case that everything that was in the Wolf and Koch collections you put on the walls, right?
ELISABETH SMITH: Right. In 2016 Kay Koch and Joan and Walter Wolf gifted to the Indianapolis Museum of Art many more works than what is included in the Collecting Contemporaries exhibition. Both of their collections have different strengths, so, for me, the fun part was determining where the collections diverged and intersected, and what kind of story we could tell given these parameters.
NUVO: Are there two or three works that speak to you the most in this exhibition?
SMITH: There are so many great works, it's hard to choose. If I had to pick two, I would have to say that Sam Gilliam's "For the Fog 14" and Richard Hamilton's "Flower Piece" series stand out as favorites. I have always appreciated Hamilton's irreverence, and Flower Piece manages to celebrate certain elements intrinsic to printmaking while also having a sense of humor  —he injects an otherwise technical piece with levity. I think we need more playfulness in art. Totally different is the Gilliam—he's able to manipulate and incorporate very unique methods into the printmaking process; he is somehow able to imbue the work with color, volume, texture, and pattern in a way that only he can. It's a magical piece.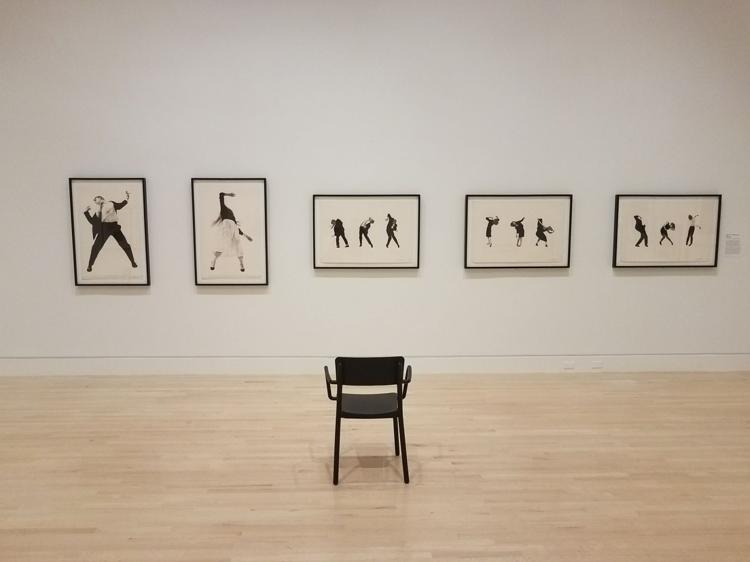 NUVO: Why are the majority of the works in this exhibition prints?
SMITH: Kay Koch's collection focuses primarily on prints, while Walter Wolf collected prints exclusively. For Wolf, his passion was inspired by his grandfather, who collected works on paper by the Old Masters. For Koch, she and her late husband, Bryan B. Molloy, collected what they liked. Given their interest in the leading artists of the 1960s and 70s, prints were a more affordable way to own works by the artists whom they both admired.
NUVO: How many prints of James Rosenquist's "F-111" exist? Can you talk a little bit about the history of this print and his printmaking process?
SMITH:  F-111 is a combination lithograph and screenprint produced as an edition of 75 in 1974. The one on view at the Indianapolis Museum of Art is number 18 of 75. This print was created a decade after the artist made a painting by the same name, which shares as its subject potent icons of American prosperity, militarism, and popular culture. The artist mined commercial and everyday images to reveal their power, and acutely address the relationship between consumerism, media, advertising and, at the time, the Vietnam War. The print makes a not-so-subtle political statement.
NUVO: Was it a goal of this exhibition to highlight lesser known printmakers as well as the likes of Andy Warhol?
SMITH: I wouldn't say that any artist in this exhibition is "lesser known," but one goal of the show is certainly to highlight the printmaking practices of artists who are arguably better recognized for their work in other media, such as painting, sculpture, and installation.
NUVO: What was most important to you as you considered where to place particular works on the gallery walls?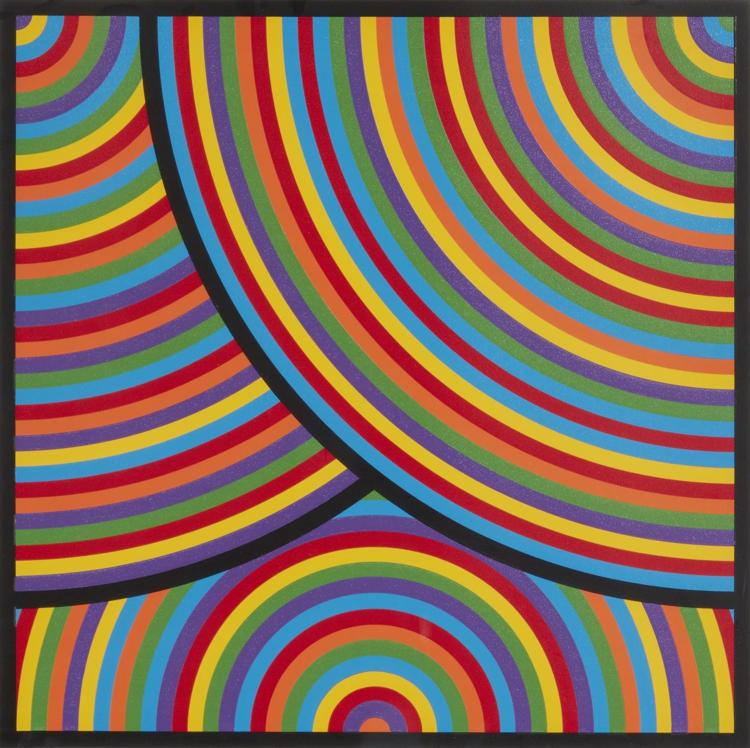 SMITH: Working with only two-dimensional works can prove to be more difficult than one might imagine. If you're not careful, hanging one print after another after another can get monotonous, so I tried to find moments where I could bring some variation into the gallery, such as the Alex Katz or Sol LeWitt pieces, which are hung a little more dynamically. Another thing I had to keep in mind was a given works' content. For example, many of the pieces share a genre or subject matter (such as still lifes), or the artists run in similar circles (like Pop). Drawing out these associations within a given gallery was also an important consideration.
NUVO: Do you think this particular collection of work has anything to tell us about collecting art in America and/or American history?
SMITH: The lack of women artists and artists of color in this exhibition is something that I struggle with. I do wish there was more diversity in these collections—and in museums more broadly—but the nature of these collections reflect a moment when the art world was not nearly as concerned with equity and the politics of representation as it is today. Collectors and museums are thinking much more critically about who determines the trajectory of art history and what the act of collecting really means, and I believe that if Koch and the Wolfs were beginning their collections in 2018, we would no doubt be seeing a different—and more diverse—group of artists.
NUVO: Most of the artists collected in this exhibition are white males. Does this say something about the era in which these pieces were collected?
SMITH: These two collections are certainly indicative of one mode of collecting, but it would be irresponsible to say that all collectors of this generation collected mostly white male artists. There are plenty of collectors out there who have prioritized the acquisition of works by artists of color and women, as well as works in different mediums and from different cultures; to build a collection is a deeply personal process, and every individual will have their own motivations, focus, and budget. That said, we cannot ignore the fact that the overwhelming majority of permanent museum collections—in both the United States and abroad—are made up primarily of works by white men, and that the art historical canon is similarly lacking in its diversity. One hope of mine is that Collecting Contemporaries will inspire a new generation of collectors, prompting them not only to collect, but to ask themselves which artists they want to represent in their collections and why.