If you only make it to the larger art destinations on First Friday — places like the Harrison Center, Circle City Industrial Complex and Tube Factory artspace — you might not meet up with people like award-winning WNBA forward Tamika Catchings, who spent 15 years with the Indiana Fever. 
I caught up with Catchings on First Friday at Tea's Me Cafe, which she owns, on First Friday, just before while my daughter Naomi sipped down an almond-orange iced tea. I asked Catchings about the youth-oriented "Tea's The Artist", the First Friday open mic, that has been happening monthly for two years now, which is about as long as she's owned the business.
"When I came in, I was really excited about doing something that was super family centered," Catchings said. "So we have young artists. I love the fact that we have a space that's dedicated to young artists ... every artist ... but my passion is kids."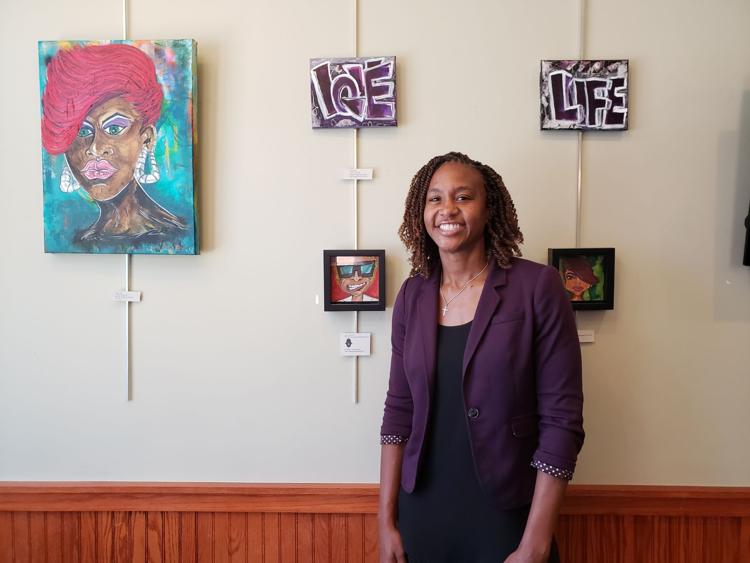 Indeed there is space for grown-up artists: On First Friday, the colorful paintings of Gary Gee were up on the walls. On Aug. 15, that work will change over, and the work of Omar Rashan will be on display for a month. 
Next on the agenda was a venue in Midtown Indianapolis, which isn't exactly the most active area of the city when it comes to hosting First Friday openings.
Daniel Shoop was exhibiting his acrylic paintings at the Green House,  which is described on its Facebook page as "an office and event space" at 447 E. 38th St.
Shoop taught world history for 50 years at Carmel High School and also coached girls cross country at the school.
Shoop's subjects range from yachts in motion on the water to gatherings of the wealthy at Florida horse races, in addition to portraits, including one of the German field marshal August Von Mackensen. 
It's a portrait notable for the subject's proud, severe gaze and the colorful medals on his chest.
"August Von Mackensen grew up in Prussia," Shoop said. "He was in the Franco-Prussian war and worked his way up. He ended up being the No. 1 guy to William the First, the Kaiser of Prussia. When Hitler came, he was still alive and Hitler trotted him out like a pet at every parade because he was popular. In 1944, he was 92 years old, and the Russians were invading his estate. He got out with a rifle and shooting at the Russian army by himself."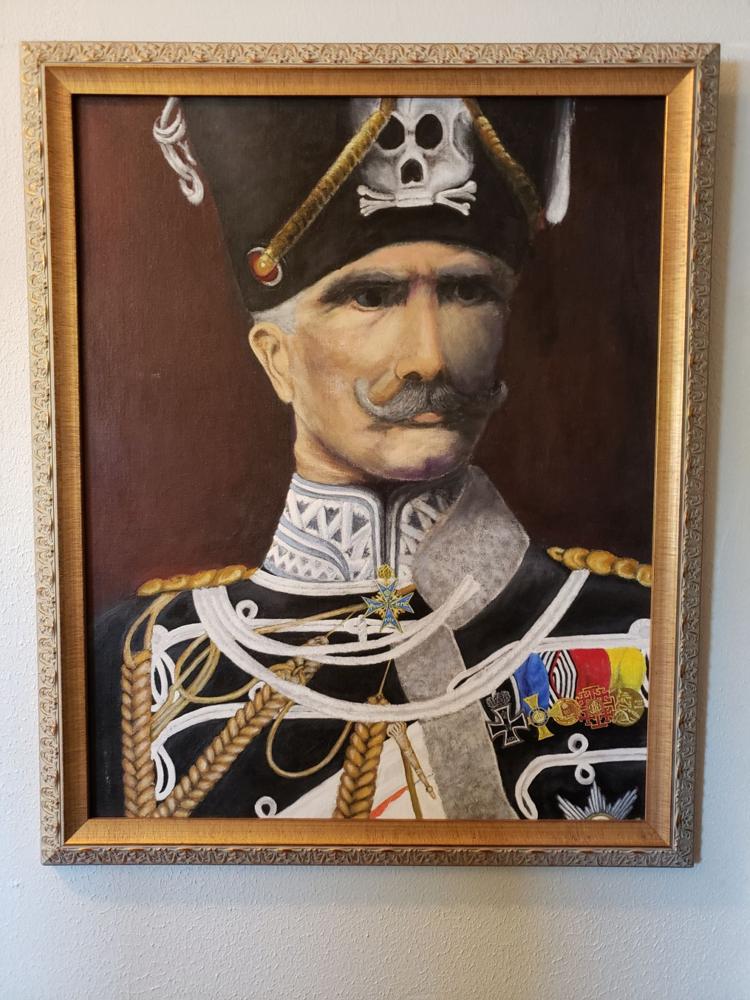 One of the reasons Shoop was attracted to the field marshal as a subject is because Shoop collects medals. Mackensen was a recipient of the most prestigious medal of them all: the Order Pour le Mérite, aka the Blue Max. 
Shoop's work hangs through August. Contact The Green House for more information.
At the Harrison Center the annual Food Con was going on, an annual event initiated in 2010 to showcase the culture of food in Indiana.  
In addition to the art on display, there were booths with information and demonstrations on everything from aquaponics to urban farming to preparing wild squirrel meat.
At the Harrison Gallery, you could see ceramicist Jackie Head's exhibit, "This Must Be the Place." Her slip cast wall tile installations, consisting of many individual pieces might remind you of the shapes of certain fruits. They might also remind you of the geometric patterns found in Islamic art, as well as in nature.
Gary Gee, whose paintings we had seen earlier at Tea's Me, had a show of his own in the Harrison's City Gallery. While much of Gee's work is influenced by street art, two of the stark abstract paintings in acrylic and aerosol — one entirely in mostly black ("Black Wash") and one mostly in white ("White Wash".) Gee told me that he was influenced by Indy-area abstract painters Samuel Vázquez and Hector Del Campo in this current work.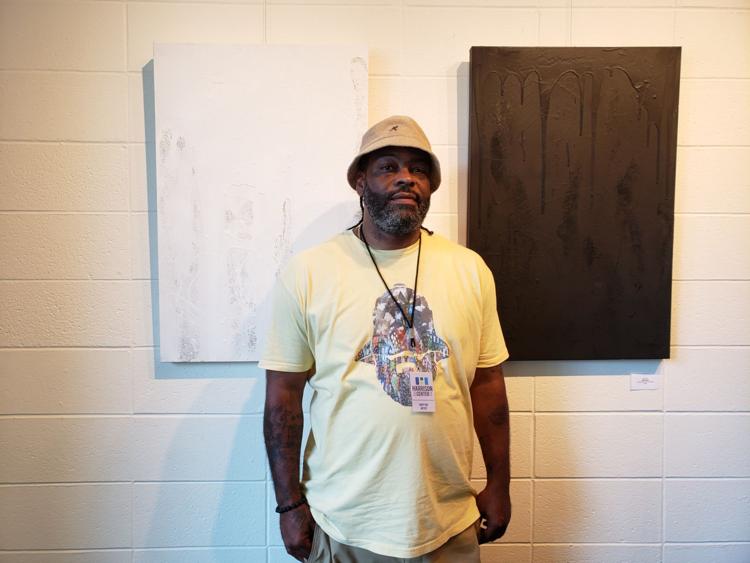 In the Harrison's Gallery Annex, an exhibition of Pop Art-inspired screen prints titled "An American Feast" provides a less-than-jaded view of American packaged and processed food products such as Coca Cola, mac 'n cheese and Spaghetti-O's. 
Such foods are a far cry from the types of wholesome and organic foods promoted by Food Con. But from a certain vantage point, you might find them more colorful. 
"To my eye, these foods are really beautiful forms, beautiful colors and above all, very evocative," writes Salij in the Harrison Center blog. "And they're glamorous! Gorgeously packaged and advertised on television, to this child of immigrants growing up in Fort Wayne, they were exciting!"  
The standout of this exhibit for me was one titled "ca-Cola" detailing the writing on the side of the crushed can. It just might function on an amusing commentary on the limits of the employed artistic medium. That is, someone coming to that painting without an inkling of knowledge about Coca Cola projects might just think "ca-Cola" is the name of the product, as there's no way to turn a two-dimensional work of art around to see its other side.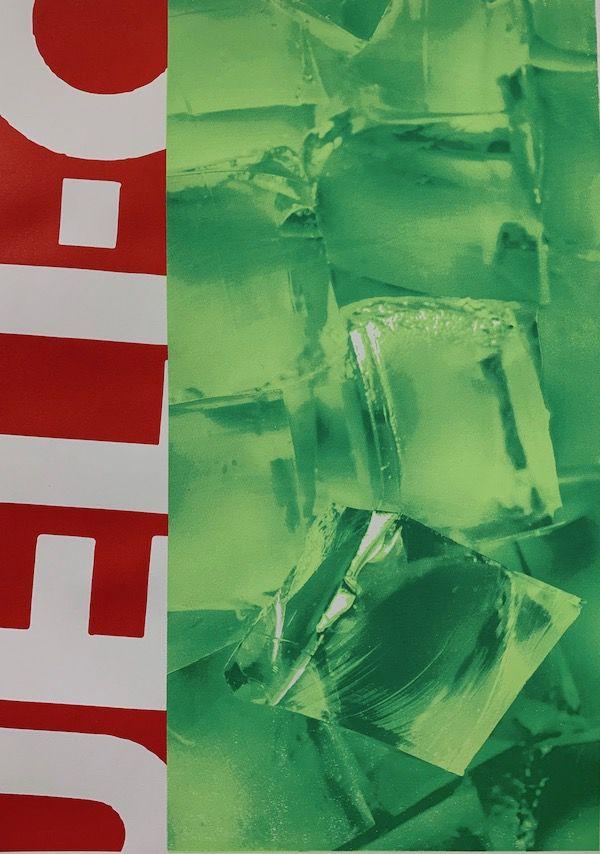 Salij's work, with some of its eye-popping contrasts between depictions of packaging and the food contained within, is perhaps less reminiscent of Andy Warhol's Pop-Art offerings than some of the work of James Rosenquist.
The work at the Harrison Center hangs through August 30.
Last stop of the night was Circle City Industrial Complex. Ron Kern had some striking work in Satch Art Space, the gallery space named after Julie "Satch" Kern, an artist working with assemblages and collage.
Kern was making abstract black-and-white digital photographs informed by solid, real-world subjects. His exhibit is titled Transcendent Presence.
Kern has shown his more abstract photography before, but his usual photographic subject is small-town Indiana.  
I was drawn to one particular photograph because it engaged me, with the intricate and peculiar forms in grayscale against a white background. The photograph being abstract, of course, makes it infinitely open to interpretation — that is, wherever your mind wants to take it.
It made me think of the Jewish concept of tikuun olam, translated as repair of the world, and the goal — through performing good deeds and practicing love and compassion —  of raising divine sparks of light to conquer the darkness.
Kern used a computer program in place of a dark room to accentuate certain features on this engaging image captured in the real world.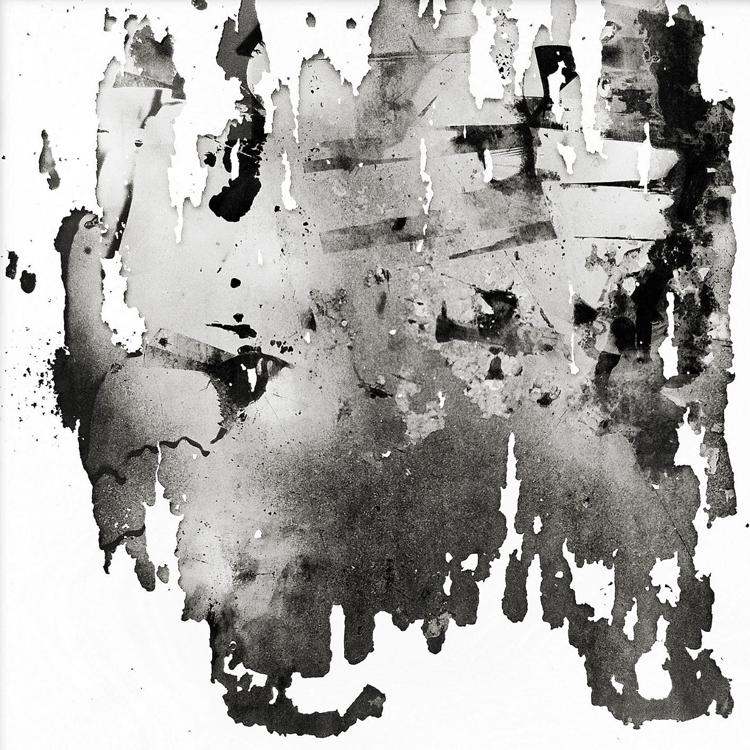 After leaving Satch, we went to the upstairs CCIC studio space to see a group photography exhibition focused very specifically on the real world, the Pogue's Run First Friday Photo exhibition organized by Reconnecting to Our Waterways (ROW), up in the hallway of the second-story studio spaces. The exhibitors were a multitude of amateur photographers who had made Pogue's Run their subject. 
 "It's the first time we've done it, and it's really fun," said Bri Dines, communications coordinator for ROW, who organized the exhibition along with the CCIC. "All these photos are amateur photos, and that's one way to connect to the waterway. And that's what Reconnecting to Our Waterways is all about, connecting to Indianapolis's waterways, so that we'll take care of the neighborhoods that are around them."