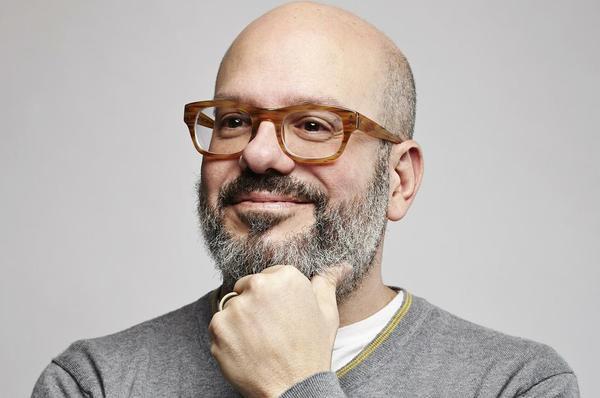 Like much of America, comedian David Cross is sick and tired of our president.

"There's such a nonstop flood of awful sewage that's coming from him and the White House," Cross says. "Any outrage you might have is supplanted within the hour by something else."

Currently out on the road as part of his "Oh Come On" tour, Cross will make his way to the Egyptian Room on Saturday, July 14. Ahead of his Indy appearance, we caught up with the longtime funnyman for a phone interview.

NUVO: You have a pretty solid Southern-conservative impression. I know you grew up in the South. Is that upbringing something that's still in the back of your head when you're writing jokes?

DAVID CROSS: It informs when I'm doing that kind of character or that kind of response. Any of those things, outside of a few colloquialisms, can be attributed to any conservative, just the accent is different. That's just the one I grew up with and the one I know best and the one I hear automatically in my head.

NUVO: I recently interviewed Neal Brennan and asked him this same question, only about Chappelle's Show. When you look back at Mr. Show, what are some things you are proud of?

CROSS: The fact that it's lasting. We had unwritten rules that all lent themselves to making it not be dated and still to be relevant, which I think helped that. And then…somebody used to have a site on the internet called something to the effect of "Mr. Show Comes True," and they would compile different sketches, whether it was six, 10, 15, or 20 years later, that kind of came true in a sense. That's pretty cool as well. 

And then also, all the opportunities it gave really talented people and how well they've been doing and how successful those men and women are. That's another source of pride for sure.

NUVO: What were you drawn to when you first learned of Arrested Development?

CROSS: In a word, it was the writing. I didn't know who Mitch Hurwitz was, and I had never met the Russo brothers. I had gotten the script, and I had basically just moved to New York from L.A. The writing was so strong, and the character. Initially, they wanted me to look at GOB and Buster, and I didn't really connect with those. But Tobias was the character where I went, "I know exactly who this guy is," and I had a lot of ideas and talked to those guys. I'm glad that I did.

NUVO: Would Tobias be a Trump supporter if he were a real human living in 2018?

CROSS: He seems so apolitical. With whatever is happening in the room around him, he would just sort of find a justification for that viewpoint. And then, as soon as he got somewhere else, he would find another justification for the exact opposite.

NUVO: As a comedian, do you feel that you have a responsibility to speak out on things that are bad in the world?

CROSS: Not as a comedian, no. But as a human being, as an American, and as a person who has empathy and cares about the well-being of other people and the marginalization of groups of people, yes, I have a feeling of obligation. That's just how it shakes out. I mean, everybody should. If you're a plumber or a painter or a marine biologist…every decent human being should be speaking out or taking action.

NUVO: What are your thoughts on the current comedy climate, having been in the game for so long?

CROSS: Well, what do you think it is?

NUVO: I guess I feel comedy has become more politically correct at times.

CROSS: Yeah, I agree with that. It's markedly more like that. I'm getting a feel for it. So much of getting this set together [for this current tour] was done in a bubble in Brooklyn. I really developed most of this show in Brooklyn, and now I'm out on the road. But I'm still in New England [at the time of this conversation]. I'm not out in the Midwest. I'm not in the South yet. I've been playing relatively bigger urban areas. So once I get out, I'll have a better idea of the answer to that question. But for sure. It's the most polarized I've ever seen this country as an adult, that's for sure.