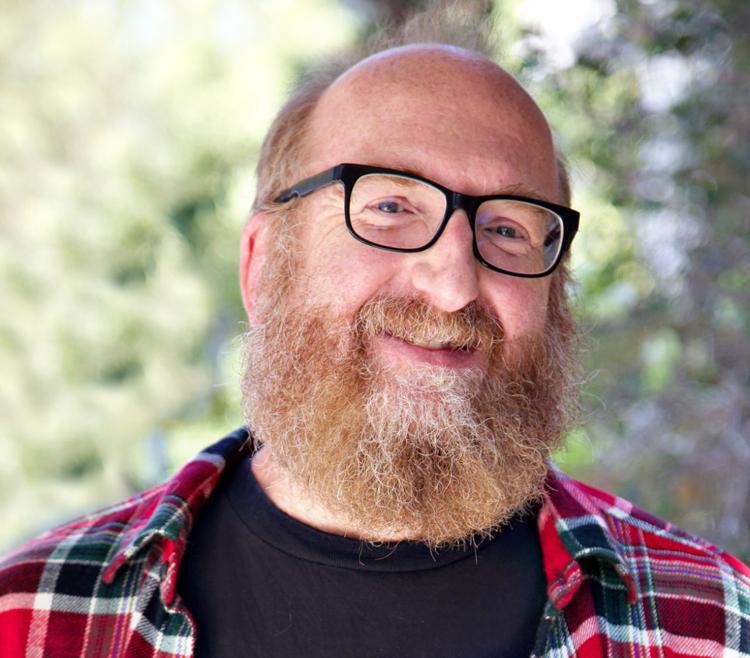 Brian Posehn's been acting since the mid-'90s. You might have seen him playing a patient on Seinfeld in the episode where Kramer pretends he has gonorrhea. You might also have seen him on Mr. Show, The Sarah Silverman Program, Californication, and in various movie roles. If you have kids of a certain age, you might've heard his voice on the PBS program WordGirl as Dr. Two Brains' obsessed fan Glen Furblam.
This very tall comedian (6'7") with the distinctly nasal voice also has a thriving stand-up career. And he's a huge heavy metal fan. The latter fact didn't prevent him from doing his stand-up routine in front of thousands of Insane Clown Posse fans at Gathering of the Juggalos. (Insane Clown Posse is a hip-hop duo, of sorts, distinctly non-metal though they surprisingly share an overlap of fans.) He released his third comedy album, and first Netflix DVD The Fartist, in 2013.
I caught up with the multi-talented comedian/actor ahead of his upcoming stand-up sets at The Comedy Attic in Bloomington on Dec. 8 and 9.
SETH JOHNSON: How did you first get your start in the entertainment business?
BRIAN POSEHN: I started standup in '87. I was going to college for journalism actually. I interviewed the band Fishbone, it went really poorly, and I decided, "I don't wanna do this." My friends thought I was funny, so I started writing standup before I turned 21. And then, the week I turned 21 and could get into clubs, I started.
SETH: Mr. Show with Bob and David was one of the first big shows you were involved with. How was that early experience beneficial for you?
BRIAN: That's one of the first things people knew me for. It's still one of my favorite jobs. I already knew David Cross from him performing in San Francisco, where I lived. We became friends. Then, when Mr. Show started its early stages, we were just doing it in theater spaces around L.A. I was a part of it in the very beginning and would do these live scenes. I remember very early on going, "This is amazing. These guys are doing something really cool." I was stoked to be a part of it. And, that got me a lot of sitcom work, from writers that were fans of Mr. Show knowing what I could do through that.
SETH: Speaking of sitcoms, I know that you were in an episode of Seinfeld. How was that experience?
BRIAN: It was really cool. That's still something that sticks with me, how cool Jerry Seinfeld actually was as a person. I had auditioned for it a couple of times, and he was always in the room with the other producers. At the time, this guy was one of the biggest comics, if not the biggest comic, and he still is. He was so cool to me. In one of the auditions early on where I didn't get it, I was leaving the room, and he goes, "Hey. I don't want you to be discouraged. Just know we really like you. You may not get this, but please keep coming in." No one ever says that! He was the only person to ever say that to me in a sitcom audition. I respect him even more after working with him.
SETH: You worked with Marvel on a Deadpool comic series. How did that come about?
BRIAN: Comic books were always just a hobby, and I never, ever thought I could actually write one. I wrote this independent thing called The Last Christmas with my pal Gerry Duggan. Through that, he and I made other friends in the comic book writing world. So we would be at Comic Con as nerds, but then we met the Marvel guys and the DC guys. Deadpool came about…Marvel had asked me if I wanted to do a one-shot, and I was interested. Then when I went back to them and said, "Yeah, I wanna do that," they were like, "Well, we're not really doing one-shots anymore, but would you take over the whole series?" And I went, "Really?" We [he and Duggan] pitched what the first year would be, and they loved it. They never fought us on anything, and we wound up writing for three-and-a-half years.
SETH: You performed with Indianapolis comic Nate Gropp when you were last in the state, and he told me you're a big action movie fan. What are the elements to a solid action movie, in your opinion?
BRIAN: My favorite is Die Hard. It's my favorite Christmas movie. I watch it every Christmas as I wrap presents for my family. It's the action. It's the story. It's caring about the hero. But then, in a movie like John Wick, I also love the ultraviolence and just how ridiculous those movies can get. I like a movie that makes me go, "Oh my god!" Whether it's a kill or just a fight scene. So the John Wick movies are two of my favorites, and the Raid movies too. I love those. I always talk about horror, but I might almost like action movies more than horror.
SETH: Being the metal fan that you are, have you had any surreal run-ins with metal heroes of yours over the years?
BRIAN: Tons of 'em. As far as getting to meet your heroes, the biggest one is probably Ronnie James Dio. I'll die proudly knowing that this metal god was sitting in my backyard waiting for us to do this little video shoot that we were doing. And, he was a fan of mine. The whole thing was surreal. At one point, we were standing in my kitchen, and we were just talking about Black Sabbath. I'm just like, "I can't even believe this is happening." So that's the biggest. I've met a lot of big guys, and I've met younger bands. I've hung out with Lamb of God, Mastodon, Metallica … but, that's gotta be the biggest.
SETH: Staying on the topic of music, what was it like performing at Gathering of the Juggalos?
BRIAN: That, you do for the story [laughs]. It was the most money I ever made for performing a stand-up set. It was incredible. I said yes because the money was ridiculous, and then also because I knew I would have a story.
I opened by saying, "Hey. I don't do drugs," and people booed me because they did [laughs]. 400 people booed me at once. It was like they had a meeting and said, "Hey. If this guy says he doesn't do drugs anymore, let's boo the crap out of him." And, that's what happened.
It was also three in the morning, which is weird. You never perform that late. It was me and Harland Williams, who's an old friend of mine. We get to this place at midnight, and then they tell us, "You're going on after backyard wrestling at 3 in the morning." So they're sweeping broken glass from florescent light bulbs off the stage, and they're mopping blood up. And then they're like, "That's where you're performing."
SETH: Being someone that's done stand-up for so long now, would you say that stand-up has changed from when you started doing it?
BRIAN: Well, it's the biggest it's ever been. And, one of the great things about it is how there's not just one style. When I started, the mainstream stuff was not for me. I always just did my own thing. I feel like there are a million comics doing their own thing now, and that's great. There are so many different voices. I love how diverse it is now. I think it's only good that there's not just white guys in suits talking about being a white guy. I love that there are a million different points of view in stand-up now.
SETH: You'll be at The Comedy Attic again when you come to town this time around. What do you enjoy about performing there?
BRIAN: It's one of the best clubs in the country. The owner of that club really cares about comedy, and that makes a difference. When you're playing a club, and they really only care about selling appetizers or drinks, it shows.