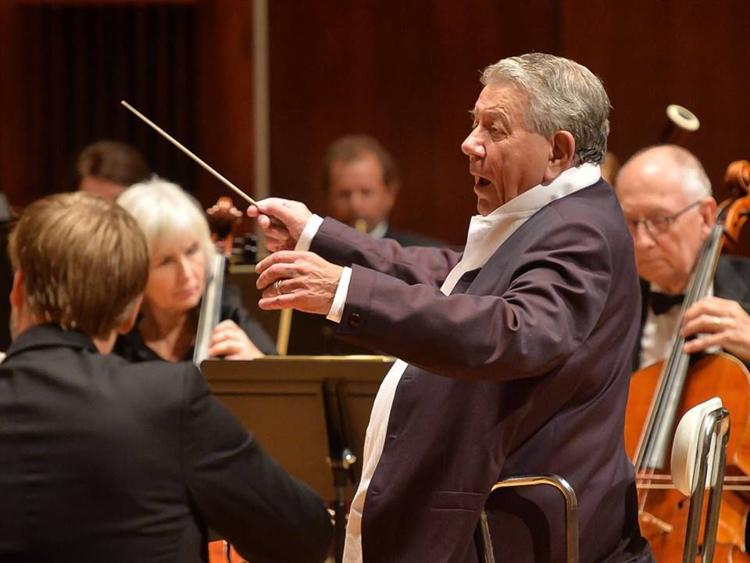 The University of Indianapolis opened their 2017-18 Concert Series on Sept. 18, with a thoroughly satisfying trio of works in celebration of the 90th birthday of Maestro Raymond Leppard. With Mr. Leppard at the podium, nuanced playing reigned throughout.
Elgar's "Serenade for strings" capturing the enchantment of an English countryside, opens with a whisper of violins and wafts into a melody with viola, cello and bass joining the momentum of violins enjoying the playfulness of light and shadow flickering along the rise and fall of pathways. Leppard is a master of ensemble playing, coaxing coloration out of a string orchestra for what seems like so many more instruments than what's actually on stage. If you listen past the feel of Wagner you smile at snippets of what would become Elgar's "Pomp and Circumstance." Poetry in motion through sound.
 Mozart's "Sinfonia Concertante, K. 364" rose to sheer joyousness through the embrace of violinist Zachary DePue and violist Michael Isaac Stern leading, weaving, partnering as a testament to Mozart's brilliant crossover between symphony and concerto. The rich harmony grows from a divided viola section, and the fulsomeness emanates through two horns and two oboes asserting themselves above, alongside, and beneath the strings. Stern's viola rose to the demand for a more brilliant tone as a consort with DePue's lithe sweetness. Richard Ratliff, in his program notes rightfully draws attention to George Balanchine's embrace of this work for his iconic 1947 ballet, with two ballerinas embodying the violin and viola as soloists, he embraces the three movements' varying tempo and timbre for building choreographic drama.
Schubert's "Mass in G Major, D. 167" devotes itself to the mood of devotional prayer. Far more modest in presentation than are his other masses, "Mass in G" concerns itself with lyricism more so than with bombast. The chorus and soprano are more prominent than are tenor and bass-baritone. All, together with organist Marko Petricic and the Festival Orchestra, carry forward Schubert's signature rich harmonic coloration.
Next up: Free Faculty Artist Concert, UIndy DeHaan Arts Center, Oct. 2, at 7:30  p.m., featuring The Indianapolis Quartet: A Night in Vienna