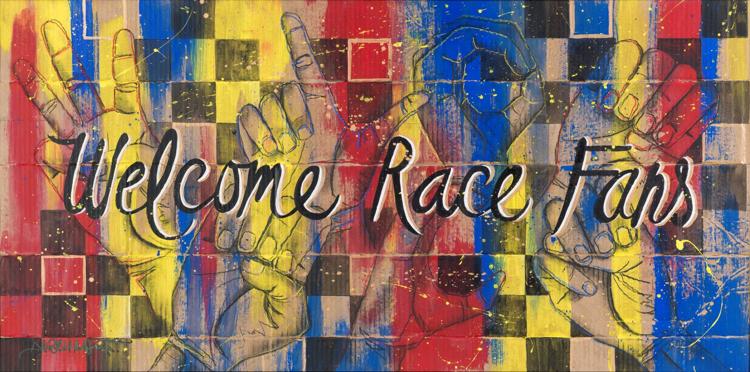 It's May in Indianapolis.
So, of course, there was Indy 500-themed work at the Harrison Center on First Friday, May 1. Quincy Owens' solo exhibition, Throw Caution, had lots of colorful paintings that attempt to mimic the dayglo excitement of "The Greatest Spectacle in Racing." There's lots of color fields, splashes, and drips.
Meanwhile, at Gallery 924 and Tube Factory artspace, there's work that deals not with the race but with race, by which I mean the human race, human dignity, and those who sow division among the races.
Owens' bright palette seems a close cousin to that he employs in a lot of the very clean, very geometric public sculptures he creates with his partner, Luke Crawley, that you see all over town. But unlike the sculptural work, and like the Indy 500 itself, the process of these paintings seems as important as the end product. (It would have been fun watching these canvases being painted.)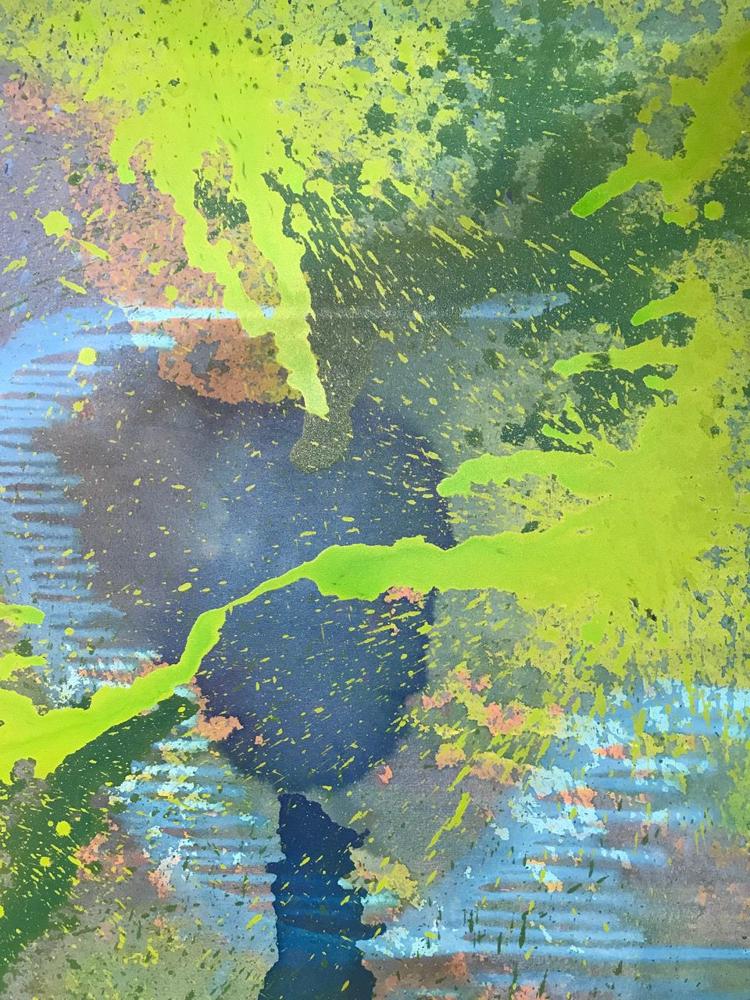 Several works in this exhibition seem inspired by Ingrid Calame's "From #258 Drawing (Tracings from the Indianapolis Motor Speedway and the L.A. River)" where tracings from race track sources such as skid marks and oil stains were used to inform her densely layered paintings. The painting is currently on view in the Indianapolis Museum of Art's contemporary galleries.
Owens' work hangs at the Harrison Gallery through Friday, May 31.
But, maybe you're in the mood for some (largely) less abstract representations of the Indy 500, If so, you should hit up Gallery 924 where there are free "Welcome Race Fans" posters available — while they last — of five artists commissioned to make original artwork welcoming race fans to the Circle City for the 103rd running of the Indy 500.
This poster program began in 2016 with the Arts Council of Indianapolis partnering with the Indianapolis Motor Speedway to celebrate the 100th running.
In particular, I was wowed by the work of Amiah Mims. Her poster, originally composed with acrylic and charcoal pastels on cardboard, welcomes visitors to Indy in American Sign Language against a backdrop of checkered flags. I have to say, in a dozen years of writing art reviews, this is the first visual art that I've seen to incorporate ASL signs.
Let's hope that this particular Indy 500 tradition lasts for a long time.   
Some Indy 500 traditions I'm not so enamored of. I'm thinking, in particular, of the release of thousands of balloons every Race Day morning, an annual tradition that began in 1947.  
The resulting environmental damage was (and continues to be) highlighted by the environmental advocacy organization Balloons Blow, Inc, which placed a billboard along West 16th Street back in March. The billboard text "BALLOONS POLLUTE AND KILL: #StopLItteringIMS BalloonsBlow.org" complemented the image of a bird with its beak entangled in a deflated balloon.
No doubt this was not the kind of publicity IMS wanted to see. Whether or not the IMS pushed the billboard company OUTFRONT Media to make the bad publicity go away, they took the billboard down almost as soon as they put it up.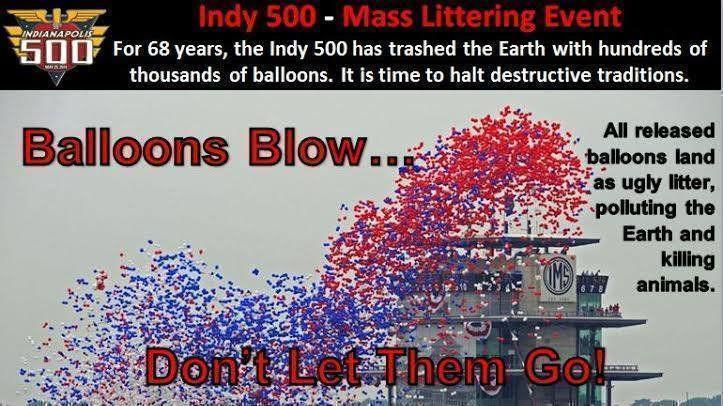 IMS plans to continue this tradition, at least for this year, according to a statement they released to the Indy Star, despite trash piles of evidence that such balloon releases cause the checkered flag to fall, as it were, for many animals in the wild. [Editor's note: we reached out to IMS for a statement but they have not yet responded.] 
At Gallery 924, as coincidence might have it, there was a painting that addressed such laissez-faire intransigence. I'm talking about "The Listener" by Anders Sandstrom, whose solo exhibition of paintings and drawings titled Benign Comedy opened on First Friday, and will be on display through the end of the month.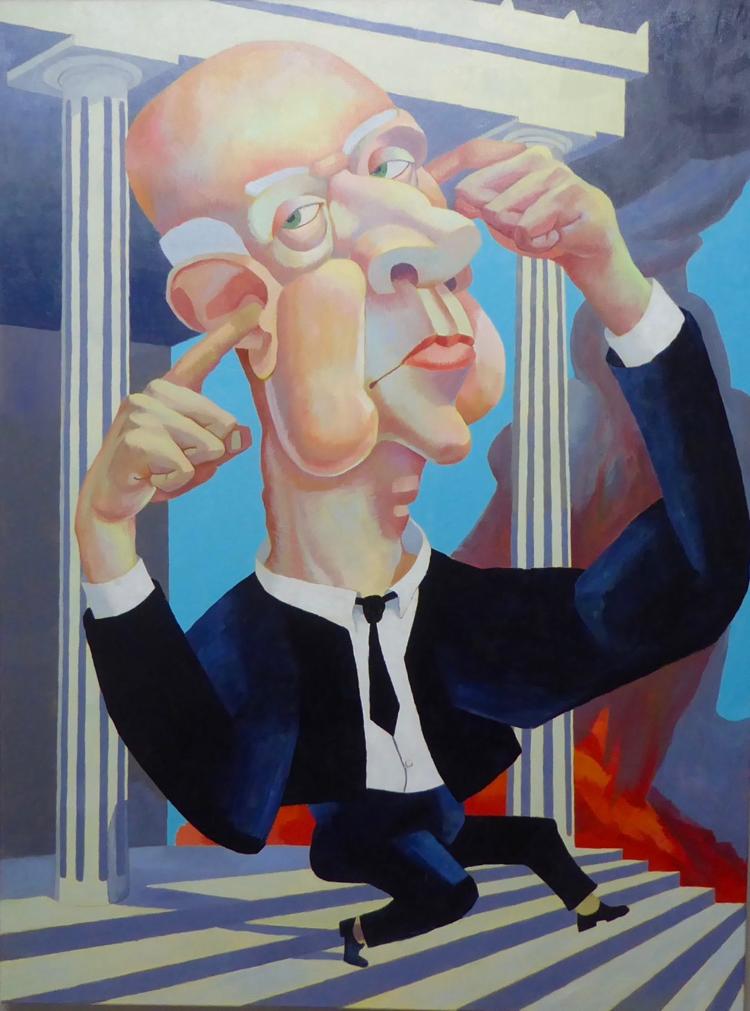 In this oil on canvas painting you see a dapper gentleman with an oversized head putting his fingers in his ears, refusing to listen. You see here something approximating a dumpster fire in the background. Perhaps the news of this fire is what he doesn't want to hear. The painting seems to borrow a little from both Terry Gilliam's animations for Monty Python's Flying Circus and American regionalist painter Thomas Hart Benton.   
A number of his other paintings allude to the current far-from-Paradise American moment, like "A Touch of Mayberry" where you see a mother seated on a rocking chair on a front porch fondling a rifle in one hand and her son's head in the other. The toddler seems more interested in the rifle and seems in danger of blowing his brains out. That is, he has his hand dangerously close to the trigger.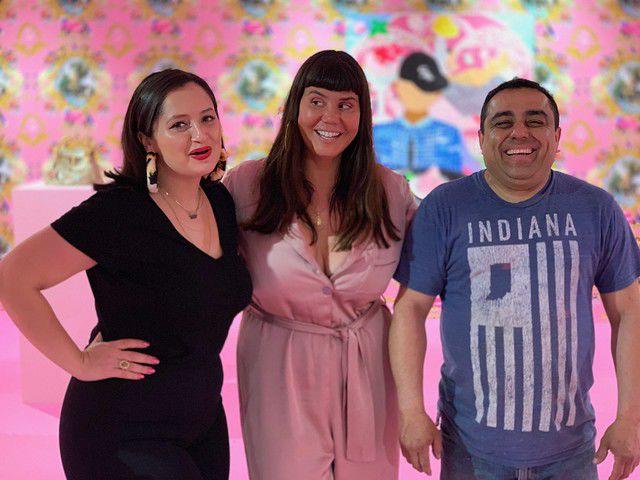 Channeling the current political moment is something Yvette Mayorga's exhibit High Maintenance at Tube Factory artspace does exceptionally well. 
The Chicago-based artist was part of "Herencia" exhibition of Latin American artists at University of Indianapolis in 2016 organized by Indianapolis-based Daniel Del Real. In that exhibition, she had presented an installation titled "Really Safe in America" in the form of a giant cake decorated with frosting spelling out a Trumpian sentiment, "Go Home Illegals!"
Going to the back side of the cake you would have seen a video showing scenes of celebration and home life in a Latinx household intercut with grisly corpses — casualties of the drug wars in Mexico.
The installation was from Mayorga's thesis exhibition at the School of the Art Institute of Chicago, where she received her MFA in 2016.  
In comparison, High Maintenance is more like diving into a cake than walking around one. That is, it's an entirely immersive, multi-media experience.
For starters, you need to take off your shoes, as if you were entering a private residence. Stepping onto the pink plastic foam interlocking tiles that cover Tube's entire main gallery, you feel like you just entered Candy Land. That's intentional, considering the artist's love of the kids' board game. Everywhere in the installation, you encounter paintings, sculpture, and wallpaper that on the surface are all rococo luxury.
But there are things that jump out at you if you give the work more than a passing glance, like the hands and the feet poking out of the towering statue of cakes.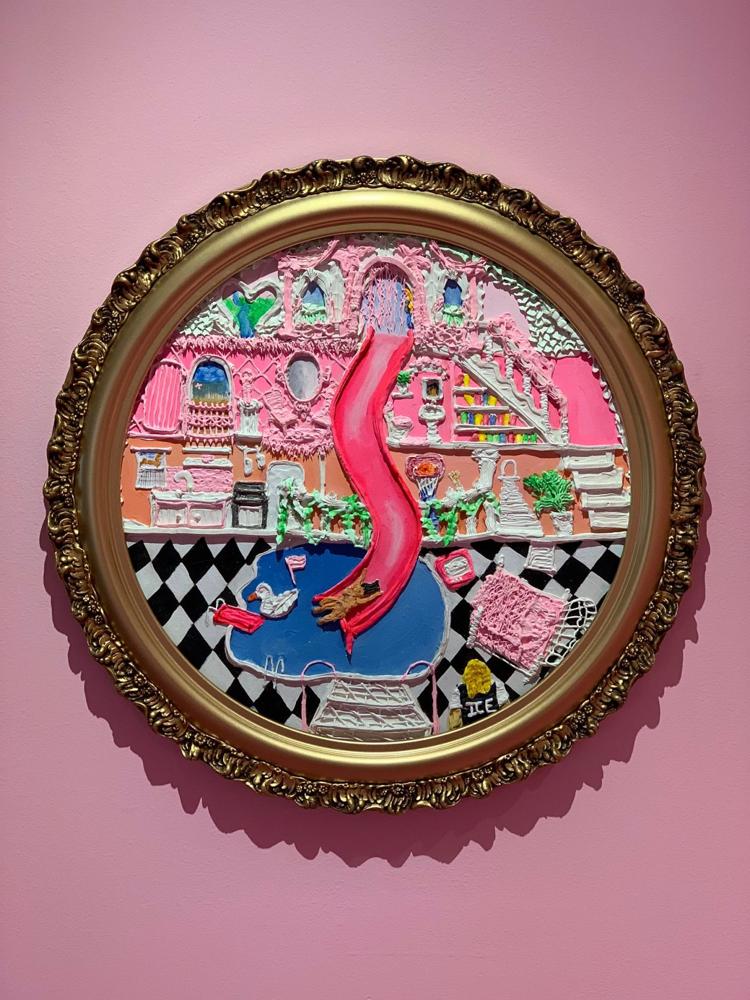 It's the bas-reliefs in the exhibition, however, that are particularly striking in this regard. Appearing to be made out of frosting (achieved with the medium of acrylic piping on canvas) "Ice Ice Lady" is like a David Hockney pool scene created by a baker gone hog wild with a dessert decorator. You see here a water slide on which a woman is descending, and all the trappings of American wealth and luxury. But then you see the ICE agent standing on the pool deck with a checkered flag motif.
The idea of what Mayorga calls "the border beyond the border" is encapsulated in the work "After Cesare Auguste Detti 2," another depiction showing a water slide and a pool. You also see here a man in military camouflage aiming a rifle at a man with his hands tied behind his back.   
Detti was a 19th century Italian painter who painted nostalgic Venetian court scenes hearkening back to the Renaissance with subjects — you might even think they're the Trumps of their time — dressed in full aristocratic regalia.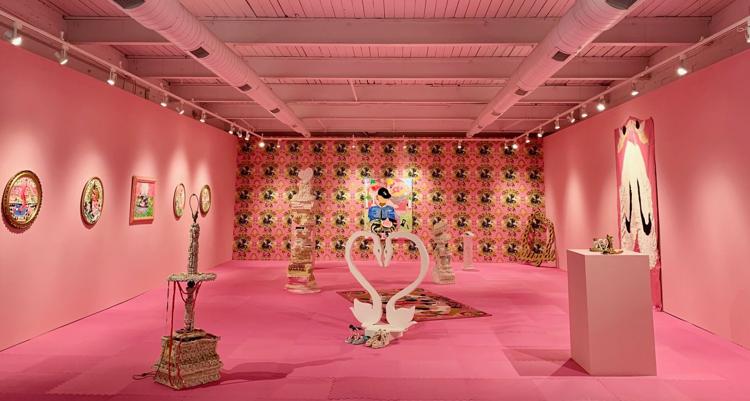 The Mexican American artist borrows liberally from Catholic Church imagery and from from American board games and from toys like Polly Pocket, recreating the safe space that she felt as a child in her house, in her room.
Her home, as she told The Chicago Reader in an Thursday, April 25, 2019 article titled "The American Dream in Frosting", was the only place where she could feel authentically Mexican while growing up.
"The work is really playing with this idea of an entry point, of it feeling like like if you're able to enter the work but then discovering some harsher subject matter," says Mayorga.
Mayorga's recent work recognizes that, for many Hispanics in 2019, there are no safe spaces any more. Many feel that Trump's rhetoric is aimed at them, even if they happen to be legal residents or citizens.   
"This idea of the border has existed for me and my family my whole life," Mayorga says. "But, I think it's highlighted more because of the presidency and actually made worse through rhetoric."
'High Maintenance' will be on display at Tube Factory through Saturday, July 20.