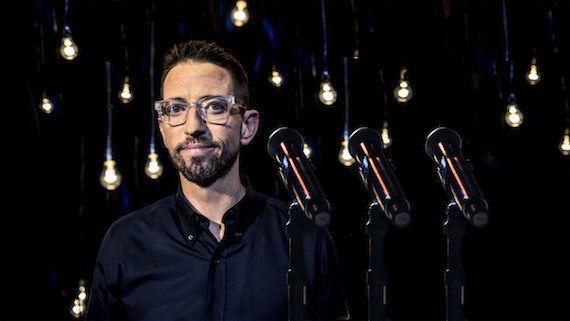 Neal Brennan may be a huge fan of hip-hop, but even he is aware of where he stands in terms of his fame as a comedian.
"Hip-hop stars are like redwoods falling, where comedy stars are down in the muck to begin with," says Brennan while discussing the recent rap beef between Drake and Pusha T. "We're shrubs."
On Saturday, June 9, the co-creator of Chappelle's Show will head to Indianapolis for a standup performance at the Egyptian Room. Beforehand, we caught up with him for a quick phone interview.
NUVO: I've read that you watched the Late Show with David Letterman as a youngster. Being that Letterman is from Indiana, I figured I'd ask you first off about Letterman's impact on you as a comedian and what it is you admire in him.
NEAL BRENNAN: Letterman's voice was like a warped 1950s industrial film. Not that he was premeditated about it, but [he focused on] the absurdity of normality. You can put anything in a formal construct, and it makes both the thing look silly and the construct look silly.
NUVO: You first met Dave Chappelle while working as a doorman at the now-defunct Boston Comedy Club. What was it about Chappelle that drew you to him?
BRENNAN: The thing with me and Dave was we were both the same age. We [along with a few others] were the only guys under 21 around the comedy club, so me and Dave just hit it off. We just had very similar sensibilities in terms of what movies we liked and what comedy and music we liked. I think we probably have similar senses of morality or social justice. His was more pressing in that he's a Black dude in America, so having a bent toward social justice was not a choice on his part. It's just a necessity. So I'd say we bonded over that.
NUVO: When you look back on Chappelle's Show, what are you most proud of?
BRENNAN: I would say the overall frequency, meaning radio frequency. Like, what's the signal sound like? That to me is what's cool about it. It's a personal sketch show, which no one had really ever done before. People had done groups like Monty Python, Saturday Night Live, and Mr. Show. You could say the Ben Stiller Show was a little bit personal. But because Ben didn't have the clear, comedic standup voice that Dave has, it's just more diluted than Chappelle's Show.
NUVO: With the current state of comedy, what are your thoughts on political correctness and where does it fit into the picture?
BRENNAN: Most of the time, political correctness is the least someone can do. If someone who's transgender doesn't want me to call them a tranny, that doesn't cost me anything. Is it a little confusing? Yeah. It's like when Starbucks first started and no one knew what a grande or venti or any of that stuff was. It's a little confusing. I think certain groups can be a little hectoring in terms of correcting people. But it doesn't seem like such a big sacrifice on my part [to be decent]. To me, the more obstruction, the better the stunt. If there's one laser going across that I have to step over to not trip off the alarm, that doesn't seem like much. It just raises the level of difficulty, and to me, that's where the craft is.
NUVO: I know you're a big hip-hop fan, so I'm sure you're plenty aware of the beef between Drake and Pusha T. What do you like about rap beefs and what they add to the world of hip-hop?
BRENNAN: The stuff Pusha T said [about Drake] was so rough. It's so beyond anything I had ever heard in a song. But then, I thought about Comedy Central roasts, and I've heard way worse than that. Like, people made fun of Pete Davidson's dad dying on 9/11. That's pretty bad. So comedy is still harsher. I guess rap beefs seem worse because these guys have these very lofty images. So for someone to come around and go, "You have an illegitimate kid, and your mom's not lovable," it's like, what? Drake has built up this whole brand of being cool, and then Pusha comes along and is like, "No."