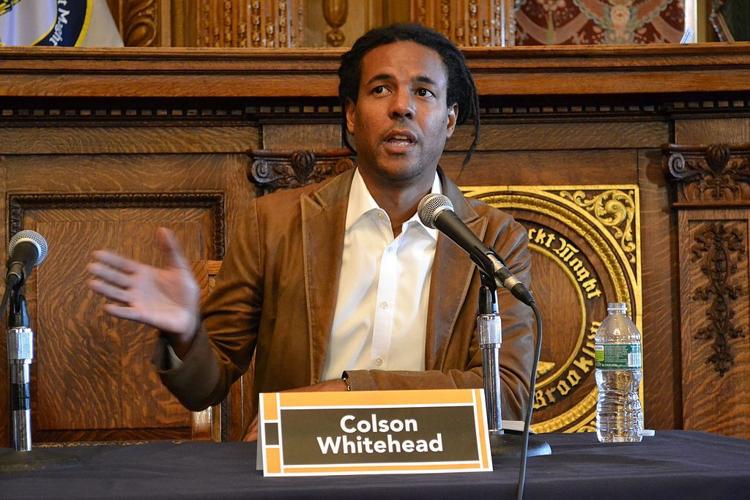 Author Colson Whitehead spoke at the Vivian S. Delbrook Visiting Writers Series at Butler University on Sept. 21 at 7:30 p.m. at the Schrott Center for the Arts.
Raise your hand if, at least the first time you heard of it, you thought the underground railroad was a literal railroad and not a system of safe houses and very much above ground, on often perilous routes. Now imagine that in 1850, there was a subway-like system of tunnels and train engines where passengers had to trust their guides to get them safely from stop to stop.
As Colson Whitehead has said in several interviews, the railroad is just a device, but not the main point of the book. In fact, the train is one of very few elements of fantasy, even though it reads like Gulliver's Travels, The Odyssey, or perhaps even a Stephen King-esque dystopian novel where the protagonist, a teenage female slave named Cora, who is unsure but is likely an orphan, is always on her own, going from guide to guide, not knowing who she can trust.
Prior to the journey, the book illustrates in grave detail the reality of slavery on the plantation for men, women, and children, thanks to Whitehead's research of autobiographies of former slaves like Harriet Jacobs and Frederick Douglass, plus the Works Progress Administration's Slave Narrative Collection. Even the language, which is how people would've talked in 1850, is often jarring. But it's the subtle and not-so-subtle parallels to historic and current events that you'll want to unpack after reading.
For instance, there was a glimmer of hope in South Carolina, where freed slaves receive medical, educational, and employment resources. However, what seems like a kindness is akin to medical procedures that were done on slave women as early as the mid-1800s, up through and including the syphilis experiments and forced sterilizations that continued well into the 20th century.
At her stop in North Carolina, they have done away with slavery by making it illegal for any non-white person to live in the state. It is essentially the extreme version of sundown towns, including regular lynchings, so she must hide in an attic.  
Because these and other parallels with history and modern times continue along Cora's journey, it is difficult to feel hope. There is a constant sense of dread that no matter what direction she turns, something awful awaits her whether she knows right away or when it's too late. However, you'll want to keep reading because she continues to persevere and you want her to make it, even though you think you know how it'll turn out in the end.