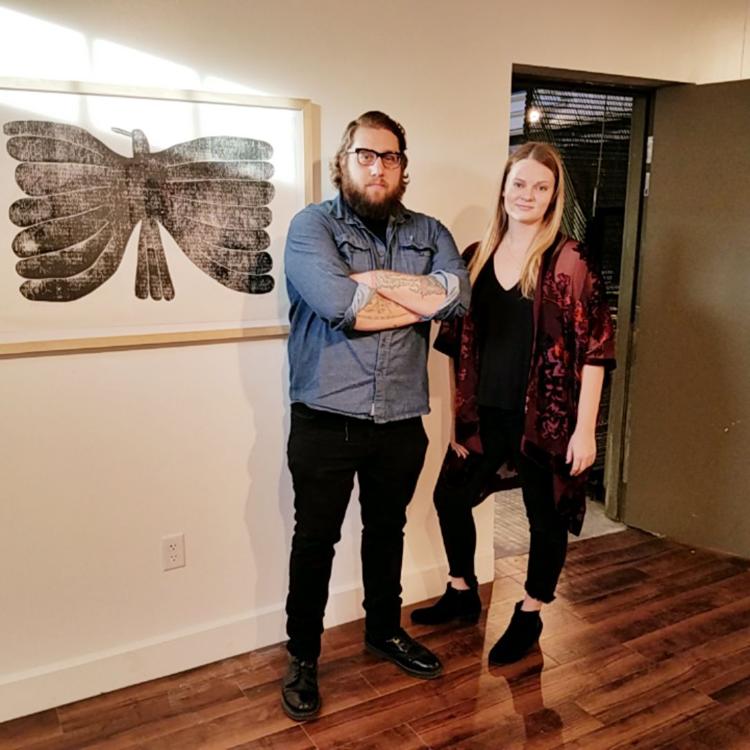 As you enter Cat Head Press (CHP), at 2834 E. Washington St., you find yourself in the middle of a print shop workspace. You might also call it a play space. Depending on the time of the visit, you might see a printmaking class going on, or you may see people noshing on snacks during a First Friday reception.
You also see that all of their printmaking equipment is on view. This includes a newly acquired Charles Brand press, which Nathaniel Russell used to make the prints currently on display in his exhibition Notes to Self: Prints, Drawings, etc… in the CHP's Middle Space Gallery through the month of December.
Cat Head regularly displays the work of locally-based artists like Russell, who've created their exhibited work using the shop's facilities.
In early December it was announced that the John Boner Neighborhood Center, a Cat Head Press collaborator, is the recipient of a $4.3 million grant from the Lilly Endowment Arts and Culture Initiative. In 2019 CHP starts work with the Boner Center to bring the 10 East Art + Design District into fruition. The initiative aims to reclaim vacant properties along a mile long section of E. 10th St. for creative reuse and to increase arts programming in the vicinity.
In October, CHP was also named as one of six recipients to receive grants from the city of Indianapolis' Create Indy Fund. The $6,500 grant will be used in order to facilitate CHP's work with 10 local artists to make custom images to be printed in limited editions. CHP will use their Middle Space Gallery to hold an exhibition of these artists' work sometime in the late spring/early summer of 2019.
The Create Indy Fund was created by the city in order to support individuals and organizations that, according to its website, "enrich and expand innovative and inclusive cultural engagement in the city of Indianapolis."
Create Indy also requires all the projects it funds to have a public component that involves Marion County residents, which could include their participation in a creative process and/or through a culminating public performance or presentation.
The application deadline for the second round of Create Indy grants—focused on the genres of music, food, and beverage will be Jan. 11, 2019. March 1, 2019 will be the announcement date of grant winners. (See my.indy.gov/activity/create-indy-fund for more information.)
Program Director Liz Wierzbicki says the CHP project isn't just directed at the printmakers of Marion County.
"The project will be working with ten emerging artists—artists in other mediums as well," she says, "And they will create a design and then Cat Head will be printing their designs in a limited edition or some sort of good. It could be a shirt or a coat."
The main portion of the artists involved in the project will be asked to come up with a design.
"And then Cat Head sort of translates that into something that can be screen-printed," adds Wierzbicki. 'The reason for that is that Cat Head can work with artists who are outside of the print medium, who might not know the process but will see how their work can be in some sort of print form. We hope they get excited about it and want to learn print and maybe use that in their process as well."
This project fits in with the mission of CHP, according to executive director Dominic Senibaldi, which started up in June 2016. CHP became a nonprofit a year later.
"It represents showcasing the print medium, its power in a contemporary culture and arts scene," says Senibaldi. "It represents the cyclical process of working with designers, translating, creating a thing, [and] it represents this real world application of art and design sort of collaborating together. That's part of our whole mission, educating and demystifying art and bringing it out into the public sphere."
A corollary to this demystification is the insistence that artists are people too, with bills to pay and deadlines to meet, and need to be paid for their work.
"We've had people reach out to us," says Senibaldi. "They want a logo design printed onto a bag. We're like okay... here's the design fee and they're like oh no… We actually have to pay for the design too?
"It can be challenging," Senibaldi adds, "but I think with our experience and the way that we're able to articulate how important the support is, people are starting to really get it, that we're acting as an advocate for artists."
Their niche, according to Wierzbicki, is Cat Head's specific focus on the fine art print in a cooperative space.
"We're also really concerned about being really sensitive to the artist, about the artist's place in the city, [and] keeping accessibility for those people who might not be able to afford this equipment otherwise," says Wierzbicki.