NUVO is on the lookout for opportunities for artists.
While we can't provide you with info about every opportunity out there, you can check out the classifieds at Indyartsguide.org for what is probably the most comprehensive guide in the city.  
(If you find a better resource let me know.)
One of the opportunities that came to my attention recently —  an opportunity that closes March 5 —  is the Arts Council request for proposal seeking "existing art for vinyl mural" for reproduction and installation on the Arts Council façade located at 924 N. Pennsylvania Street.The selected artist's work will remain on view in this location for two years.  
One of the artists who had her work displayed on said space was the late Susan Hodgin, who died of cancer in August, 2014.
I recall the first time her work struck me in a big way. This was at an Indianapolis Art Center show in 2011. It seemed to me then, and it still seems to me now, that she had achieved a unique vision with her art.
I recall talking to Hodgin in 2012, when she was preparing for an exhibition  entitled dreamed and not perceived... that showcased this breakthrough work, and I recall talking with her in preparation for her last show in 2014 at the Harrison Center.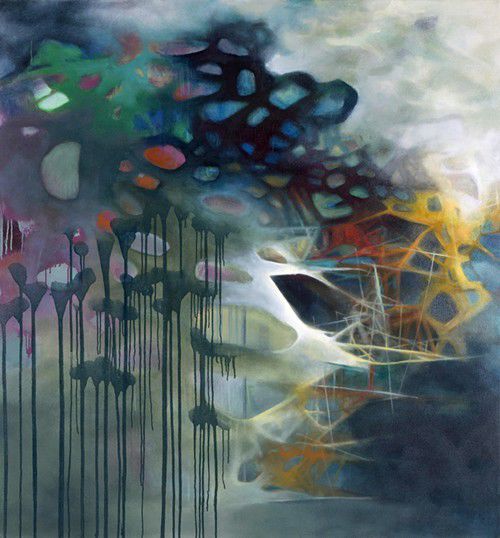 Another opportunity that I'll mention is one from the Bloomington-based Lotus Education and Art Foundation. 
Here's their description of the request for quotation (RFQ):
Lotus Education & Arts Foundation is looking to commission artists to design, coordinate, and manage a project involving banners that will recognize donors in our new venue. Banners will honor those whose generosity contributed to the renovations currently transforming a former firehouse into a multi-use community arts space. Lotus has a budget of $16,500 to fund all associated banner expenses, including design, fabrication, materials, labor, and installation.
RFQ submissions must include a brief letter of interest, resume, four samples of work, and at least three references. Submissions must be sent to media@lotusfest.org no later than midnight on February 25, 2018.
Interested artists are invited to view the space, which is currently under construction, by calling 812-336-6599 to make an appointment with Lotus staff.
For a more complete list of requirements, timelines, and processes, interested parties are encouraged to visit http://www.lotusfest.org/request-for-qualifications/.
Good luck!