Donald Trump's visit to the U.S.-Mexico border in order to view eight wall prototypes earlier this year provoked varied artistic responses both here and to the South.
Laura Ortiz Vega's exhibition, No USA Return, at Tube Factory artspace in Garfield Park, on view through Jan. 12, 2019, is one such response. Her paintings of wall prototypes, "The Great Eight," form the centerpiece of this exhibition.
Written on each painting are the adjectives Trump has most often used to describe the wall in his tweets and speeches; great, biggest, impenetrable, physical, tall, powerful, beautiful, and incredible.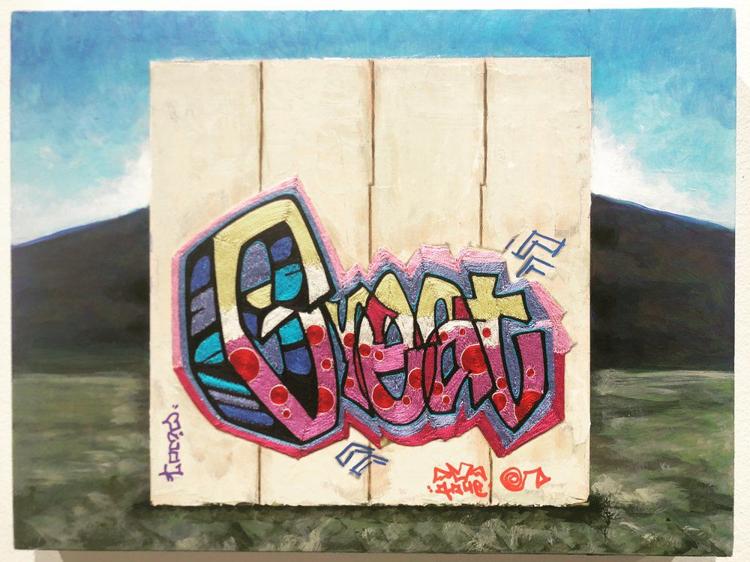 Each adjectulation, as it were, is depicted as a graffiti "thread painting" and set on a backdrop of acrylic paint on paper. The paintings not only depict each wannabe prototype, but also the vast desert landscape beyond.
The "thread paintings" for which the Mexico City-based Vega has become known, borrow from the arts and crafts of the indigenous Huichol people of Western Mexico. Her process involves first covering a canvas with natural beeswax. Vega then uses differently-colored cotton Perlé embroidery thread as a medium to create her depictions. It's meticulous, labor-intensive, work.
"It's the same [Huichol] technique but I've been working with it," says Vega. "That traditional spiritual imagery is very important to me."
The subjects of her work in "The Great Eight," on the other hand, are walls and graffiti, just as in much of her previous work with embroidery. In this work she documents graffiti that she has come across, and photographed, in Mexico and elsewhere in her travels.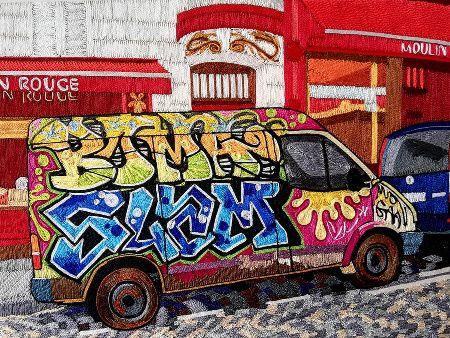 By employing indigenous technique to portray graffiti, which she calls "very manly and public," she deliberately sets up contrasts for viewers to explore.
Vega began research for "The Great Eight"—where she found reference images of the wall prototypes for her paintings—after she received an invitation to exhibit at Tube Factory from curator Shauta Marsh.
"I thought my work was done but [curator Shauta Marsh] asked me 'what about doing something with the issue of the border?'" says Vega.
Born in Mexico City in 1975, Vega first started taking photographs of the graffitti near her parents' house 12 years ago. "They were all erased with awful political propaganda," she says. "So I decided to preserve the pictures in a way, taking pictures wherever I go."  
It's these works of graffiti that she has given a sort of permanence in her art.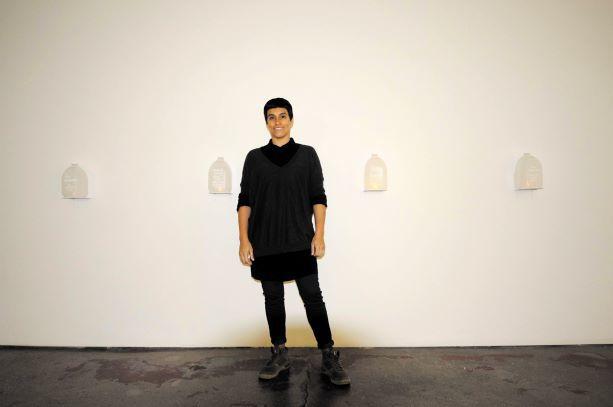 In doing the research for No USA Return—a title that references road signs frequently found on U.S. roads bound to Mexico—Vega also found online photos of plastic water bottles of water scattered in the desert. These bottles placed there by volunteers in order to prevent border crossers from dying of thirst.
Thus you also find in this exhibition a wall-hanging altarpiece composed of plastic water jugs marked with encouraging messages. Vega noted, when talking about this exhibition, that the opening date was Nov. 2, the Day of the Dead in Mexico.
In 2017 migrant deaths rose on either side of the border—from 412 from 398 the year before—even as the number of crossings fell, according to The Guardian.
No USA Return also features several videos which help contextualize Vega's artwork, including Kikito, Tecate, which documents the work of French artist JR along the border.
JR, a French artist known for his work with large-scale photography, created an enormous billboard out of plywood, overlooking the border fence, in Tecate, Mexico. On the scaffolding installation JR and his assistants affixed a blown-up photographic image of Kikito, a toddler who lives with his parents adjacent to where the billboard was built.  
The resulting work depicts the toddler in such a way that he seems to grab the border fence as if it were a toy.  
The exhibition at Tube, however, doesn't attempt to survey all the artists who have been, or who have created work about, near, adjacent to, or on the U.S.-Mexico border. (Such an exhibition would have to be very large.)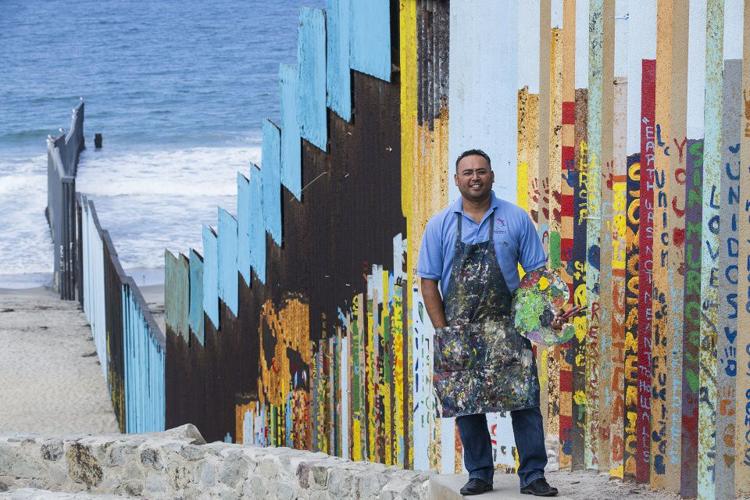 One contemporary artist not mentioned in No USA Return, perhaps the best known, is Tijuana-based Enrique Chiu, who has led the painting of el Mural de la Hermandad—the Brotherhood Mural—on a 2-kilometer section of the border fence on the Mexican side.
During the exact same time Donald Trump was in San Diego inspecting wall prototypes in March, Chiu was in Tijuana, painting the steel fence on the Mexican side, almost within sight of the American president.
This project, one that might ultimately beautify Trump's entire border wall, started out small. In 2015, Chiu was invited to paint a mural by the Border Angels, the San Diego based nonprofit organization that assists immigrants, advocates for immigrant rights, and places water bottles in the desert along migrant routes. It was the same organization that Laura Ortiz Vega had called up in her online research.
"They invited me to represent peace and I made this drawing and that was the first painting we did at the border wall," Chiu says. "This was a peace mural."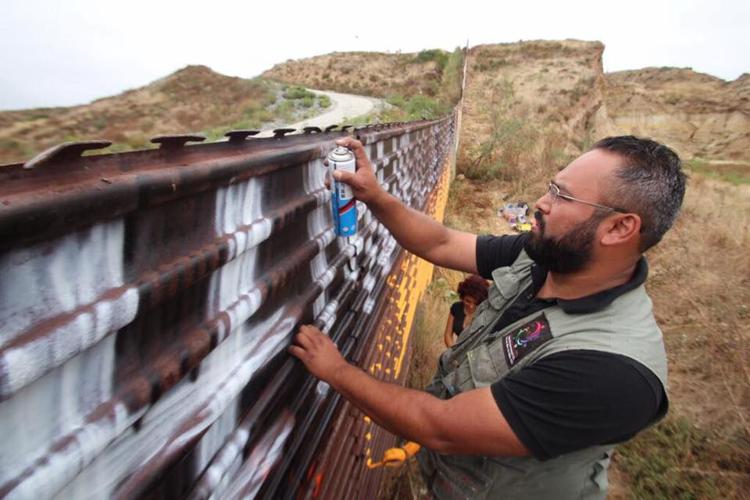 A few months after that Dan Watman, the coordinator of the Binational Friendship Garden, invited Chiu to paint a 10-meter-long "mural reflection" near the Tijuana beach.
Watman and his group are the caretakers of small gardens along the border fence, showcasing native plants and wildflowers. The beachside garden nowadays is mostly on the Mexican side of the fence, due to restricted access on the U.S. side.
"The mural was a reflection of the grass and the flowers and the rocks," says Chiu.
Chiu, originally from Guadalajara—who exhibits his own artwork internationally—soon got it in his head to go big. At the time, he thought that Hillary Clinton might win the presidency and that it might be possible to paint on both sides of the border doing some kind of binantional art event, with families on both sides of the border, passing brushes to one another between the fence posts. But the U.S. Border patrol patrol denied his request, one week before the 2016 presidential election, to paint on the U.S. side.
In the immediate aftermath of Trump's victory, Chiu started the Brotherhood Mural.
"I started to paint Thursday, Dec 1, 2016," he says. "I was thinking 'whatever's coming, I'm going to buy some paint. Whoever shows up can paint with us.' When I got there there were five women and girls there waiting plus Channel 6 and Univision from San Diego. We painted from 9 a.m. to 1 p.m.  On Friday, Dec. 2, when I got there in the morning, it was 50 people. Some of them were like 'hey can we come back tomorrow.' I said, "Yeah. We're going to be painting every Saturday and Sunday. On Sunday Dec. 4, it was like 200 people."
Eventually, more than 3,600 would show up over a 2-year-period. Often they came with their own brushes, paint, and rollers. Some of those who came—and they came from Tijuana, elsewhere in Mexico, and from all over the world—had specific ideas about what they wanted to paint. Others needed guidance, which Chiu was happy to provide.
Chiu didn't use social media to raise money for the project—at first. Initially he wound up putting $1,000 of his money towards supplies.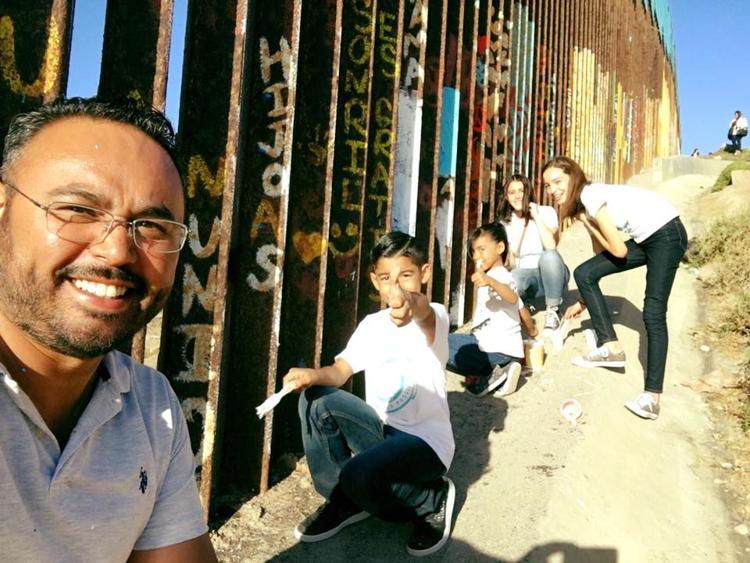 "Here in Tijuana it's hard because we don't have funds for something big," says Chiu. "That's why I started with my own money because a lot of people weren't going to believe that I want to paint the border. When they saw me with the paint, they thought 'this guy's serious.'"
Eventually Chiu started a Kickstarter campaign. Kickstarter, in turn, posted a video about the mural which went viral, hitting 500,000 views.  
But he wasn't only successful raising funds; his project was also, he says, changing perceptions.
"A lot of people they now say 'the Brotherhood Mural," they don't say 'The border wall." That has changed a lot of minds about where they are, in a positive way, to change something that is wrong."
Chiu's one rule for painting the fence, in fact, is to keep things positive, which means no political sloganeering.   
Often, he says it's people from the U.S. side who want to paint political slogans. "I say, 'hey don't do that. We're not here to put bad messages against someone," he says. "But the people from Mexico feel differently; they feel it's something symbolic."
Still, Chiu wasn't able to ignore the politics of it all, especially when media on both sides of the border were portraying him as an anti-Trump. During an interview, he says, a CNN correspondent asked him what he would do if Trump replaced the current fencing with an impenetrable wall.
"No, I don't think he's going to put the border wall," Chiu responded. "But, if he puts it there, I'll paint it."