The Arts Council of Indianapolis has revealed the names of the artists to be featured in the next round of the High Art Billboard project. 
The 10 artists chosen for the 2018-2019 High Art Billboard Program were chosen from 127 applicants from all over Central Indiana.
The work ranges from moody portraiture in Jay Parnell's  "Strange Weather" to Heather Ward Miles' abstract composition "Ferocious and Feminine" to the playful Mab Graves painting "The Atomic Candy Cosmonauts Fleet."
But it's not just painters whose billboards will attract the attention of both motorists and birds. There's photography (Brian Bosmer, "Search Duality"), ceramic art (Jaclyn Head, "Field of Flowers"), and textile (Jane Broemel, "Sweet Spots").  Keep an eye peeled for these signs of life in Indy's art scene, as it were, next time you're stuck in traffic on I-465 or Indy's other major thoroughfares.
See for yourself:
2018-2019 High Billboard Artists
And the project, which has a new round every year—featuring 10 Central Indiana artists selected by a jury—survived a change in billboard ownership that occurred in late 2016, from Clear Channel to Fairway Outdoor Advertising.
Originally, Clear Channel Outdoor Advertising suggested collaborating with the Arts Council on some billboard projects, where images of artists' work were displayed on billboards, as they had seen happen in other cities.
"So they came to us and said, 'We would really love to do something similar,' and they showed us examples," says Shannon Linker, vice president of the Arts Council of Indianapolis.
"Most of the examples that they showed us were really safe and traditional, and we said, 'Well, we love this idea of artists being up on billboards, but you're going to have to be content with contemporary art because it may not be horses running through fields.'"
In the first year of the High Art Billboard Project, 2013–2014, per Linker's warning, there were no running horses peeking above office parks and McDonald's along I-465 and major thoroughfares. Instead, there was Jonathan McAfee's edgy, Day-Glo painting "Girl with the Hipster Glasses" (or, should we say, a detail of it, focusing on the face and excluding the bare breasts that show in the full-sized painting.)
There was also Robert Horvath's rather creepy but oddly beautiful painting "Brain Candy" portraying a neurotoxin up close and personal. But there was also abstract work, like "The Last Spectra (Cloud Formation)" by Michal Lile. Those and seven other images greeted drivers throughout the city that reflected the diversity of contemporary art being created in Central Indiana.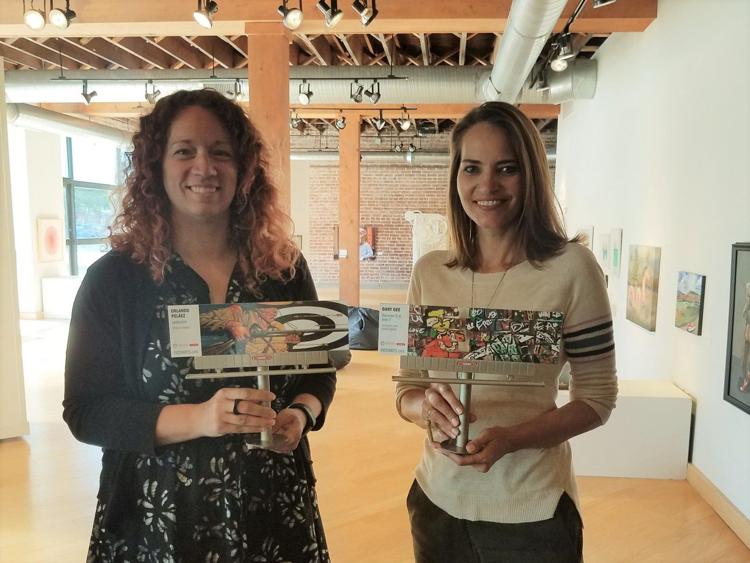 "The idea was that Clear Channel, now Fairway Outdoor Advertising, would pay for the installation [and deinstallation]," says Linker, "and that they would be moved around. Basically, it's a win-win for everybody because they have empty space they would have their people install and move them around during the empty space time when they don't have an advertiser. But that's a valuable thing to have somebody paying a lot of money for that."
The current partnership requires Fairway to donate the billboard space and for the Arts Council to pick up the printing costs for the 10 billboards to the tune of $3,500 total. But it doesn't end there.  
Since the modus operandi of the Arts Council was to insist that artists get paid for their work, it became important early on to quantify the value of the High Art Billboard Project, especially because at the beginning there were no funds in the Arts Council coffers to pay artists directly for their participation in the project.
And that estimated value by Fairway, of an estimated 15 million views throughout the year, has been calculated at over $240,000 for the 10 artists in total.
Eventually, however, the Indianapolis Arts Council found the funds within its budget to pay the artists' $250 licensing fee.  
The Arts Council was also able to fund a $500 prize for the People's Choice Awards. The opportunity for you to vote for your favorite billboard, on the Arts Council website, will take place from Sept. 3—when the 2018–2019 billboards will be installed—to Sept. 9.  
The billboards will be installed on Sept. 3 and remain in place for one whole month before being moved and replaced.
The selection process for the High Art Billboard Project stays basically the same every year, but this year the program got more applicants than ever: 127 for 10 spaces.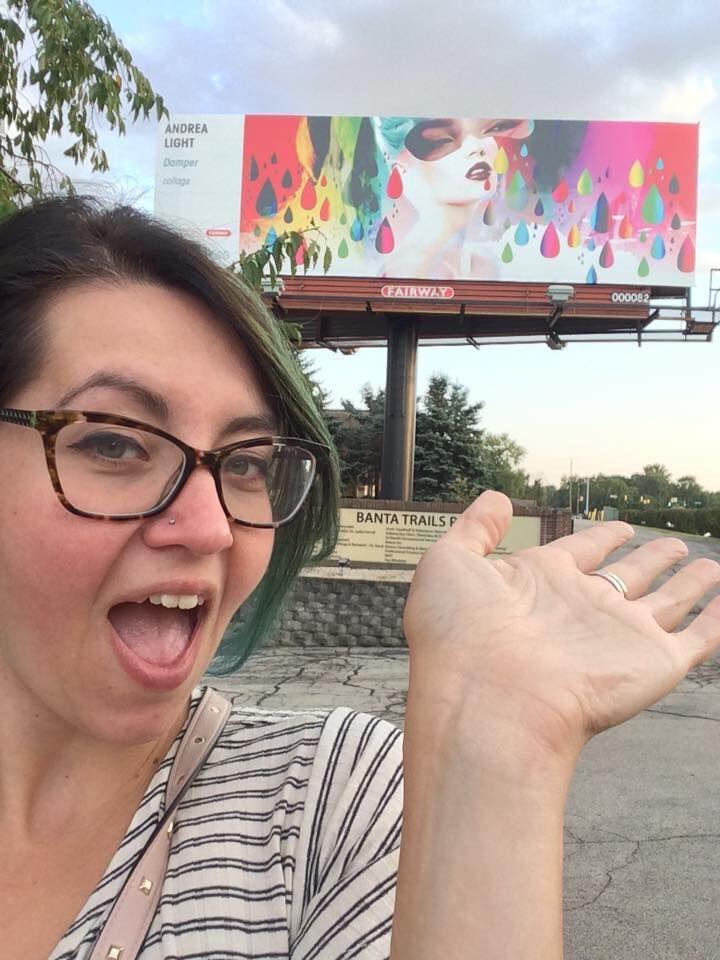 "We released the call in May, deadline in June, shortly after we convene our selection group," says Lindsey Lord, the Arts Council's public art and artist services coordinator. "It was three people from Fairway; it was two people that we have regularly participate on our selection panels. We try to include an arts administrator, maybe an artist who didn't apply, [and] so this year, it was Kyle Herrington and Jingo de la Rosa. And then Julia [Muney Moore, Arts Council director of public art] and myself."
And the High Art Billboard Project seems to be evolving.
"This year when we met with Fairway to talk about what this year would look like, they also offered—in addition to the 10 14-foot-by-40-foot traditional billboards you've seen through the four years of the program—poster-size billboards," says Lord. "They're 10-foot-by-24-foot, and these are the kind of billboards you see kind of more in communities."
The 10 2018-2019 High Art billboards will be installed Sept. 3, but you don't have to wait until then to see examples of this innovative art program. That is because last year's winners are still on view.
If you want to see Beatriz Vasquez's High Art billboard "La Santa Frida," for example, you can still do that—as of this writing—at 1301 Madison Ave. But we can't guarantee that it will still be at that location even a couple of days from now. That is because the billboards are often replaced and/or moved around by Fairway Outdoor Advertising.
But don't fret. Just click on indyarts.org/public-art  before you go. You will be able to see the 2017–2018 winners as well as their current locations. 
And while you're on this website, you'll see that High Art is just one of many public art projects that the Indianapolis Arts Council is involved in.
"When I tell people I work for the Arts Council, [the High Art Billboard Project] is one of the programs where they say, 'Oh, I love that so much,'" says Linker. "I love seeing artwork and cool artwork, not safe, necessarily, but some artwork that might be a little surprising."