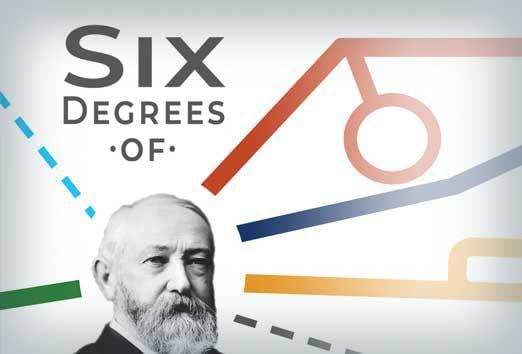 The premise of the parlor game Six Degrees of Kevin Bacon is that any two people on earth are no more than six acquaintance links apart. So what happens when the curatorial team at the Benjamin Harrison Presidential Site give Harrison, America's 23rd president, the Kevin Bacon treatment?
According to site president and CEO Charlie Hyde, a web of unexpected Harrison connections came up while they were doing research for other exhibitions.
"We realized that we needed a special exhibit that just looked at the profusion of connections that you might not expect otherwise," Hyde told me when I visited the site several weeks ago.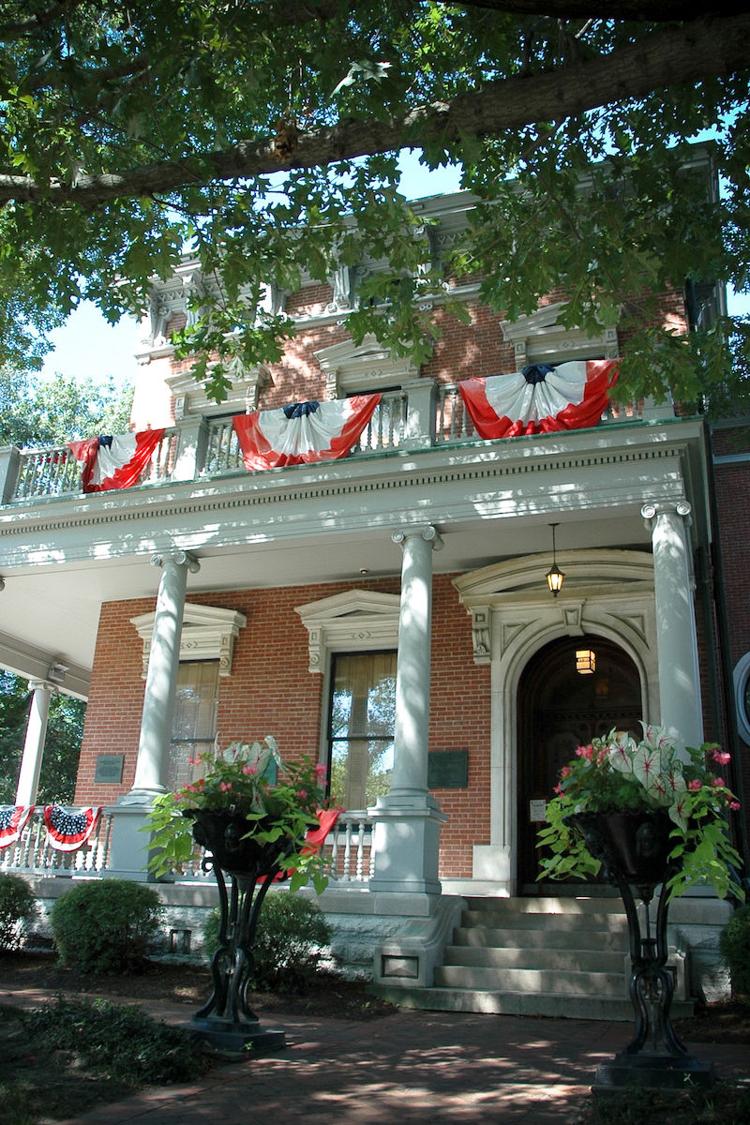 But before we got to the Six Degrees exhibit—up through Dec. 30—Hyde gave me a guided tour of the Harrison home which was built in 1874, and sits at 1230 N. Delaware St. in Near Northside Indy.
The first thing you might notice about the house are the high ceilings, which aided air circulation in the days before air conditioning.
In the parlor room by the front entrance, Hyde pointed out the wallpaper that had been printed after original samples by Indianapolis artist Walter Knabe as we stood behind a rope barrier in the hallway.
"If you've been to other presidential sites or libraries you've probably been very narrowly constrained, walking room to room," Hyde said. "This is the only space that we restrict access to."
That restriction protects the original oriental rug on the floor from the 18,000 school kids who pass through the house every year.
Hyde rattled off some facts that make the Harrison site a contender among historical sites. "There's 10,000 items in collection," he said. "Seventy-five to 85 percent are original to the Harrisons themselves. "That's a high percentage for any house museum, especially for a presidential site."
I didn't know about Harrison's history as Civil War veteran, to which Hyde enlightened me. He showed me Harrison's commission, the actual document, on display under glass.  
"He started as a second lieutenant and by the end of the war was brevetted as a brigadier general for valor in battle," Hyde said. "So Lincoln actually signed his commission personally; it was just weeks before Lincoln's own assassination."
Hyde told me that he enjoys interacting with the site's younger visitors as much as he enjoys talking about the artifacts and memorabilia.  
"You think about the mental leap [kids] have to make when the step into white box museums, just how alien and unfamiliar it is, versus coming into a museum that speaks the language of home," he explained.
"While it may be very different from their own home, they at least understand the mechanics of a home and can relate more directly to that... And I think that really helps bring an American presidency down to human scale."
But it was the shadow of the current president that seemed to cast a pall over what he said next.
"I think that's always important but maybe even more important right now where it's more of a celebrity president culture," he said. "The Harrisons were very grounded. I think that's an important American tradition to continue in many ways."
We headed up to the third floor to see the Six Degrees exhibit, which is stuffed to the brim with interesting artifacts and placards with educational text
Among the connections the exhibit explores are Harrison's connections to General Lew Wallace (also lawyer, and author of Ben Hur, the bestselling book of the 19th century).  
Another Harrison connection is abolitionist, orator, and statesman Frederick Douglass, who Harrison appointed as ambassador to Haiti on July 1, 1889.
Among the artifacts on display was a Benjamin Harrison campaign bandanna that Hoosier astronaut David Wolfe took up with him to the international space station. I forgot to ask Hyde what degree of relation that made Wolfe to Harrison: maybe a stellar relation?
Harrison also has connections to Stanford University in California.
"Stanford was founded by Leland Stanford who was a senator from California," said Hyde.  "When Harrison lost reelection Stanford saw an opportunity to ask Harrison if he would give law lectures at new college in California, Harrison agreed. His law lectures were so popular that they brought Stanford almost immediately to national attention."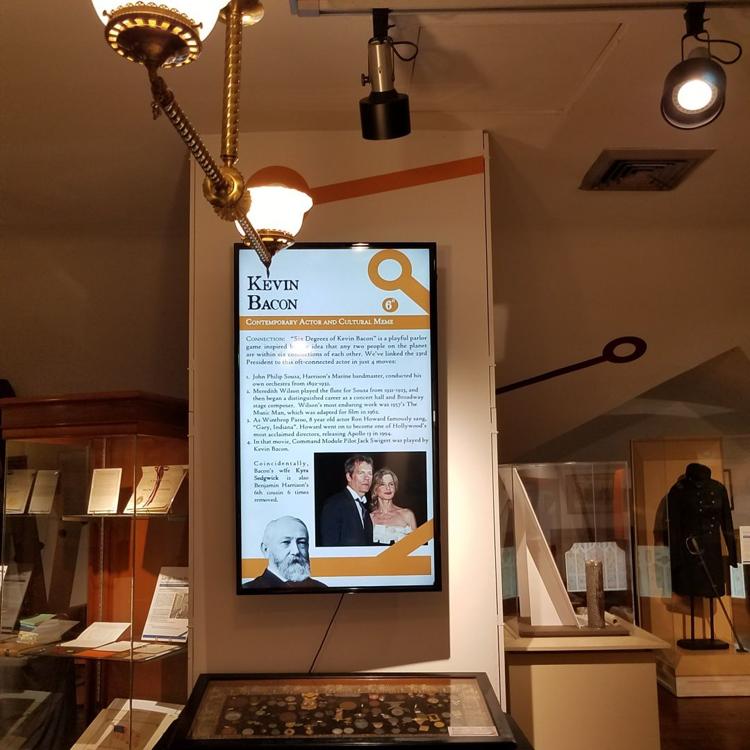 Hyde didn't bring up a Trump connection so I assumed there wasn't one. But like many I hope 45 will take a cue from Harrison and not win a second term.  (Harrison was president from 1889-1893.)
There were some celebrities in the Six Degrees mix: Hyde mentioned a connection to Marilyn Monroe.
"Apparently Marilyn Monroe's grandfather served in Harrison's regiment in the Civil War," Hyde said. "It was a good thing that Harrison was a good general or there may not have been a Marilyn Monroe."
Hyde also pointed to a Harrison link to the actor Kevin Bacon, which proves, in my mind, that Kevin Bacon is connected to everyone and everything in the universe.
That is, Bacon is married to American actress Kyra Sedgwick who is a distant Harrison relative.
"She's the sixth cousin, six times removed," said Hyde.