At one point in her reading, author Sarah Morin paused to give a little show and tell demonstration about how to spin a yarn — or a poem — based on fairy tales.
That is, she demonstrated how to spin wool on an actual drop spindle.
Morin was the featured reader at Poetry on Brick Street at the SullivanMunce Center in Zionsville on the night of Dec. 7.
"Let's say I'm changing the fairy tale too much," she said, working the wool into yarn on the spindle. "I keep changing things… It just turns into a big knot. It's a big mess. There's nothing in it that's usable. However if I don't spin it enough. Here's what happens," she says as the yarn spindle drops to the floor. "It drops your reader's attention."
She goes on to explain how she applies this demonstration to her own writing.
"I might fix what bothers me about the tale," said Morin, who on that night was wearing a regal purple robe and a tiara. "Sleeping Beauty, big problem. The main character's asleep through most of the book. I like to say that Sleeping Beauty is so boring that the main character is asleep through most of it. She's very passive. So I wanted to fix it. I wanted to make her active. I wanted to give her agency…. Another way you can change a fairy tale is to tell it from another character's point of view."
Morin who published her novel Waking Beauty in 2015 with Enclave Press — a publisher of Christian historical and science fiction — is sort of all over the place as an author. She describes herself as a creator of "unruly fairy tales and poems." She's also the author of a musical about Susan B. Anthony. Her audience ranges from 5 to 105.
In that sense, she has something in common with Brick Street Poetry, which began in 2008, and also defies genres in its schedule that incorporates wildly diverse programming.
Brick Street Poetry program chair Joyce Brinkman had somewhat modest goals, however, when she started the organization.
"When I was poet laureate of the state," she said, "I went to Barry Harris, who was the publisher of Tipton Poetry Journal, and also Susan [Miller]. And JL [Kato] was doing a very nice reading poetry read on the Southside of town and I thought maybe it would be good if we had something on the Northside of town."
 Because of the very wide spectrum of activities offered by Brick Street Poetry, it's difficult to give a nutshell definition of the organization.
Nevertheless Brinkman gave it her best shot.
"There are three things that Brick Street does," she said. "We publish the Tipton Poetry Journal four times a year. We have Poetry on Brick Street [readings] and other places too like Brick Street South. Then we have programs, all kinds of programs. We've partnered and done programs with the Eiteljorg Museum where we've brought in Native American poets to read at the Eiteljorg."
They've also partnered with Indiana Landmarks — commissioning poetry about important historical sites.
Brick Street Poetry is also publishing a book called Frankenstein Please, made possible by a small grant they received from Indiana Humanities, to celebrate the 200th anniversary of Mary Shelley's writing of Frankenstein, and which Brick Street members plan to read to first and second graders at local libraries.
"We put poetry in as many surprising places as we can," said Brinkman. "We also, every April, do poetry readings in the Artsgarden... And we will be featuring poems from the call to the Muslim population in the [Indianapolis] Artsgarden in April."
John Hawn (aka JL Kato), president of Brick Street Poetry, continues to hold poetry readings in Southside Indy, specifically at Tube Factory Artspace.
But these are just a few of the many programs offered by Brick Street Poetry. (For upcoming events check out the Poetry on Brick Street Facebook page.)
Aside from being the poet laureate of Indiana in the early 2000s, Brinkman has had a varied career in public service.
"In the '70s, I was on the City County Council," she said. "In the '80s I was on the Indiana General Assembly in the House of Representatives. In the '90s, I was treasurer of the state," she said.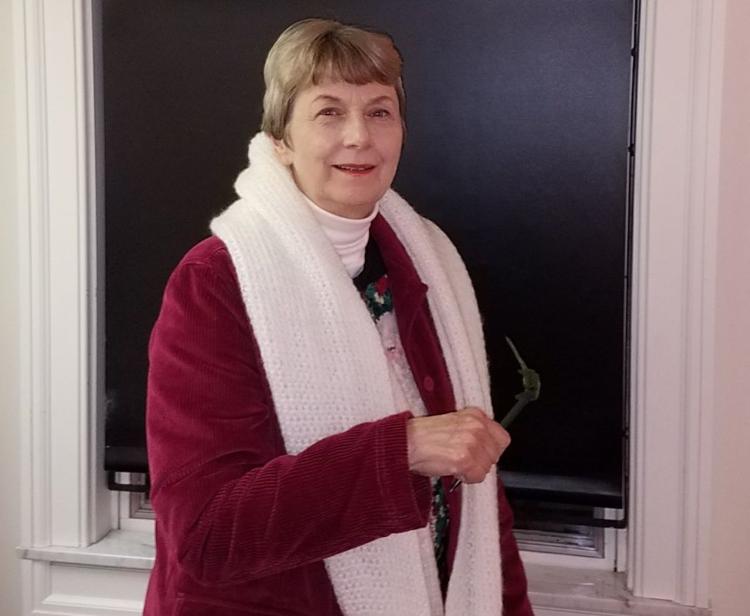 Brinkman has published several collections of poetry including Rivers, Rails and Runways (San Francisco Bay Press, 2008). She is a co-author of Seasons of Sharing: a Kasen Renku Collection, (Leapfron Press, 2014) where you can find poems in five languages. And she's one of six "airport poets" who have poetry in stained glass windows at the Indianapolis International Airport. 
She's perfectly aware that there's not much hope of making real money off poetry. However, she's bullish on its future. Because, after all, people continue to write the stuff.
"I don't think you can kill it, really," she said. "Actually the truth of the matter is right now there's so many opportunities for poetry."