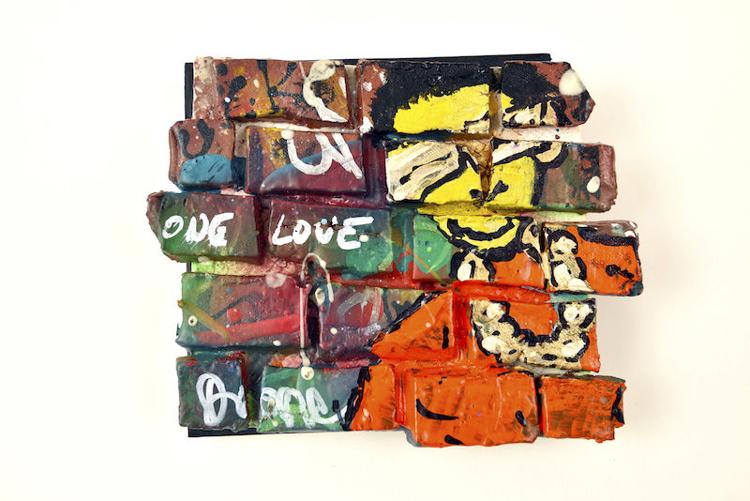 Gary Gee and Jaclyn Head received the 2019 Robert D. Jr., Beckmann Emerging Artists Fellowships at the 32nd annual Start with Art luncheon—the Arts Council of Indianapolis's annual fundraiser—at the J.W. Marriott on Aug. 31. 
In addition, the ARTI awards were announced, recognizing outstanding contributions to Indianapolis arts and culture.  The DeHaan Artist of Distinction Awards were also announced.   
The winners of the Beckmann Fellowships receive $3,500 and opportunities for career growth through the Arts Council of Indianapolis.  
Beckmann winner Gary Gee's mixed media and ceramic work riffs off street art motifs. His work has been exhibited in Indianapolis venues ranging from Indiana Landmarks to Indianapolis Artsgarden. He was also a 2017-2018 High Art billboard artist.
(This year, passersby on 465 or other major traffic arteries were able to see a picture of his mixed media work "Squares "5, 6, and 7" blown-up and shown on a billboard.)
"It's life changing," Gee says of the Beckmann fellowship. "It's really an honor totally unexpected. I talked to several other artists before and they told me that I should apply for it again. I did this time. I was shocked to find out that this time I received it."
Gee, who earned visual arts degrees from both the Herron School of Art and Design and Ivy Tech, will use the money to attend the California Conference for the Advancement of Ceramic Art in Davis, California.  
"I'm also going to explore and do some research on some California Funkyard artists like ceramicist Robert Arneson," he said.
The next opportunity you have to see Gary Gee's work will be the night of Friday, September 7—First Friday—when his work will be part of the Sankofa Exhibit organized by We Are Indy Arts at Indiana Landmarks and as part of  Flava Fresh 15! at Tube Factory artspace.
Jaclyn Head, also a High Art Billboard artist, will use her award to focus on making improvements to her private studio. She is currently focusing on fabricating large wall installations that consist of slip-cast ceramic tiles arranged into unique patterns.
Head is a 2014 Indiana University graduate with a BS in Arts Management in ceramics.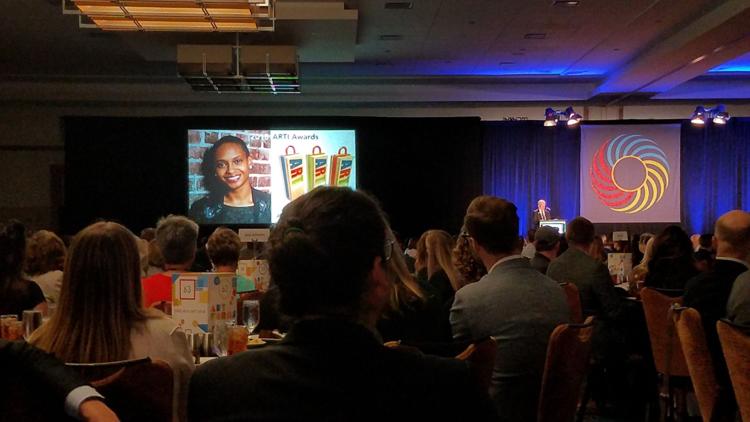 Four artists received the DeHaan Artists of Distinction Award established in 2017 by the Arts Council with financial backing of the Christel DeHaan Family Foundation.  
The 2018 recipients are: Kassim Norris, Artur Silva, and Stefan Petranek and Anila Quayyum Agha, who won both the public and juried prizes at the Grand Rapids, Michigan-based ArtPrize in 2014 for her work Intersections.
 These artists submitted proposals for art projects with their explanations about how the financial support would impact their career.    
The award is $10,000.
The inaugural 2017 DeHaan awardees are: Philip Campbell, Shawn Causey, Nhat Tran, and Lauren Zoll.  A show, exhibiting their work, opens at Gallery 924 on Friday, September 6, 6pm.
The 2018 ARTI ARTful impact awards were awarded to The District Theatre, the Phoenix Theatre Cultural Centre, and The Cabaret.  
Funding from the Central Indiana Community Foundation helped launch The District Theatre as a community theater space, administered by the nonprofit IndyFringe, earlier this year. The theater occupies the same venue as the former Theatre on the Square which folded in 2017 after financial trouble. The Phoenix Theatre this year also made a transition moving from their former location near Mass Ave to its new $15 million location at 705 N. Illinois St., while the 29-year-running performing arts organization The Cabaret moved into its new digs at 924 N. Pennsylvania Street, sharing its entryway with the Arts Council of Indianapolis.  
This year the ARTI award was awarded for the first time to an entire school, the Edison School of the Arts. Jane Fortune and Ace Yakey were the recipients of the 2018 Volunteer/Patron Award.
The physical ARTI trophies were made by Indianapolis native and 2017 Beckmann Fellowship winner Ash Robinson, who received a BFA in Furniture Design from the Herron School of Art & Design.