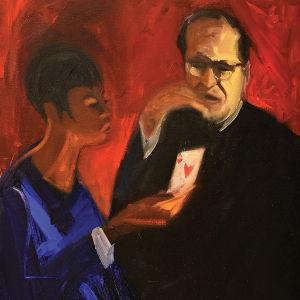 Great news from the world of arts budgeting: the IRT wraps up this year's season with a balanced budget and a brand new "significant gift" from Frank and Katrina Basile. (NUVO has reached out to put a number to that gift and will update this post accordingly.) 
Here's the rest of a release from the IRT we received this morning: 
The Indiana Repertory Theatre (IRT) celebrates an end to another successful season and recognizes contributions by board members, donors and staff, as well a significant gift from Frank and Katrina Basile at its annual board meeting.
The Basiles,  friends and supporters of the IRT for more than 20 years, have given their largest gift to date to the organization and have publicly named one of IRT's most frequently used spaces, the Frank and Katrina Basile Conference Room. They are among the first donors in IRT's history to receive naming rights to a space within the theatre.
"Katrina and I believe in the importance of a thriving artistic community," said Frank Basile. "The IRT is a key artistic institution in Central Indiana and we are delighted to support the IRT's sustainability and help provide audiences with opportunities to be surprised and engaged in vibrant work for years to come."
Aside from the Basile's gift, the IRT also celebrates ending its 20th consecutive year with a balanced budget.
"Ending a season as successfully as we have–in terms of reaching  new audiences, retaining our current patrons and creating powerful programming keeps our constituents engaged and welcomes new supporters to sustain the long-term work of the IRT," said Suzanne Sweeney,IRT's Managing Director.
Despite these momentous occasions, IRT leadership acknowledges that success is not exclusively met at the black line.
"Every day IRT staff and artists work diligently to connect with more Hoosiers and share the unique experience that only live theatre can provide," said Janet Allen, IRT's Executive Artistic Director. "When we reflect on each season, we're careful to consider our reach and this season has certainly made its mark on the community."
Community outreach efforts, especially those surrounding the bicentennial production Finding Home: Indiana at 200, developing a new young professionals group and goodwill promotions, reached a variety of audiences.  Additionally, the IRT's impressive goal to bring 38,000 central Indiana students to experience six of the nine-production season increases annually.  
Add to the mix and whirlwind of national press opportunities and excitement surrounding The Curious Incident of the Dog in the Night-Time, and the Theatre is enthusiastically preparing for record-breaking 2017-2018 season.