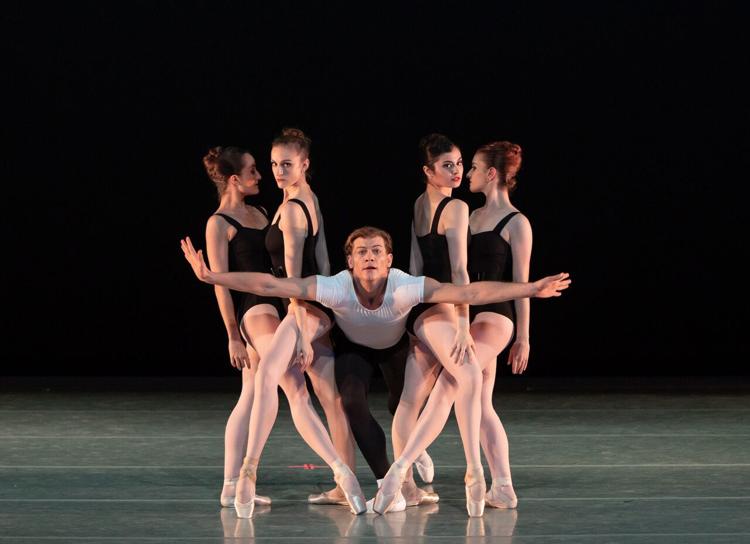 The Indianapolis Ballet's Balancing Acts was a set of three ballets choreographed by George Balanchine, the longtime artistic director of the New York City Ballet.
The venue was the Toby Theater in the Indianapolis Museum of Art, at Newfields.
The final performance fell on Sunday, September 30, the day the exhibit Sensual / Sexual / Social: The Photography of George Platt Lynes opens to the public in the IMA galleries, running through February 24, 2019.
Lynes was the first photographer for the New York City Ballet, and the subjects of his ground-breaking photography ranged from fashion photography to male nudes.
The legacy of the Russian-born Balanchine, who died in 1983, is zealously guarded by the New York City-based Balanchine Trust. The fact that the trust is allowing Indianapolis Ballet to stage three Balanchine works is a big deal, according to Rebecca Metzger, repetiteur for the Balanchine Trust.
"They're very careful; not just anybody gets to set their ballets," says Metzger. "There are plenty of people who send their videos of their companies to the trust and the trust says, 'Come back in a few years, let's see how your dancers have progressed.'  This is a brand new company that the trust gave three Balanchine ballets too. And not just little ballets. It's really remarkable what they've done here."
The Indianapolis Ballet (IB), which is an outgrowth of the Indianapolis School of Ballet, was founded in 2006. IB's first professional debut in February, featured The Firebird. Included in that debut were two Balanchine ballets, Who Cares? and Raymonda Act III, are part of the Balanchine repertoire.
The works being staged in Balancing Acts are The Raymonda Variations, Serenade, and The Four Temperaments.  Metzger's role as repetiteur was to stage Serenade,  while her fellow Balanchine Trust repetiteur Diana White staged The Raymonda Variations and The Four Temperaments.
Both are former dancers with the New York City Ballet.
"When you say Balanchine, to me personally that means my whole life," says White. "Because from a very young age I wanted to be a ballet dancer.  When I was around 10, I auditioned for a role in A Midsummer Night's Dream, a Balanchine ballet in Chicago. And so I was backstage at the New York City Ballet and I saw Balanchine and that was it.  My mind was made up. That was what I was going to be doing for the rest of my life ... I trained under Maria Tallchief in Chicago and Balanchine came to Chicago and offered me a scholarship to the School of American Ballet then I joined the company. I spent my dancing career performing as work. And then since I stopped dancing on stage, I've been teaching or staging Balanchine ballet."
Frequently Balanchine is called the father of American ballet.
"He certainly was influenced by jazz, by Hollywood, by the amount of space we have in America, the American character, American exuberance," says White.
Metzger says that Balanchine brought American ballet to the "next place."
"So for example, in classical ballet, almost always they were story ballets; almost always telling a story," she says. "Balanchine took it from being a vehicle for storytelling to being its own art. So you didn't go to see a story, you went to see the music. That was very different. Like Diana, I grew up thinking that I wanted to be a classical ballet dancer, as opposed to neoclassical... When I was 16 I went to New York as well to go the school of American ballet and seeing these ballets changed my life."
If you have a chance to see The Four Temperaments you will see a ballet that is striking in its look as George Platt Lynes' photographs: no tutus, no costumes, just dancers on stage in leotards and tights, against a bare stage cast in blue, dancing to the music of German composer Paul Hindemith.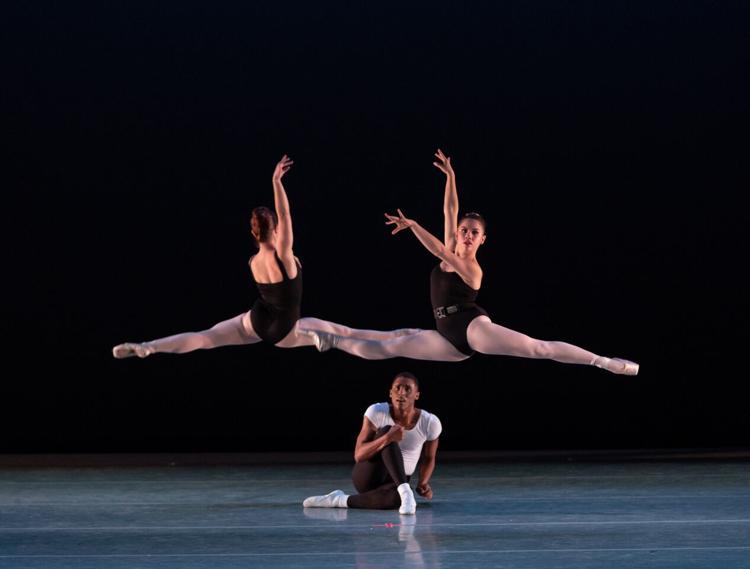 And in that deep blue light, the dancers' movements—not story or costume or setting—becomes everything.
"You will see for a ballet that was choreographed in 1946 how progressive and modern it is," says IB founding artistic director Victoria Lyras about The Four Temperaments. "It's mind boggling. I hope it moves you as much as it moves me."