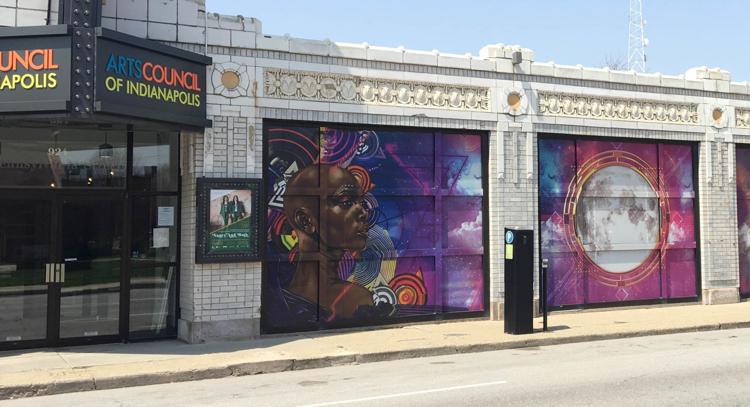 August First Friday was a busy one, but I managed visits to Point Blank at 10th West Gallery in the Stutz Business and Arts Center, We're Open, Come in at Gallery 924, Goddess: Layered Visions, curated by D. Del Reverda-Jennings, and the Josh Rush and Johnny McKee show at the pop-up gallery in the Peterson Printing Building.
I started my evening with Point Blank, curated by Maria Behringer and Tony Quintana and featuring work by Anna Martinez, Shamira Wilson Young, and Jamie Lynn Williams.
For this exhibition, Behringer and Quintana present an angle that feels more playful after the two-month, two-part exhibition of works by Stanley Krohmer that ended in July. The curated display of contemporary works subtly explores what happens when artists challenge the mediums they work in. But the curators chose three different artists who work in smaller scale, so the point is driven home without extravagant tricks.
Young's little house paintings are ambiguous pieces ambling between the realms of painting, graphic design, and textile arts. Martinez's paintings are muted pieces that seem to reference or exist more as minimalist sculptures than they do as paintings with their bold form and assertiveness.
Williams' works stands out for its relative excess—in juxtaposition to the work by Martinez and Young—with her expressive use of needlework. With the exception of one of her pieces, where a quilt is given a structure so it can hang off the wall like a painting, all of Williams' works exist in the confines of embroidery hoops.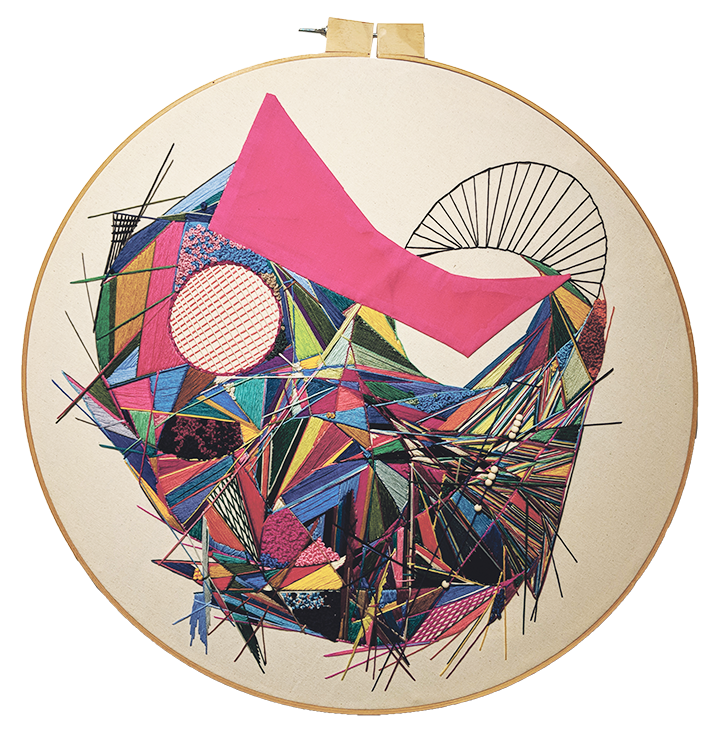 "What does it mean to be a good neighbor?" is one of the questions explored in We're Open, Come in at Gallery 924. The exhibition is a culmination of three years of work by various artists, led by Meredith Brickell. The work existed as House Life Project (HLP) at three previously abandoned houses in the Near Eastside of Indianapolis.
Three years ago, an abandoned house at 804 Easter Ave. drew Meredith Brickell's attention. For Brickell, houses like this formed this question: "What's the value of this place outside of the real estate market?"
Soon the house became a hub of activity for curious neighbors and children, community stakeholders, and local artists. Various art projects, which revolved around the physical presence of the house, eventually evolved to more complex ideas and more mindful choices regarding the art and writing that took place at HLP.
Brickell focused issues that previously existed only in the periphery to the centerstage. Soon, the "People + Property" conversation series was developed, eventually forming most of the content in an HLP publication titled People + Property.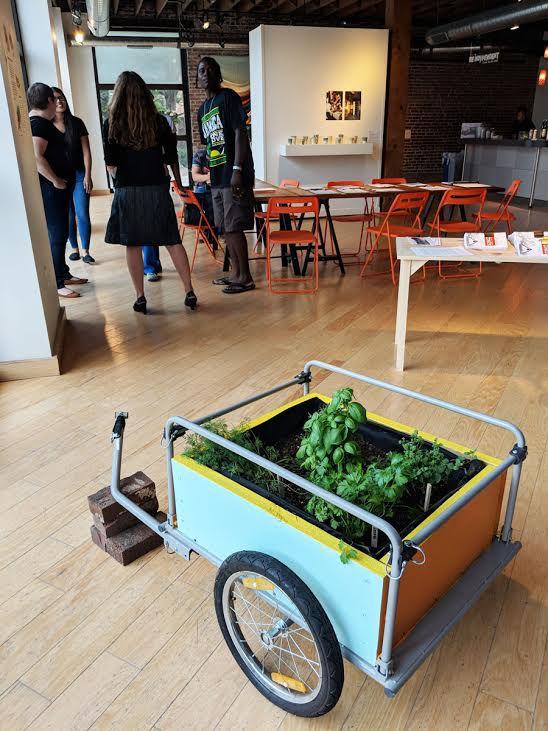 The exhibition and the published poems and essays in the 52-page tabloid discuss what it means to be a good neighbor. But they also explore themes of gentrification, space, mobility and how the history and the lives of other people can inform the places we inhabit.
One of the most noteworthy pieces is Andrea Jandernoa's "Told/Retold", which started as an exercise of placing screws and gold leaf in all of the cracks of one of the rooms of a house at 605 N. Tacoma. The screws were then turned into another piece on display in the gallery where they are preserved in resin cubes, impressively capturing the same feeling of wanting to preserve a moment in time and acknowledging change that pervades throughout the House Life Project.
I highly recommend people stop by, visit the installation and pick up a free copy of People + Property. For a more hands-on experience, Gallery 924 is hosting a community conversation on August 16, 6-8 p.m.
On view at Indiana Landmarks until July 28, Goddess: Layered Visions, curated by D. Del Reverda-Jennings, is a celebration of female energy with its eclectic all-women group of artists. It was refreshing to see so many perspectives and interpretations of what female energy can be.
I enjoyed seeing Mirvia Sol Eckert's colorful portraits referencing strength in a peaceful way. I also enjoyed the intricate monochromatic ceramic sculptures depicting motherhood and anxiety by Laura Levine. Nina McCoy's circular compass painting titled "She Waters the Earth" is visually interesting and rich with details of dolphins, mermaids, and the cosmos. Also a bit reminiscent of Botticelli's "The Birth of Venus."
I ended the night at the Josh Rush and Johnny McKee one-night-only pop-up show, where Charlie Ballantine played jazz guitar in the middle of the gallery space. On the right side of the gallery, Rush's loose abstracted landscapes seem to dance with life. On the left side of the gallery, McKee's paintings seem more contemplative.
"We get along conceptually. Our work doesn't look alike at all, but we're both very interested in finding quiet within our work," says McKee.
McKee says that most of his work explores life and death while, at the same time, realizing this comes across as an overly-broad statement. ("That's probably what most artists say," he says.) But I understand what he means. The details he contemplates in his paintings are subtle, and it's interesting that a painting about the beginning of something can look so much like a painting about the end.
But isn't it always like that?