Beatriz Vasquez has lived in Indianapolis for close to 25 years. She was born and raised in the border town of Brownsville, Texas. But she also has spent time on the other side of the border, in Matamoros, Mexico.
"My father was born there, so I have many, many family members there and most of my mother's family is there as well," she says.
The artwork that appears on Vasquez's 2017–2018 High Art billboard, "La Santa Frida," depicts the Mexican artist Frida Kahlo as a saint.  
"I created 'La Santa Frida' during a time when she was also very much an influencer in my life while I was going through very personal and traumatic times."
The work was featured in a 2015 Gregory Hancock Dance Theatre performance of La Casa Azul. The play is based on Frida Kahlo's intimate diaries, which detail the many struggles she had to overcome in order to create her art. This was an aspect of her history that Vasquez could certainly relate to. Hancock had first learned about Vasquez's work in an Indy Star article by Frank Espich in 2014 and immediately knew it would be right for La Casa Azul.  
"When he saw my work, he said, 'Perfect,'" she says. "'Her work is going to be perfect for the background.'"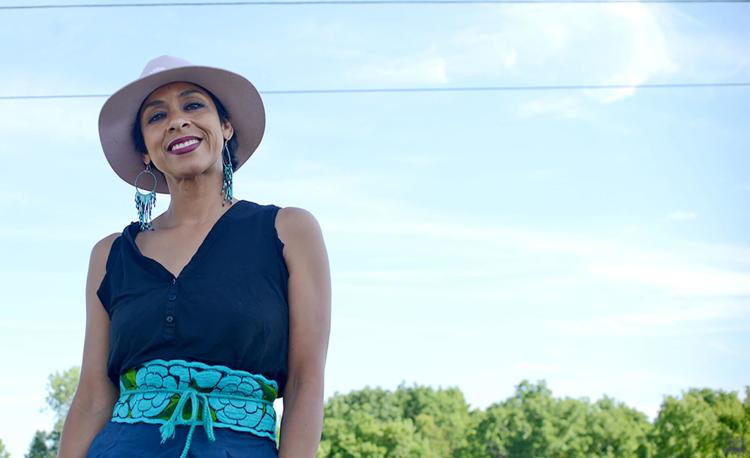 The art technique that Vasquez, 49, has been practicing for the past 10 years also comes from the other side of the border. The technique, papel picado, is a widely practiced decorative craft in Mexico.
"After I graduated in 2006 from Herron School of Art and Design, I discovered that there was a need for more culturally appropriate work and artwork here. I was not taught papel picado in school here, but I had known about it growing up as a child, growing up in Matamoros and Brownsville. And so right after graduation, I went back to Mexico to reunite with my family, and that's where I kind of picked it up. I started going through indigenous communities with my family."
One of her aunts introduced her to her friends who create indigenous crafts, including papel picado.
"So when I returned to Indianapolis, I decided that's what I would teach myself to do. So I came back here, and every day I taught myself to cut paper, not the traditional way…where they use chisels and nails and hammers to cut these beautiful, intricate designs onto 60 or more pieces of paper."
Vasquez uses a utility knife to create her designs on colored paper.
One thing that appealed to her about the craft—that she would turn into a personally expressive art—was that the paper used in papel picado is very delicate and easily damaged. But it also has other qualities, including versatility. 
"You can do so many things with paper," she says. "When I started creating with paper, I really started metaphorically thinking about my work and the indigenous communities where I come from and how vulnerable they really are but strong at the same time."  
Lately the art world has seemed to have caught on to the resonances of Vasquez' art. In June, she returned from a series of four residencies in San Francisco. She has also been invited to be the artist in residence in Sierra Leone, West Africa, in spring 2019.  
Vasquez was excited by the opportunity to display her work in last year's High Art program.
"I wanted to show a great Mexican female artist here in Indianapolis billboard-size so that people can recognize that yes, we are here. We—Latinos, Mexican people—are here in Indianapolis, and we are great in many, many ways."
But in the midst of all her personal success as an artist, Vasquez has had to deal with the recent theft of much of her artwork and many of her family's belongings. They discovered the loss on July 1 while they were in the middle of moving from Carmel to Indianapolis.
Yet this loss hasn't prevented her from moving forward with her art. She has an upcoming solo exhibition at Purdue University throughout September at the Black Cultural Center at Purdue University in partnership with the PU Latino Cultural Center. It addresses the Trump Administration's immigration policies, including its punitive practice of child separation.
"It's not just happening in the South along the border, but it's happening here too," says Vasquez. "A lot of my friends, a lot of my family's friends, have been deported. I feel like I have a voice because I was born in the U.S., but I'm very close to my culture and my traditions that I feel strength that I have to bring awareness through the work that I create."