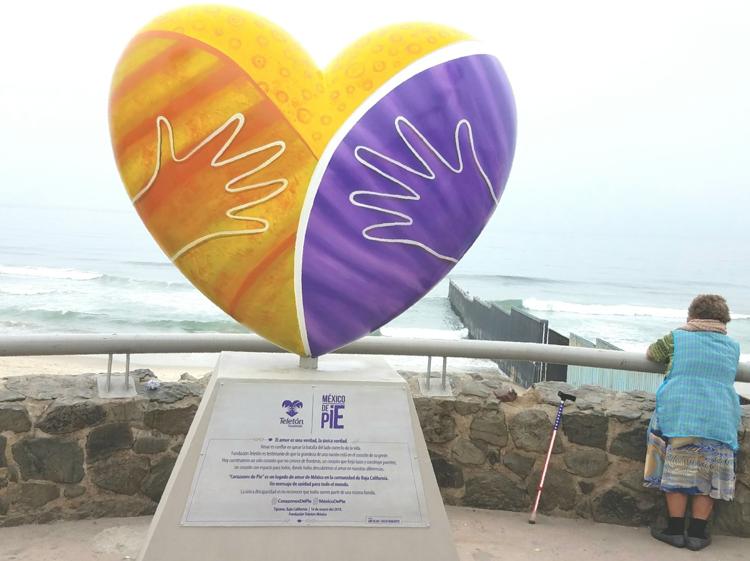 The Tijuana beach boardwalk—looking out at the Pacific Ocean—was my first destination on a recent trip across the border on April 4. I was looking for art, and I was looking for parallels to the growing Latinx art scene in Indianapolis.
What I found were three-foot-high fiberglass sculptures in the shapes of hearts, each one painted by a different artist, lining the bushes and flower beds along the Tijuana beach boardwalk.
Amparin Serrano's "LOB" is painted with bright, colorful letters and floral patterns. One of twenty such sculptures, it was quite a contrast to the gray-matter-like clouds hanging over the beach.
The placard under the sculpture reads, in Spanish, "The heart encounters no borders."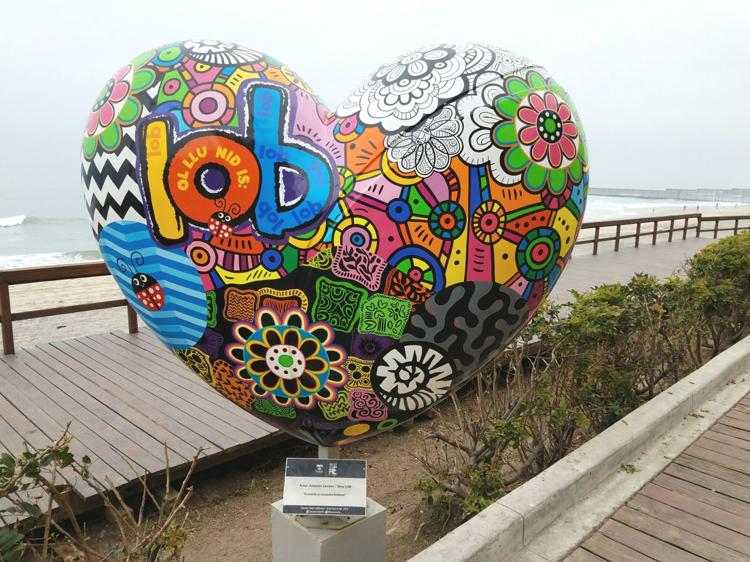 Yet there is no way to ignore the 15-foot-high border fence that divides the U.S. from Mexico just beyond the boardwalk.
The rust-colored steel posts of the border fence stretch down onto the beach and intrude 300 feet into the Pacific. On the Mexican side, you can walk right up and touch it. If you're a seagull, you can stand on the top of the fence or fly back and forth across the border as you wish.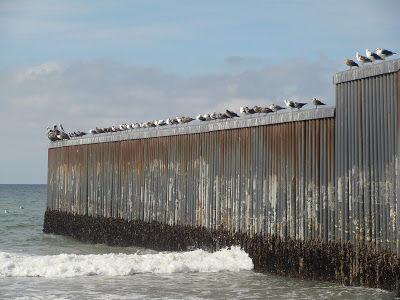 If you're an artist, you might even be able to paint it. That's exactly what Mexican-born, San Francisco-based artist Ana Teresa Fernández did in 2011. She began her project "Erasing the Border" by painting a 12-foot-wide section of fence sky blue. The project has since expanded to other border cities.
This is the very same fence that Trump wants to stretch from las Playas de Tijuana all the way to the Gulf of Mexico. Trump, in fact, paid a visit to San Diego on March 13 to inspect wall prototypes.
From the Tijuana boardwalk, you can see the section of border fence painted blue like the sky. It almost looks as if you can walk right through it. And that's the point of the project.
This wasn't my first visit to the beach in Tijuana. In November 2015, I came specifically to see the blue-painted fence at the suggestion of Indy resident Daniel Del Real. He is an independent curator who has curated several shows at the International Marketplace Coalition headquarters in Westside Indy, which has seen an influx of Hispanic-owned businesses in the last 15 years.
Such entrepreneurial activity isn't particularly surprising, considering that the Hispanic population in Indianapolis increased nearly 200 percent from 2000–2013 according to the website newgeography.com.
Del Real also curated Herencia: Latin American Influence in Art, at the Christel DeHaan Fine Arts Center at the University of Indianapolis, which opened in March 2017. Much of the artwork in that exhibition had a political or social message. That included Del Real's own "No Seas Concha," a mixed-media sculpture that depicts a Mexican seashell "concha" pastry that also functions as a beanbag. (In Spanish "No seas concha" is an idiom that means "Don't be lazy.")  
On the day of the opening reception, performance artist Jonathan Angulo laid on top of the concha/beanbag pretending to be asleep. "This particular performance is about tackling that stupid stereotype that Mexicans are lazy moochers," Del Real told me.
The painted hearts along the Tijuana beach boardwalk likewise have both social and political messages. But the particular heart sculpture closest to the beach, depicting two hands reaching out toward one another—suggesting bridge building and cooperation—is the symbol Teletón uses in its marketing.
That is, this exhibition was sponsored by the Fundación Teletón an annual telethon that raises money for children's rehabilitation centers all over Mexico. In March, the telethon, which was televised throughout Mexico and the U.S., was held in various Tijuana locations. Nine of the hearts were painted in the workshop of La Caja Galeria, which I had visited once before in November 2015.
(Indy resident and former Indianapolis Museum of Art curator Sarah Green also paid a visit to Tijuana as part of her PBS Digital Series The Art Assignment in 2016)
After my visit to the beach and a breakfast of corn tamales and Coke at a roadside cafe, I took an Uber to La Caja.
When I arrived at the gallery, which is located in a residential-industrial area away from the tourist sites, the front door was open. There was a painting class involving some 30 students on the ground floor.
One of the staff brought me upstairs to the floor that acts as a commercial gallery. The director of La Caja, Arturo Rodriguez, met me there.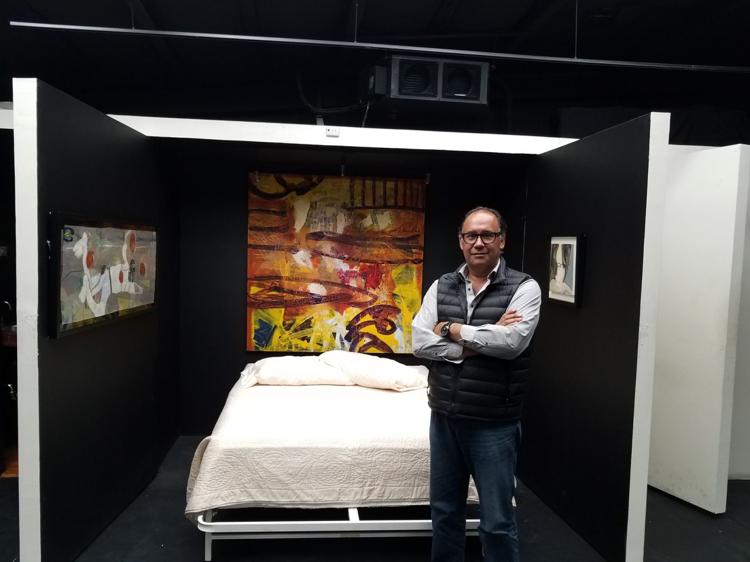 Rodriguez, dressed in an outdoor vest, collared shirt, and jeans, looked rushed, as if I had caught him in the middle of a dozen different projects. But he was gracious enough to sit me down on a couch in the white-walled galley and offer me tea. 
I asked him about the hearts on the beach, and he told me a bit more about the project, which he was invited by Teletón to participate in.  
"So what they did was invite 20 artists," Rodriguez told me. Of those 20 artists, 10 were from Mexico City; 10 were from Tijuana or from Baja California. "The reason for doing this particular project, it's like also giving a little slap to Donald Trump. Instead of building walls, we're putting hearts near the wall."
Facilitating this particular project is just one of numerous activities that La Caja is engaged in. Much like Big Car in Indianapolis, a nonprofit that maintains a multiservice art and community space in Garfield Park, La Caja engages its local community through exhibitions and innovative programming.
La Caja has academic programs ranging from Mexican art history to painting to photography to color theory, and it is in the process of expanding its facilities. There are now courses in ceramics, acting, and videography. And one of La Caja's newest initiatives is a venture into place making, along a stretch of the Avenida Ferrocarril, a nondescript thoroughfare that runs near La Caja. The name of the initiative is Intervenciones Urbanas.
Rodriguez is currently taking applications from Tijuana residents for their proposals on how to hang art installations on the eucalyptus trees along the avenue. The city of Tijuana is also involved with this project. Working in cooperation with La Caja, they will create sidewalks alongside the thoroughfare to make it more pedestrian friendly. Proposals will also be accepted for benches along the sidewalk.
"We noticed that a lot of people weren't familiar with the art of Tijuana," Rodriguez said. "People from the United States or Asia, they're more familiar with what's happening in Tijuana than the people that live in Tijuana. That's one of the reasons Intervenciones Urbanas was created." 
For this project, Rodriguez is enlisting not only the help of citizens and artists of Tijuana but also the mayor and the municipality of Tijuana.
We finished our tea. Rodriguez then showed me some of the studios where acting classes take place and some of the new classrooms and studios currently under construction. Before I headed off, I asked for his suggestion as to where I should eat before heading back to the border. 
He recommended Telefónica Gastronomico, a food truck park.
My taxi driver had a hard time finding Telefonico, but the extended ride was well worth it. Inside the gastro park's courtyard were tables surrounded by food trucks with cuisine ranging from regional Mexican to Japanese noodles, as well as a beer garden. I ordered a plate of enchiladas in mole sauce from a food truck called Carmelita and washed it down with a dark Mercado Negro craft beer.
It so happens that La Carmelita had been mentioned in San Diego Magazine's Best of Tijuana segment in August 2017. It's just one example of the good press that Tijuana's vibrant cultural scene has received in the U.S. media. Yet such developments—in the westernmost city in Latin America—are not as widely known as I think they should be.
After all, the culinary scene, the burgeoning art scene, and the emerging nonprofit organizations are all as much a part of Tijuana as the brothels, the drug cartels, and the zebra-painted donkeys.
For me, though, what keeps me coming back to Tijuana isn't just the food or the art. It's also my admiration for the bridge building—using art as the building material—that Rodriguez and his friends are doing.