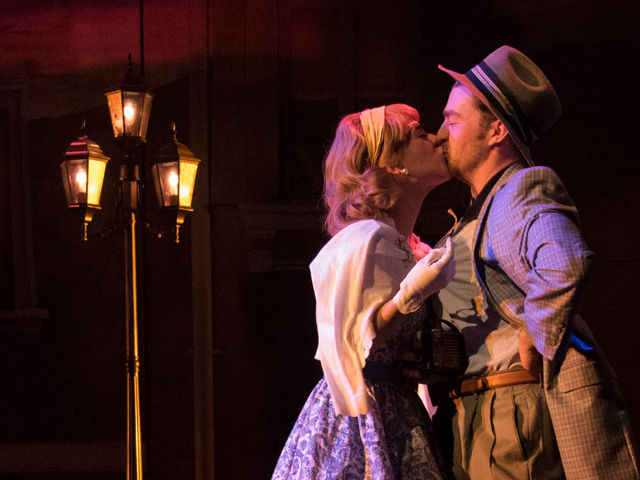 Ah-podge-uh-TOO-ruh. That's the first question most people ask when faced with the title of the Indiana Repertory Theatre's current production, Appoggiatura: How do you say that? And then: What?
"Appoggiatura" is defined as "a type of musical ornament, falling on the beat, which often creates a suspension and subtracts for itself half the time value of the principal note that follows." For the non-musical among us, that's not a concept easily grasped. The IRT's descriptive blurb about the show's plot doesn't give a lot away either.
So let me elaborate. Appoggiatura is about three people taking a vacation to Venice hoping to outrun their heartache back in the States. Helen (Susan Pellegrino) and "Aunt Chuck" (Tom Aulino) are mourning the recent death of Gordon, Helen's ex-husband and Chuck's husband. (Yes, Gordon left Helen for Chuck and Chuck and Helen are friends, just to clarify.) Accompanying them is Sylvie (Andrea San Miguel), Helen's granddaughter, who is dealing with her own emotional confusion toward her girlfriend, whom we only meet via Skype. 
The vacation is immediately soured by Chuck's incessant complaining over typical international-travel snafus: lost luggage, missing hotel reservations, and, most fun, an incompetent but genial "travel guider," Marco (Casey Hoekstra). Chuck's grousing is met by Helen's equally grating and unyielding optimism. For the most part, Sylvie tries to stay out of the middle. There must be something funky in the canals' water, because, come the second act, both Chuck and Helen are having some interesting time-travel hallucinations (and it's not from the pot that Marco acquired for Chuck).
In the end, what we witness is each of the characters' coping mechanisms for confronting dreams and expectations unfulfilled, but Helen and Chuck learn to hang on to the good parts too.
The way the show is written and executed makes it ridiculously funny. And not in a guilty-laughing, Schadenfreude-kind of way. These characters' interactions and surrounding events are just plain silly at times. Street musicians—Andrew Mayer, Paul Deboy, and Katrina Yaukey—add comedic support, and they provide some enchanting music that enhances the setting. The show's tone is set right from the opening scene as Mayer and Pellegrino play a sort of violin tag. And there are mop dogs—as in real mops. Anyone who has been to Venice will appreciate the all-roads-lead-to-San Marco, as well as a pigeon cameo.
Director Peter Amster guided Aulino, Pellegrino, San Miguel, and Hoekstra into sympathetic and genuine characters. This is actually quite a feat because without balance, any of them could fall into an empty stereotype—queen, martyr with a brave face, angry lesbian, and clown. (This is actually an ironic statement because at one point, every conceivable nationality of tourist is parodied. OK, maybe there is some guilty-laughter there …) Instead, the characters are relatable, enjoyable, even with their flaws—and because of them.
All of this action takes place on a set that is gorgeous. Scenic designer Lee Savage's concept is a work of art that captures Venice's sense of otherworldly claustrophobia. Chuck and Helen are hopelessly lost on their quest to find  San Marco plaza, which is really the only open space in Venice, even though all roads lead there. So, insert a psychoanalytic comment here.
Appoggiatura  is actually part of a trilogy by IRT playwright-in-residence James Still: The House that Jack Built (which the IRT produced in 2012) and Miranda (2017). I didn't see The House that Jack Built, but Miranda was dark. But I assure you, it's not going to affect your understanding of the story if you haven't seen one or both.
Lisa Gauthier Mitchison covers local theater at IndianapolisTheaterReviews.wordpress.com.