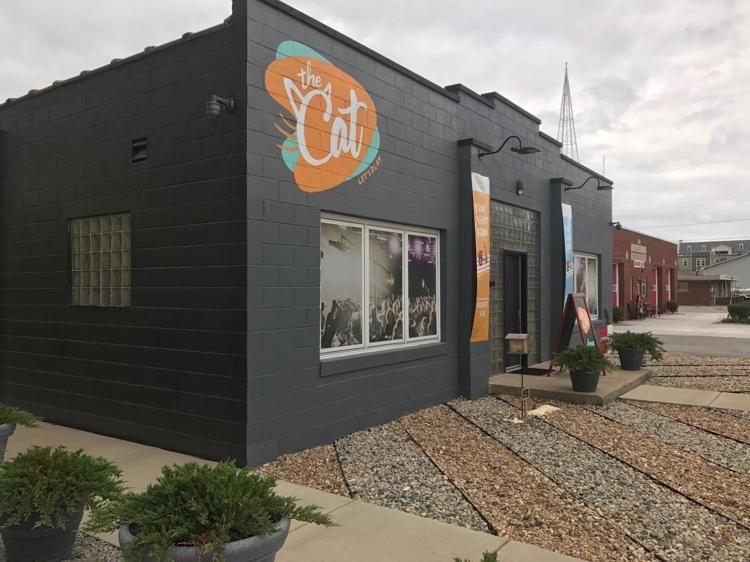 "People have heard that we aim to be the off-off-Broadway of Carmel. So I think they know that whatever ideas there are, we will give them a shot at making them real," says Will Wood, the founding artistic director of The Carmel Apprentice Theatre, the newest theater/multipurpose venue in Carmel. "We are fortunate in Central Indiana to be a tight-knit group."
In February 2017, The Cat took up residence in a compact building that formerly housed the defunct live music venue The Warehouse. The address, at 254 First Ave. SW., is on the periphery of Carmel's Arts & Design District. It's within sight of (and dwarfed by) the Palladium, the concert hall for the Center for the Performing Arts.
The Cat had its first performance in May, Side by Side by Sondheim. "[It was] led by the delightful Ellen Kingston for Carmel Theatre Company," says Wood.  "CTC, whose history goes back over 25 years, had lost their lease the previous December and had been looking for a new home."
Wood himself has had many experiences in theater. After a break lasting 30 years, he reemerged into the scene in 2009 and since then has assistant directed, directed, or produced nearly 20 theatrical productions in Central Indiana. In 2016, he wanted to direct a Cole Porter musical for CTC, but it lacked a venue. Wood and his wife and business partner, Deborah, discovered the 60-year-old building, signed the lease in February 2017, and fulfilled a lifelong dream of having their own theater.
The client base for the 150-seat The Cat has grown significantly since they opened their doors. "We have seven resident theater companies, but only two of them existed in any form before we opened," says Wood. "Our model encourages, almost demands, that people who have an idea or a dream come try it out here. The new companies, all formed this year, are Improbable Fiction, Approxima, 4 Way Stop, Indiana Theatre Company, and The Carmel Apprentice Theatre."
Since the theater opened, its focus has been integrating itself into its natural habitat. "We serve the local arts community," says. Wood. "And the term 'arts community' is meant in its most liberal term. And the term 'local' means just that. We have had several touring acts ask about playing here, and we could easily accept them, but that would send the signal that we are another of the many — and fine — spots open mostly for acts originating somewhere else."
Wood gets excited when rattling off upcoming performances.  "Shakespeare, Charlie Brown... a Broadway cabaret, It's A Wonderful Life, a premiere play, comedy — IndyProv and Dave Dugan." he says. "We have shows booked all the way through December of 2018, but there's still room for more."
The next event at the Cat is Ashton Wolf: Dueling Pianos, scheduled for Sept. 30, where Wolf and his performing partner Craig Wilson will explore many genres of piano music, including rock, country and standards.
"I sit at my desk sometimes and watch people walk by with their dogs or kids," said Wood. "And they stop and stare at the place. Maybe it's the neat logo on the front, the bird feeder, the dog dish. Or maybe they're just looking at this tiny place next to the big five-story office building going up…And they just wonder how we're going to survive!"
The venue is by no means exclusively a live-theater spot. "As far as artists, we've had comedy shows, student recitals, a surprise birthday party, corporate meetings, ribbon cuttings, summer camps, concerts…lots of stuff." The flexibility of the setup inside, which Wood describes as "cozy," allows performers a multitude of possibilities. Overall, Wood says, "We attempt to be relatively family-friendly. And not too loud."
So far, Wood says the best part of running The Cat is "Each time we say, 'Yes, you can do that here!' I love the reactions I get. Like 'Really?" or "You're kidding, right?'