For National Poetry Month, we're taking a deep dive into the local spoken word scene starting out with one of the most successful venues in Indianapolis: VOCAB, a monthly open mic series at the White Rabbit.
On March 25, Tatjana Rebelle, the founder of VOCAB,  came by the NUVO offices and we had a conversation that you can see, hear, and read here in its entirety: 
NUVO:  Hi, I'm Dan Grossman, arts editor for NUVO, I'm here with Tatjana Rebelle, activist, poet and host of the monthly VOCAB open mic series at the White Rabbit Cabaret. Why don't you tell me about your own background. Did you grow up in Indy, Tatjana?
TATJANA REBELLE: I grew up in Indy.  I moved here when I was two. So I was born in Germany and I came here to Indy because of Fort Ben. I was raised by my German mother. So I refer to myself as a first generation American and learned a lot about being first generation person of color growing up in Indianapolis which led to my writing and to my activism.
NUVO: Tell me something about VOCAB open mic.  It's a place where according to the Facebook page, art, activism, and community meet. That is to say, VOCAB is much more than an open mic, right?
REBELLE:  Yeah. So when I first started VOCAB twelve years ago, I had started off as a poet, and I started doing poetry and singer-songwriter open mics, and I was not well-received at all. And when I was given the opportunity to have my own open mic I wanted to create a space that everyone would be made to feel welcome, especially people that normally don't get recognition in the city. So outside of singer-songwriter, and outside of the rock scene. And the vision of it now and what I'm doing with it now; I've kind of always had three different aspects of myself, where I was a writer or I was a promoter, or I was an activist and VOCAB is a space where I do all of it now as opposed to separately for separate people.
NUVO: And you started out, what, twelve years ago in the Casba, right?
REBELLE: It's been to the Casba, the Wellington, Shoefly, and now the White Rabbit.
NUVO: I've been to three VOCABs. Each one was different. I loved them all, but I have to say that the last one, the one on March 13, was the most spectacular. It featured Tony Styxx, Januarie York, Gabrielle Patterson, and Too Black. Why don't you tell me about each of those performers and how their careers intersect with VOCAB?
REBELLE: I will actually say that that was the best VOCAB I've ever had.
NUVO: Really?
REBELLE: By far.
NUVO: O.K.
REBELLE: And normally I get really excited. I'm like, yeah, that was a really good one. But this one was, I will actually say the best. I have met individually each person that performed through the years of doing VOCAB. Each one of them has been a person that affected my life. Tony Styxx, I remember when he still wasn't 21 and he was so hungry and it was the first moment when I had someone who had known about VOCAB, who was like just get me on, just get me on. And I was finally able to get him to perform and seeing how he's grown into kind of like the end all be all of all artists because he can do everything. Januarie York I think is one of the greatest treasures that we have in Indianapolis. Her work is powerful and gets you in your gut. And it's something that I actually appreciate and that has inspired me as a writer. Too Black, one of my favorite humans on earth. He will never want to hear that but it's true. And he is very unapologetic about who he is and honest and I like to refer to him as the poet's favorite poet. Every line is very intentional. He has researched everything. There is nothing that he has put into his pieces that won't have backing of research. And then Gaby, she is just a powerhouse. And she's been able to branch out into theater and storytelling so I'm inspired by her because you just never know what she's going to do. And I was just really grateful for them to all be a part of it. That night was just magical because It was like a family reunion. I hadn't seen a lot of people [ …] at that show. It was kind of like the who's who of the poetry scene and who's been in the scene from the beginning.  There's a lot of open mics now, and I think a lot of people forget that there's a long history of spoken word in Indianapolis and it was really nice to bring some of the people who had been pioneers and to see a lot of people who had just been forgotten about or just like we're tired. So that was just like the best.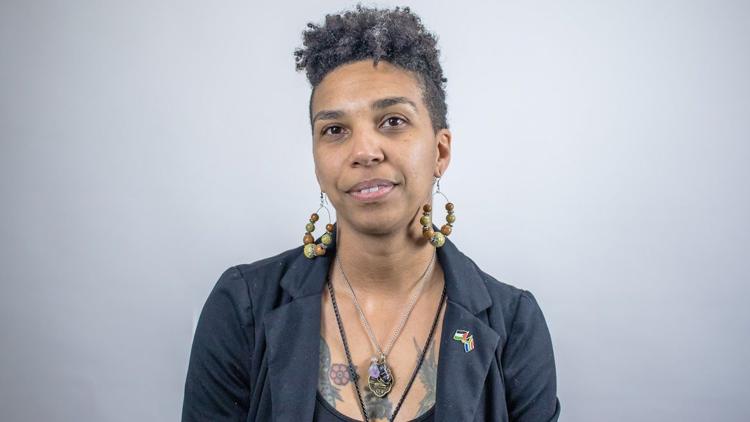 NUVO: You had a recent release of a chapbook. This is America: When they use your words against you.  How did that publication come about?
REBELLE:  Hmm. Today's actually the anniversary of when I found out about it. I had spoken at the March for our Lives Rally at the Statehouse. It was one of the most pivotal points in my activism and I was very proud and excited to see where my life was going to go after that. A week later I actually found out from Too Black that a white supremacist had gotten ahold of a clip from that speech and made a very long video calling me an anti-white racist, pointing out my personal blog, attacking me but then also using my words to explain white supremacy at its utmost. So I realized a lot about myself and the dangers of being an activist and being outspoken and it took me several months; one just to come back to reality and a space where I felt safe in the world. And then I needed to figure out a way to take that moment and create something to let it go and the chapbook came from that.
NUVO:  OK, and you had a [book] release at Future Friends Holographic Magic Club. Am I getting that right?
REBELLE:  That is correct [Laughs]. We can just call it Future Friends.
NUVO: [also laughs] I think from now on I will do that.  Great place though. In one of the chapters of [This is America] you touch on some topics that are very necessary to address but talking about white privilege can't be the most comfortable topic to talk about sometimes.  Do venues like VOCAB, that are inclusive and welcoming, allow you to touch on topics like that more easily?
REBELLE:  It's one of the things I've been very intentional in creating a space where we can speak freely and openly and have people that also understand.  I think with Indy being conservative, the art scene has a lot of space to be able to be honest, but not a lot of spaces where you can be honest. I've definitely noticed in the art scene that a lot of people want to stay away from politics and racism unless its February [Black History Month] …  so its one of the things with VOCAB especially and I've noticed it with Iconoclast as well and the other places that we try to create a culture of openness to be able to talk about it, just because it's actually lacking a lot in the city.
NUVO: What's on the horizon for VOCAB?
REBELLE: A lot of things in the works.  The website should hopefully be done in the next few weeks. I never realized how much work goes into creating a website.
NUVO: Yeah.  A lot. We're working on it.
REBELLE: Yeah, but I'm hoping to start a youth program where I'll be able to take activists and artists as well to teach the youth. There will also be an all ages open mic that will be starting hopefully by the summer and then I'm going to be having people come in like a speaker series and then I'll actually be doing some actual trainings that go in depth into talking about white supremacy and going past just teaching people but actually getting people to a point of being activated.  [Wednesday, April 10] is where we do VOCAB Honors It's National Poetry Month
NUVO: Right.
REBELLE:  Last year we honored Kafe' Kuumba for their 30th year. So while VOCAB's been going on for 12 years, we're not the oldest at all by far. This year we're going to be honoring Teas the Artist which is an all ages open mic on the first Friday at Tea's Me Cafe with performances by Eric Saunders, Chantel Massey … I'm so excited about this. There's a gentleman by the name of Billy Tuggle from Chicago who I've been trying to get for a couple of years now and he's going to be coming down as well. So I'm really excited about because he does haiku and I don't think there's enough credit in the city …
NUVO: Well, you were trying to get a haiku artist at the last VOCAB right?  
REBELLE: I have been trying to get a haiku battle for all 12 years of VOCAB. So this has been …
NUVO: I don't think anybody came up that particular night.
REBELLE:  Haiku will finally be showing up so I'm very excited.
NUVO:  All right!  I'd like to see haiku at VOCAB. That will be interesting. Well unless you have anything else to add Tatjana, that's pretty much it, so thank you so much.
REBELLE: Thank you so much. I'm so glad I got to do this
NUVO: It was fun.