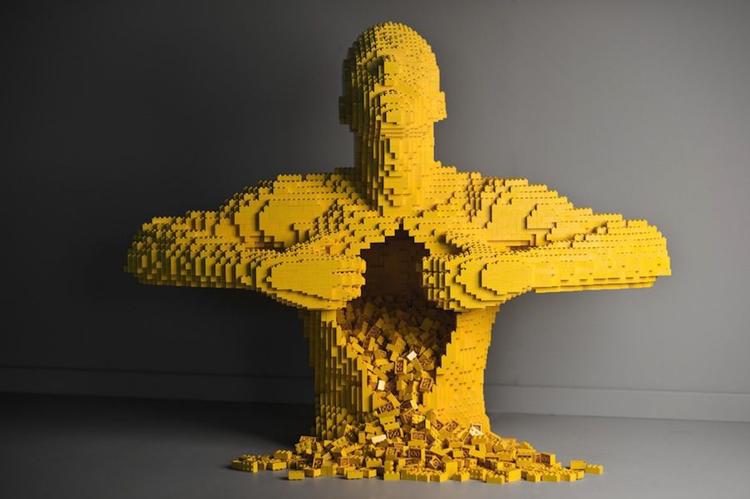 Having already visited the new exhibit, The Art of the Brick, featuring the LEGO sculptures of Nathan Sawaya, I can report that it appealed both to the adult and the kid in me.
As far as what appealed most to the kid in me, well, it was the dinosaur skeleton, hands down.
But the adult in me loved Sawaya's take on classic paintings such as Vincent Van Gogh's Starry Night and Hokusai's Great Wave Off Kanagawa. Both were framed, hanging like paintings. I also liked his self-portrait and a portrait of his long time-partner, both of which had a Pop Art feel.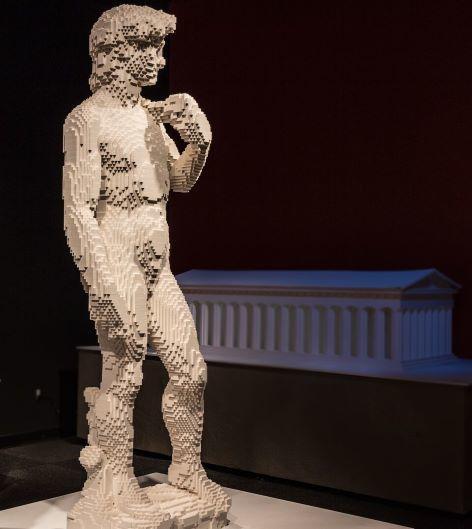 There was also a nod to classical antiquity with his LEGO brick sculpture of Venus de Milo, and a nod to the Renaissance with Michelangelo's David.
More successful, I thought, were the conceptual works like "Gray" that depicts a man tearing his way of a big gray box, that neither relies upon on nor is burdened by any art-historical frame of reference. His text for this work references his time as a corporate lawyer: "There was nothing wrong with being a lawyer but I always knew there was another me, an Artist me."
"Yellow," one of his most renowned works, is an even more arresting sculpture.
Another remarkable aspect of the exhibit is his collaboration with photographer Dean West, which he we discussed when I had a chance to speak with him about the exhibit, which runs through Jan. 6 at the Indiana State Museum.
NUVO: How did your interest in LEGOs begin?
NATHAN SAWAYA: Like most kids, I had LEGO bricks growing up. My parents were always encouraging creativity. One of the stories I write about in The Art of the Brick: A Life in LEGO is that when I was ten years old, I asked for a dog, but when I couldn't get a dog, I built a life size dog out of LEGO bricks. That might have been the first a-ha moment when I realized that you didn't have to build what was on the front of the box.  I could let my imagination go.
It was later in life, when I was sculpting out of other media, that I thought about this childhood toy. I started experimenting with LEGO bricks as an art medium, and went from there.
I used to practice corporate law in New York City. When I came home at night I would need a creative outlet. Some nights I would draw, some nights I would paint, and some nights I would sculpt. One day I challenged myself to sculpt out of this toy from my childhood: LEGO bricks. I started doing large scale sculptures. Most nights I would find myself snapping LEGO bricks together even before I took off my suit or ate dinner. It felt good after a long day of negotiating contracts to build something with my hands.
Slowly but surely my New York apartment started to fill up with sculptures. The artwork consumed almost every room. I posted photos of the works on my website to showcase my artwork in a virtual gallery to friends and family. When my site crashed one day from too many hits, I realized it was time to leave the law firm and pursue my passion to become a full time artist. I quit my job as a lawyer, opened an art studio, and took the leap of faith.
I like using LEGO bricks because they let me create anything I can imagine.They are a great medium for art because I can use them to build countless ideas.
As an artist, I want to elevate this simple childhood toy to a place it has never been before: into the fine art galleries and museums. I appreciate the cleanliness of the LEGO brick. The right angles.The distinct lines. As so often in life, it is a matter of perspective. Up close, the shape of the brick is distinctive.But from a distance, those right angles and distinct lines change to curves. That is what drew me to the brick.
I like using the bricks as a medium because I enjoy seeing people's reactions to artwork created from something with which they are familiar. Everyone can relate to it since it is a toy that many children have at home. But it is more than that. My favorite thing about using LEGO bricks is seeing someone be inspired by my artwork to go and pick up a few bricks and start creating on their own.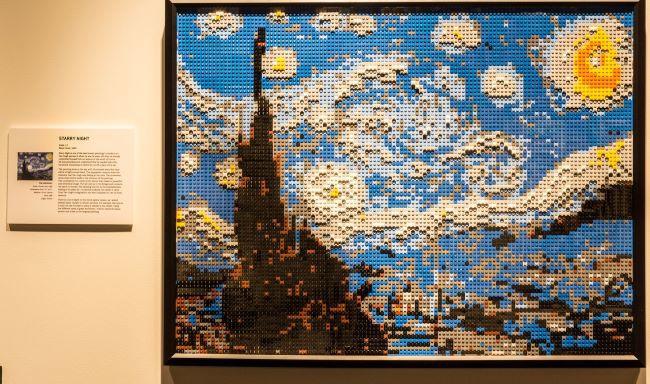 NUVO: Where did you get the inspiration for "Yellow"?
SAWAYA: People ask me about that particular sculpture more than any other. I think adults connect to that work because it's about opening oneself up to the world and giving your all until even your soul pours out. I think kids like it because there are guts spilling out of it. For me, the work is about transition. The idea came from a time in my life when I was changing both what I did for a living but who I truly was.  This metamorphosis led to me sketching out ideas and then eventually building "Yellow."
NUVO: On seeing your dinosaur skeleton, I can't help but ask if you were fascinated by dinosaurs when you were a child.
SAWAYA: A lot of kids are fascinated by dinosaurs. After my first solo exhibition, I was amazed at the number of kids who came to the art museum to see my work, and I wanted to give something back to these kids. I thought about what kids like, and came up with dinosaurs. So I spent the next three months working and creating a dinosaur skeleton. It measures over twenty feet long.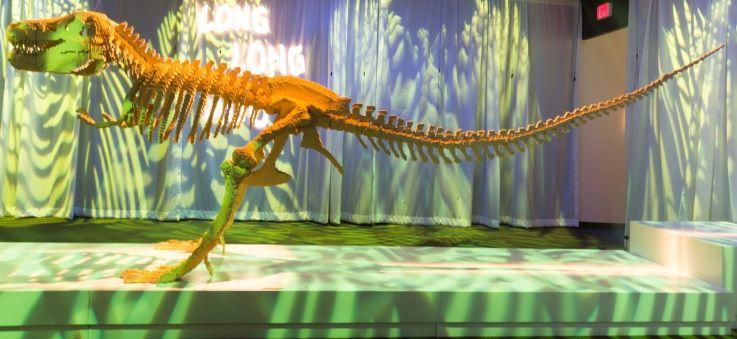 NUVO: What LEGO sculpture(s) are you working on now?
SAWAYA: I am continuing to explore using LEGO bricks to create human forms. I have recently started a brand new series of works but they may not be finished for some time. So you will have to wait and see. I post previews on Instagram from time to time.
NUVO: Are there LEGO sculptures at Indiana State Museum that people haven't seen before?  
SAWAYA: This collection has newer works as well as some of my earlier works so it truly spans my career. It also includes the works from the IN PIECES gallery which is my collaboration with photographer Dean West in which we incorporated my brick sculptures into his hyper-realistic photography.
NUVO: Who are some of the artists that inspire you?
SAWAYA: I have been inspired by the sculpture of artist Tom Friedman who uses household items to create fantastic works of art. I also have been influenced by the human forms of Antony Gormley.
Inspiration comes from all sorts of places.  It all starts with an idea. And finding that idea can be the most difficult part. Fortunately I have multiple exhibitions touring the globe so I get to travel quite a lot. This allows me to visit different locations, meet different people and experience different cultures. I can then use those experiences for inspiration for creating new works. I try to always carry a sketch pad with me when I'm traveling so I can jot down ideas as they come to me.