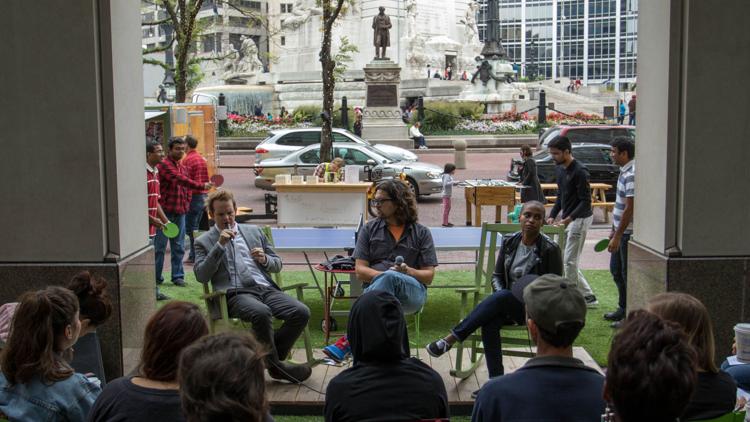 Jim Walker has made a name for himself as one of Indy's faces for creative placemaking. We chatted about what it means to be a placemaker; what has worked well in Indy and what hasn't. 
Emily Taylor: What do you consider successful creative placemaking? What are those markers of a successful endeavor? 
Jim Walker: Creative placemaking really works when the goals of a community are reflected in what is happening in a place — what is going on there, not just how it is built or furnished. Maybe people are hoping for a safer or more comfortable or more welcoming place on their block. Maybe they want a spot where they can interact easier with each other. The "creative" part of it — by the definition funders around the country have been using — is that artists are working with people to help make these things happen in public places and spaces. 
Creative placemaking, when it is successful, is flexible and adaptable to the wants and needs of people who participate in a place. I don't see public places that are planned in top-down ways, that are built in usually very expensive ways with fixed hardscapes and  stone benches and things like that as placemaking. That's place building. And there's certainly value in place building. But calling these kind of projects that have been around forever and have never really been comfortable or welcoming to people 'placemaking' is not genuine and undermines the placemaking movement and the ideas behind true placemaking — which is all about making places for the public to feel comfortable, safe, connected with each other, and happy. 
Emily: If you had to boil down why you have invested yourself in creative placemaking, what would that be? What is the proven good that you have seen come from this kind of work here in Indy? 
Jim:
My work and our work at Big Car has always been about the social element of what can happen in a cultural space. And now, more than ever, people really desire and really need opportunities to connect with each other in a third place outside of work and home. And that's where our work with creative placemaking comes in. When we were working on Monument Circle and people were showing up to play pick-up chess or ping pong, they were making new friends and were talking with strangers. This is the kind of thing that breaks down barriers, that helps us see that we are all in this together. And this is one of the only
antidotes
 I can think of for helping cure the ills that are further dividing our communities, our country and our world. It's about making a place where empathy and real human connection are part of the equation. Expensive granite benches 30 feet apart don't do what a $10 chess set can. 
In our city, projects like Spark at Monument Circle in 2015 — which was primarily funded by the NEA — show that people really want to be together, they want to celebrate the history and the diversity and the culture of our city. 
Emily: What were some of your learning curves with Big Car? What were times where you feel like you failed and ones where you feel like you succeeded? 
Jim: We don't see any of our projects as failures because they all teach us something. That's the key, learn along the way and grow from what you learn. When we started working in Lafayette Square, we reached out to neighbors, invited them in, gave keys to the neighborhood and merchants association and tried our best to be part of the mix. But, while we were there every day, it was a little more difficult to lead since we didn't live there and didn't know exactly how long we'd be there. Now, in Garfield Park, we see the real value of knowing we'll be somewhere long term and it is better to help lead as a neighbor who lives there. So, going forward, we'll be careful stepping into leadership roles when we should be facilitating and supporting what leaders are doing. So that means it is important to work with communities that have strong leaders and leaders who really care about the community, about neighbors. 
Our biggest successes have been Spark Monument Circle, the garden at Service Center, and the transformation of Cruft Street from half vacant to a place where the Tube, Listen Hear and the artist houses are joining with neighbors and other artists and business owners to create a community art village on a long-neglected and forgotten block in our city. If you look around, it's hard to find anything else like that anywhere. And it happened because of the power of partnerships between neighbors, artists, Riley Area Development, the City of Indianapolis, and funders and supporters with amazing trust and vision to see what's possible.