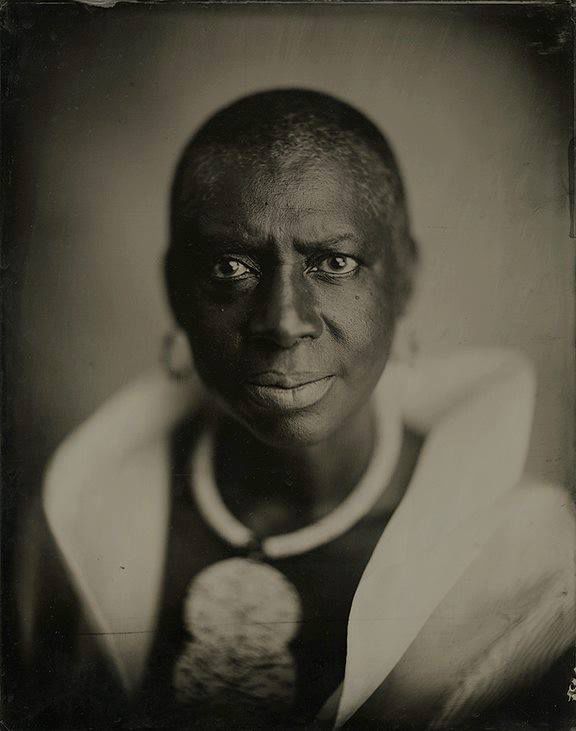 There are some difficult subjects present in LaShawnda Crowe Storm with Maria Hamilton Abegunde's exhibition Keeper of My Mother's Dreams, which includes quilts, sculpture as well as writing.  
The work, on display at Tube Factory artspace until Jan. 20, deals with the history of violence, including rape and lynching, against slave women in the American South.
But the exhibit isn't an endurance test. One of the goals of the exhibit, up at Tube Factory artspace, is to create a path towards healing. 
On Jan. 13, the themes of the exhibition will get a sonic component when singer Afriye We-kandolis will perform "Sista Yo Mama U n Me Too," which tells a story about an enslaved woman's spiritual transformation after the trauma of gang rape.  She will also give a voice to Laura Nelson, a woman lynched in 1911 along with her 12-year-old son, in a performance entitled "I am Laura Nelson."
Afriye We-kandodids is a singer, self-taught recyclist and folk artist and the founder of By the River Center for Humanity in Selma, AL. 
"We-kandodids uses a wide assortment of discarded material to create intuited, thought provoking one of a kind pieces of art," says Big Car co-founder and Tube Factory exhibition curator Shauta Marsh.  "She describes her whimsical method of creating as being both spiritual and experimental with a touch of primitivism."
The themes of the exhibit and the performance will very much blend into one another.
"Themes present include the connections between history and memory,"  according to Crowe Storm and Abegunde, as well as  "the importance of communal art making, how creating art shapes healing, the unheard and invisible narratives of Black women, and the power of art to create dialogue, community change, and community for everyone involved."
But when asked if the exhibition was supposed to bring the audience to some sort of catharsis, their answer was a qualified no.
"Not necessarily," said Crowe Storm and Abegunde. "The difficult themes in the exhibit, the performance, the conversations, the poetry are themes that are currently being experienced and discussed in the contemporary lives of African Americans. The exhibit and performances, therefore, link past and present while asking what will the future be like?"
They said that their audiences might leave the performance with an array of emotions.
"What was and is of concern is healing, which sometimes does not lead to catharsis, but does provide a path toward better understanding of self and community," they said.  "Moreover, the exhibition and performances ask that viewers and the audience contemplate the histories of violence that have shaped not only African American women, but Black women worldwide and other peoples. Each of the pieces and performances require that the audience at some point enter the space that the work holds and, thereby, ask the question: What about me? What is my responsibility? What is necessary for my healing? Is my healing connected to honestly exploring this history of violence? They can, in fact, answer these and other questions by participating in the interactive components of the exhibit, something we encourage to do as often as they are able."
Curator Shauta Marsh wanted to work on this exhibit, because she believes that people are more open to art than each other.
"Ignoring the past and what is happening now to the Black community is not working for our country, region or city," she said.  "LaShawnda and Abegunde's perspective should be seen. Different artists need different things from me. Working on Keeper of My Mother's Dreams meant I was to learn from them, to support them and the audience, to provide a platform and give them resources they need to reach the community.  I knew their work would resonate with the public in various ways."
Marsh has had a number of meaningful conversations with people since the exhibit opened.
"Some were angry, some sad, some cried, and some were thankful too," she said.  To offer that experience to people, no matter how difficult, leads to change and transformation. Even if 3,000 people see it over three months out of the 800,000 in this city, there is a ripple created from the interaction with this artwork.  Art can lead to change. The exhibit has changed me too.  LaShawnda and Abegunde aren't creating decoration or a commodity, they are creating a dialogue."