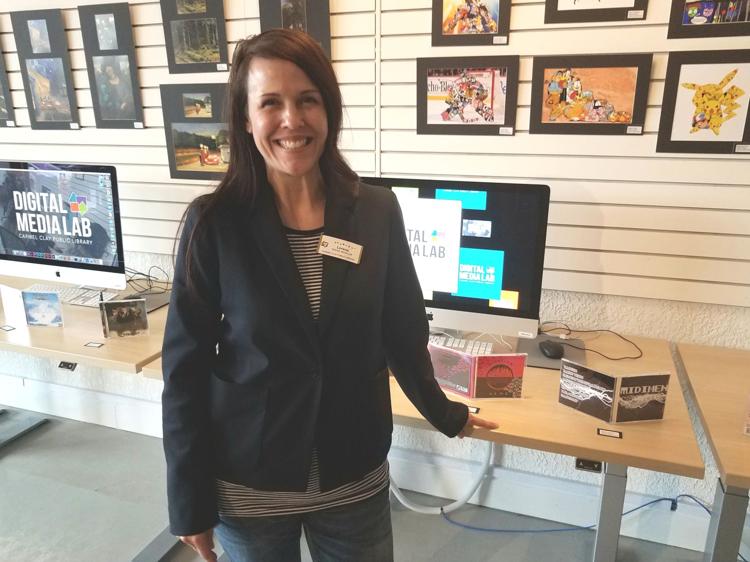 Last night I decided to walk to Main Street in Carmel, the heart of the Art & Design District, from my condo complex. It's a quarter-mile walk at most.
My M.O. on this evening—it was a beautiful evening with the birds over my head chirping up a storm—was not to take anything for granted.
I walked across a newly completed roundabout (one of 200 in Carmel) and then past a newly completed office building, housing F.C. Tucker offices.  I walked past The Cat Theatre, which had a banner advertising a run of Agatha Christie's "Murder on the Nile" which ran the last week in March. I walked past the Carmel Firebuffs and Museum, located in the former firehouse.
Firebuffs, along with two other Carmel Museums in the Arts & Design District — including the World's Smallest Children's Museum, and the Museum of Miniature Houses—aren't the most cutting edge museums in the world, I suppose, but they do have their fans.
I also passed the Indiana Design Center, which features 15 showrooms showcasing both commercial and residential design products. There's also a few art galleries in the mix.
Back in the early 2000s when Mayor Jim Brainard was looking to transform the old Downtown into the Art & Design District, he was convinced by Los Angeles-based gallery owner Evan Lurie that design needed to be part of the mix.  So that's why there's an Indiana Design Center.
I was feeling hungry so I stopped in Burgerhaus, at 89 1st Ave. S.W., which is part of an Indiana-based chain. It's a restaurant so new to Carmel that is so new that its porch is still under construction.
I sat down at the bar. I ordered the Haus burger and substituted a Portobella mushroom cap for the hamburger patty, with a side of garlic fries, and washed it down with a Champagne Velvet beer.  As soon as my meal arrived I experienced a mild pang of regret. I could have, after all, ordered a "Kyoto," burger, which contains six ounces of sushi grade Ahi tuna, and traveled the world, so to speak.
Let's just say that this is probably not your Dad's burger place.  And while I enjoyed my meal—particularly the garlic fries—let's just say I can't afford to eat there every day.  
(Mayor Brainard, if you're reading this, what the Carmel Arts & Design District can use, right now, is a White Castle!)
My first gallery wasn't actually a gallery. It was the Digital Media Lab, run by the Carmel Clay Library, located in a storefront at 23 E. Main Street. The Lab, which is open to all Carmel Clay Public Library cardholders (12 and under need be accompanied by an adult, however.) You can learn elements of graphic design, digital printing, and even how to use their state of the art recording facility, all assisted by their expert staff.
There was an exhibition of digital work by Carmel High School Students featured in its Student Art Show. Some of the work rose above the level of exploratory student work. (There was a lot of digital collage-type work: substituting Michael Jordan's face for Adam's, say,  in an image of Michelangelo's fresco "The Creation of Adam.")    
I  liked CHS student Joey Hawkins' portrait of Pacers player Lance Stephenson using text as sort of building blocks for the composition.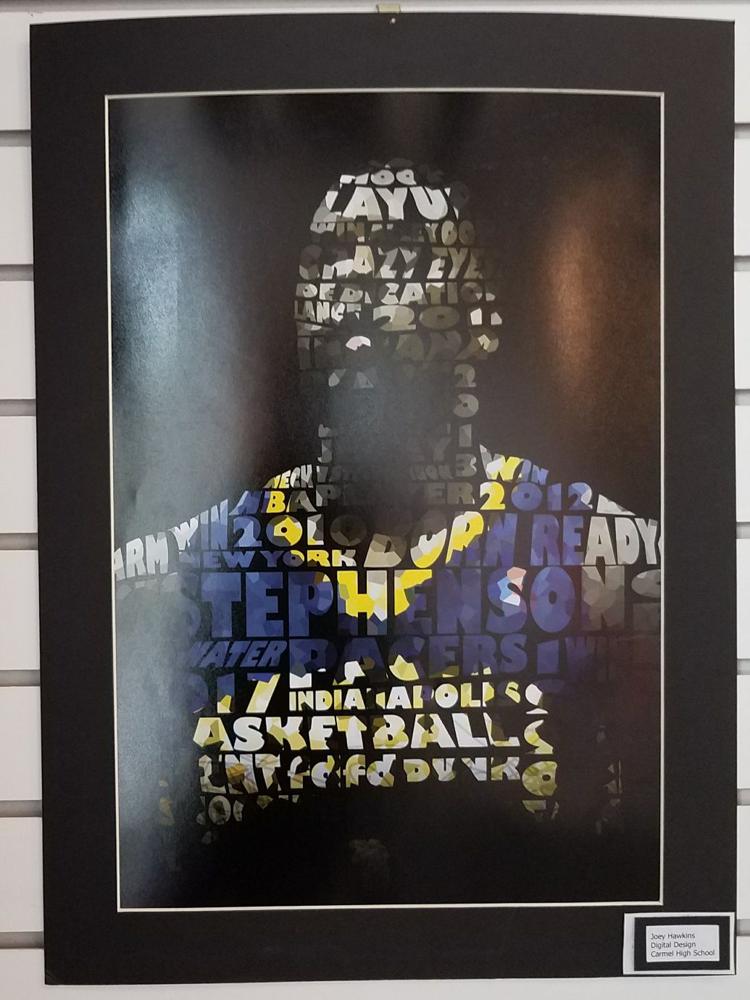 "Part of our endeavor is to really inspire digital creativity in our community,"   the Digital Media Lab's Lorena Lane told me. "And we just happen to have an amazing school nearby that has some really talented students." 
Next stop was the Hoosier Salon Gallery, run by the Hoosier Salon nonprofit organization, that promotes work by Indiana artists.  Hanging salon-style everywhere were paintings with those classic Hoosier motifs; the woods, the barns, cows chewing their cuds. Not, as Jerry Seinfeld says, that there's anything wrong with that.  
But against that background Will Carpenter's work leaps out. Carpenter is a Marion-based painter who's been associated with the Hoosier Salon for a while, whose work seems more akin to Japanese landscape work than, say, plein air painting.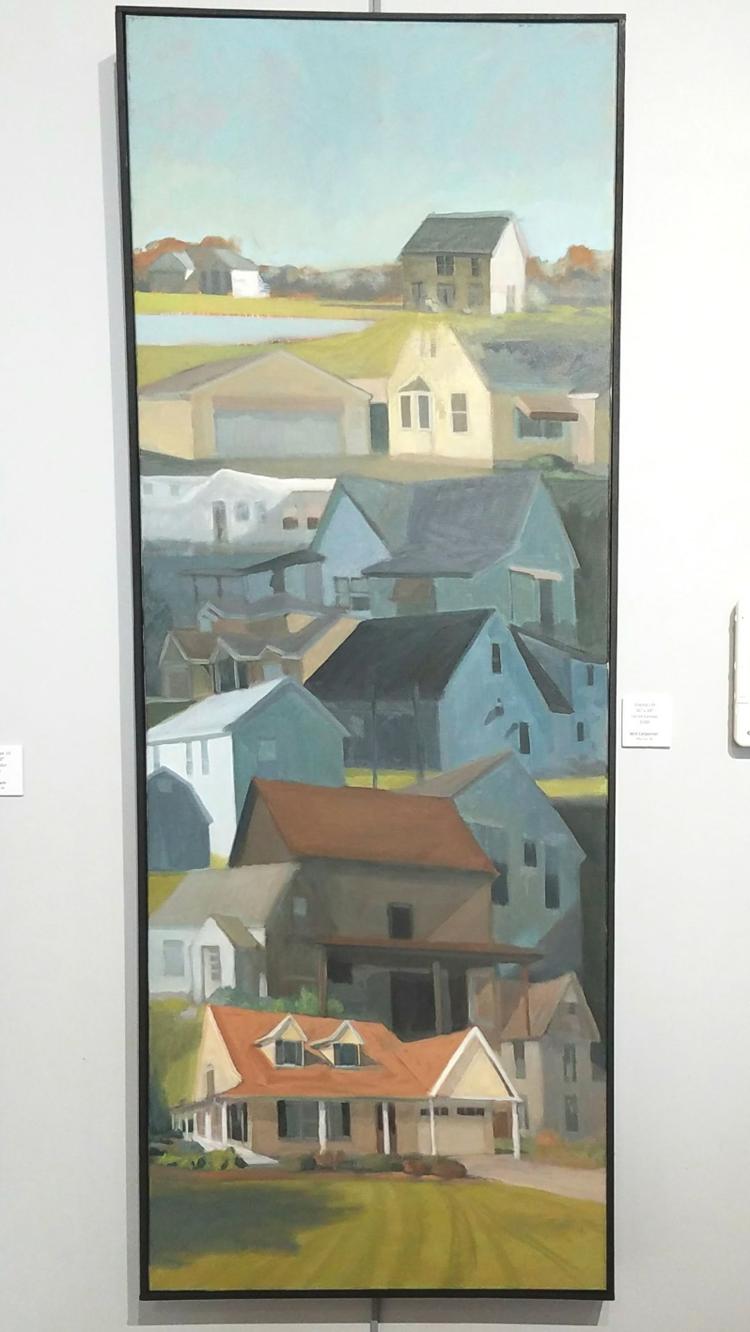 "Shared Life" is a crowded canvas that depicts ranch style and colonial style suburban homes stacked one on top of another in a way that is aware of—but largely obliterates—Western laws of perspective, and instead present an American dreamscape.
I also admired the much more traditional oil on canvas landscape by Mark Vander Vinne from Porter, Ind., titled "This Way," which depicts a simple road sign against a backdrop of the woods in winter.  A simple depiction, perhaps. But the title "This way," is evocative of so much in Western culture.
I think of the opening lines in Dante's Inferno, "When I had journeyed half of my life's way/I had lost the path that does not stray/" where the poet finds himself in a darkened wood.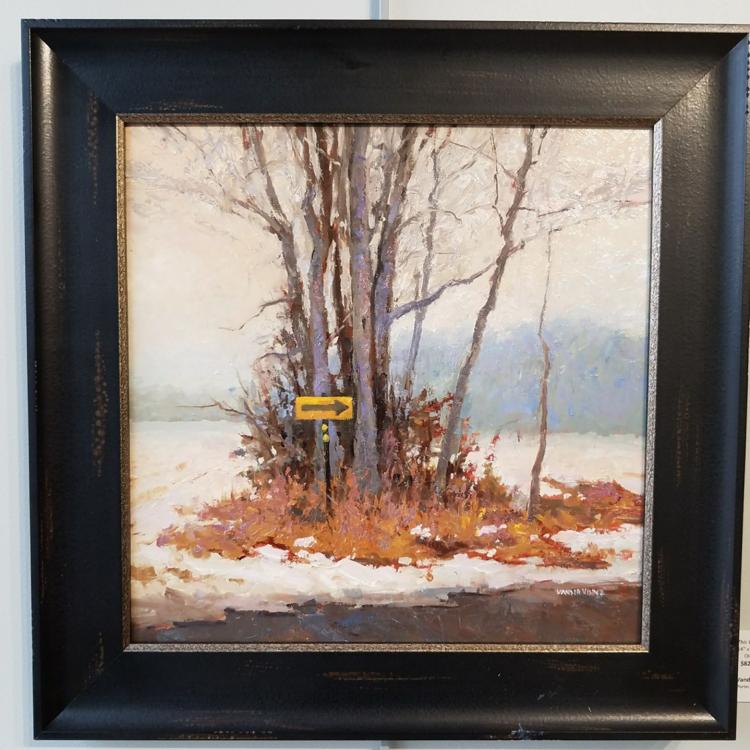 My last stop of the evening was the Evan Lurie Gallery, run by the same Evan Lurie who advised Mayor Brainard on planning for the Arts & Design District.  Lurie was at the gallery last night. So were paintings by two Jorge Santos and Alexi Torres.  
(Lurie also has been showing the abstract paintings of Indianapolis-based artist Susan Brewer in his gallery going back to 2013.)
The Cuban-born Torres has an amazing series of large-scale oil paintings in which he riffs on America by depicting its most iconic products as if they were woven out of wicker. The one, in particular, that I was drawn to Saturday night was "America IV."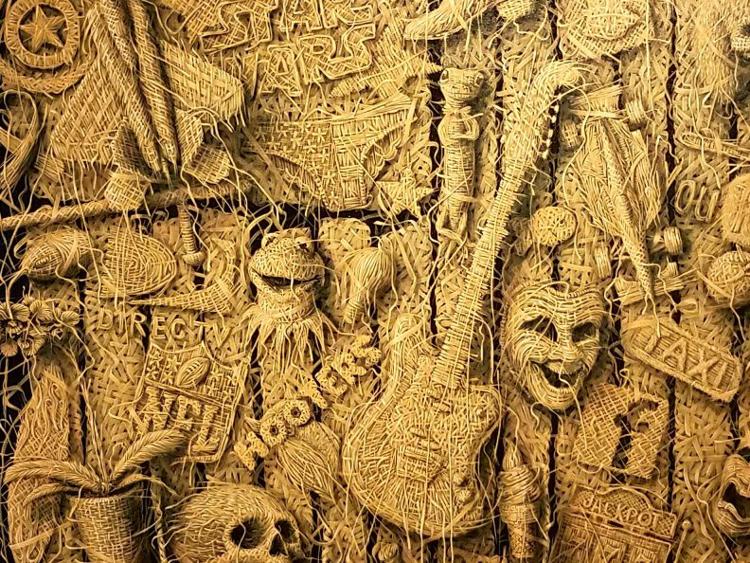 Santos is an artist who Lurie has represented since he first opened the gallery in the Arts & Design District in 2007.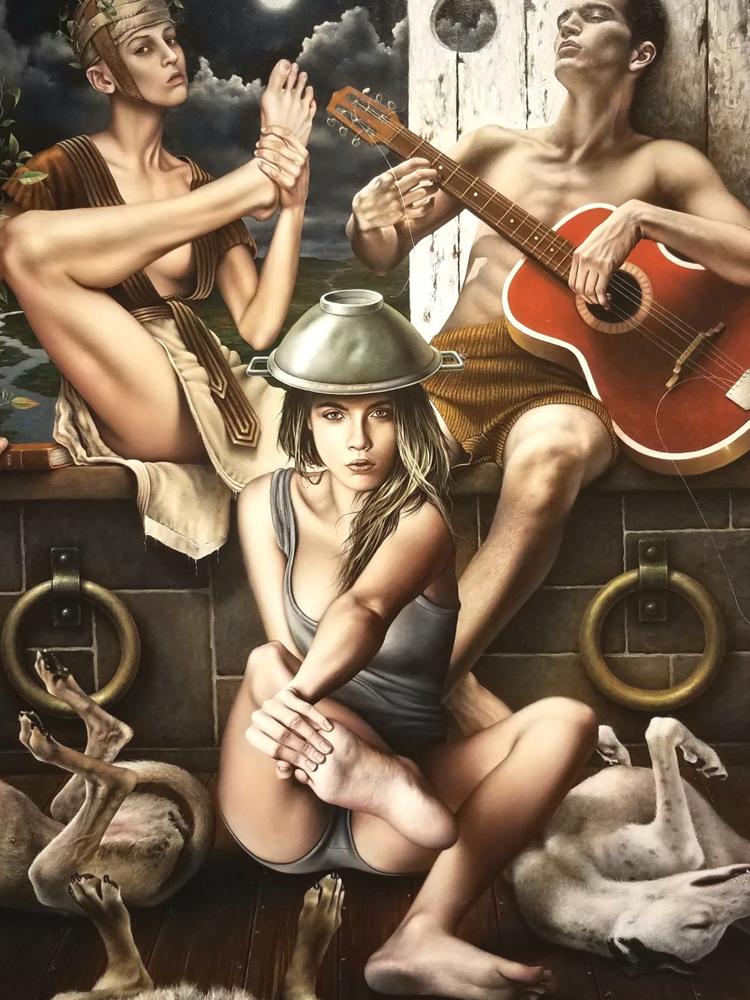 I've long admired the paintings of the L.A.-based Santos. I find his photo-realistic depictions of absurd situations completely captivating.  Back in 2009, I met him one at an opening at the Lurie Gallery. That evening, in front of an audience, he said, "When I found Caravaggio, I thought, this is a guy who paints like me."   
I'm not one to scold an artist for being a braggart unless there's pretentiousness involved and I think Santos might have had his tongue firmly in his cheek at that moment.  But I have to say that I'm finding some of his more recent portraiture, such as his "Cray-Z Loom Series" which (at least) suggests bondage, problematic in their depictions of women. Maybe it's because it's the era of the #MeToo Movement, maybe it's because I'm getting older, or maybe I'm less impressed these days simply and exclusively by technical virtuosity.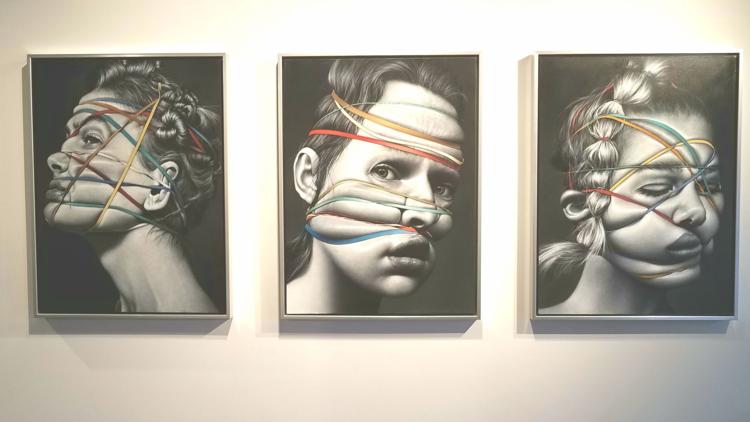 But one thing you can certainly say about Santos' work, whether portrait-based, or more narrative, is that it's never boring.  
In talking with Lurie, I asked him if his gallery was going to start keeping regular hours, because during the winter months the gallery hadn't been open all that much.
He said that during the winter months the gallery was busy selling in New York or Florida because that's where the business was.
I also mentioned to him that the Indianapolis Museum of Art (iMOCA) had finally found a permanent home. 
(At one point in 2009-2010, iMOCA had considered locating in the floor above the Lurie Gallery. But they ultimately declined.)
Lurie thought that was too bad.  "I wish they had, that would've been great for us."
"Really?" I said, thinking of the other museums in Carmel that it might have been in company with; the Firefighter's Museum, the Museum of Miniature Houses, and the World's Smallest Children's Art Museum. "Do you think that would have flown in Carmel?"
"They come in here, they don't want to see barns and cows and barns and pastures," he said. "They want to see edgier art."