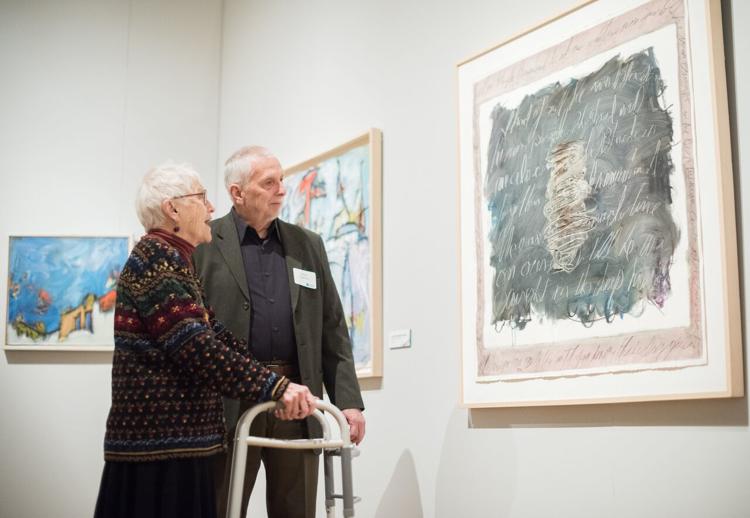 You could say that Lois Main Templeton, whose life and artwork are explored in the exhibition A Reinvented Life, had a substantial role in the development of the Indianapolis arts scene.
"She came out of Herron [School of Art and Design] in 1981 at 51 years old and didn't waste any time," says Mark.
Ruschman, senior curator of art and history at the Indiana State Museum. "She got busy with her career as a professional artist and was the first artist to rent studio space in the Faris Building."
Other artists soon joined her. And the Faris Building, now part of the Rolls Royce campus on the Near Southside, became a center for artmaking in the Circle City and remained so until the late '90s. (Templeton stayed in her studio at the Faris Building until 1999.)
"Think of the Stutz Building but just kind of funky—an old, raw warehouse building," says Ruschman. "It's the precursor to Stutz, the Harrison Center, Circle City Industrial Complex, and the Murphy Building."
The paintings that she created on her large canvases in that space were in an abstract expressionist vein at first.
"As she moved into the early '90s, she started incorporating her writing into her canvases," says Ruschman. "And she's always been a writer. She kept personal journals, she wrote poetry...At one point she said, 'I didn't know if I was a painter or a writer. And it turns out I was both.' So she just started incorporating her writing into her compositions."
This was a major shift for Templeton. While her work from this point onward was still abstract, writing on canvas became a way for her to overcome the artist's equivalent of writer's block.
"People don't realize how intimidating a large blank canvas can be," says Ruschman. "What she would do to free herself up is just start writing on it, writing her stories; and that would get her moving, and then as the painting progressed, sometimes it would be completely obscured."
Paintings from the 1980s all the way until 2017 are incorporated in the exhibition, as are examples of her journals, which touch on all aspects of her life and art.
"Sometimes it's about the paintings she's working on, sometimes it's about a meeting she had, sometimes it's about what she had for breakfast," says Ruschman. "But for her, that was all part of the daily process, daily journaling."
The exhibition also contains interactive exhibits as well that just might help you overcome any inhibitions that you may have about artmaking. There's a magnetic poetry wall where you can create poems based on examples of Templeton's paintings. And then there are tables where you can create your own art.
But Templeton's work wasn't bound by the edges of her canvases, as it were.
"She also taught college students," says Ruschman. "She went to Herron to teach students at night for several years right after she got the studio. She taught people with special needs…And she went out and took her art on the road, went into the prisons and taught art to inmates. She has got this extremely wide reach."
Her children's book Who Makes the Sun Rise?—created with the help of Indy-based artist Phil O'Malley—serves as an example of not only her art but of her work in the community. O'Malley and Templeton went out into Indianapolis' public and private schools with the book and used it to teach children how to read.
"When she was 80, in 2007, she and I were sharing a studio. She was closing down shop, and I was going to take over the studio. And I realized, 'This lady's not ready to quit,' and then we started working with the children's book," says O'Malley. "She since then has done about 300 paintings."
While Templeton has moved away from Indianapolis—she relocated with her husband to Orono, Maine, in 2012—she continues to make art. She travelled to Indianapolis for the opening reception and gave a walkthrough of the exhibition on March 18.
"She's a reinvented life," says O'Malley. "And she's reinvented herself more than once. After she had raised her children, she decided she wanted to do something meaningful again with the next phase of life. She said that she was too clumsy to dance, too old to learn an instrument. She couldn't sing a note, so what's left? Painting and writing. The retrospective is about Lois the painter and writer, and it's also about Lois Templeton the citizen, the teacher, the volunteer, the pioneer."