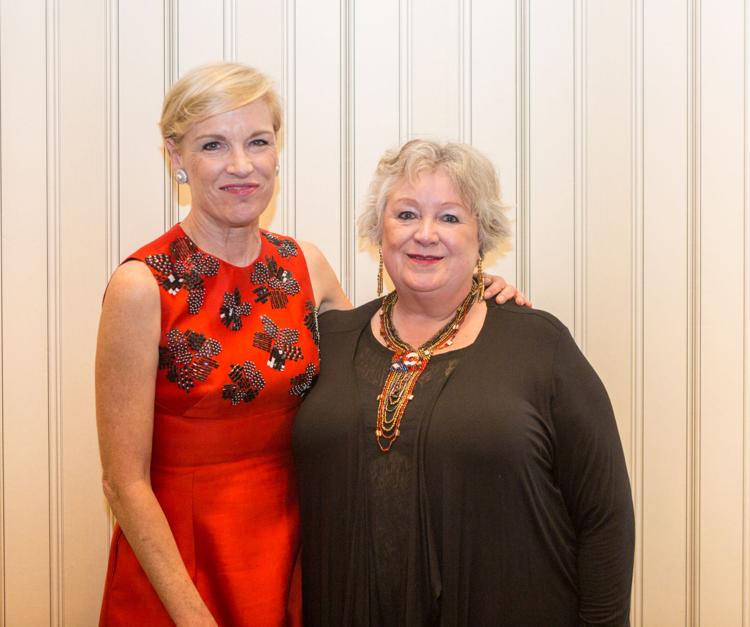 Just like our city, every year NUVO's Cultural Vision Awards evolve a bit. But our mission remains the same: the CVAs shine a light on those individuals and organizations in Indianapolis who are bringing cultural innovation to our community and making it a better place for us all to live.
This year, we're proud to celebrate six great individuals and organizations together at Centerpoint Brewing on June 14. Read a bit about our nominees below, and expect much more coverage in an upcoming cover story of NUVO. We'd be honored if you would come out, raise a pint and celebrate with us. This year's CVA gathering is free and open to the public. Find more information here. 
Lifetime Achievement Award Winner: Betty Cockrum of Planned Parenthood Indiana and Kentucky
As the president and CEO of Planned Parenthood of Indiana and Kentucky. Betty Cockrum has faced adversity on a daily, even hourly basis. But nothing has kept her from dedicating herself to the health and wellbeing of women in both states. Cockrum officially retires from PPINK this summer, but leaves behind a legacy of education and advocacy on behalf of women from all walks of life who seek the proactive healthcare every woman deserves.
She's won an WNBA championship, three Olympic gold medals, has been the WNBA MVP and a five time defensive player of the year.
Tamika Catchings of the Indiana Fever   
Tamika Catchings is probably best known for her stunning basketball career with the WNBA as a leader with the Indiana Fever for 15 years. She led the team to a championship win in 2012, brought home four Olympic gold medals, collected numerous awards and was named by fans as one of the WNBA's Top 15 Players of All Time. But what many people don't realize is that Catchings is a philanthropist and community activist on several levels. From her Catch the Stars Foundation, which helps underprivileged kids meet their potential through sports and academic mentoring, to her investment in local business, Tamika has proven her commitment to the Indianapolis community both on and off the court. 
Herb Miller of Lamp Records
The Limestone headliner is also one hell of a director
The unprecedented success of Motown Records in the 1960s influenced more than just a generation of musicians; Motown's CEO Berry Gordy also inspired a fresh crop of Black entrepreneurs seeking to replicate the label's great commercial and artistic achievements. Enter Indianapolis resident Herb Miller. In the late 1960s, Miller co-founded Lamp Records. The Indianapolis-based label recorded and released music from some of the city's greatest funk and soul acts, including The Vanguards, Amnesty, The Ebony Rhythm Band, and many others. Miller's business acumen helped secure national distribution for Lamp releases, allowing groups like The Vanguards to score hits on the national record charts. The catalog of music Lamp recorded stands as an extraordinary document of Indianapolis culture in the late '60s and early '70s.
Jared Thompson and Mat Alano-Martin of Limestone Comedy Fest
As of our writing, the 5th annual Limestone Comedy Fest is but a mere week away, and founders Jared Thompson and Mat Alano-Martin have booked another inclusive, diverse, compelling set of performers to take over Bloomington for another weekend of hilarity. From its first year (headlined by Tig Notaro, Maria Bamford and Pete Holmes and more) to this year (headlined by W. Kamau Bell, Fortune Feimster and Colin Quinn and more), Thompson (owner of Bloomington's Comedy Attic), Alano-Martin (a full-time touring comic) and a massive crew of volunteers carved out a stellar event that honors locals, showcases standups on the rise and brings out stupendous headliners.  Limestone is a fest not to miss.
The LGBTQ healthcare resources and med school reforms that are moving Indiana forward
Dr. Janine Fogel of Eskenazi Health Transgender Health & Wellness Program
Four years ago, Dr. Janine Fogel, a family medicine practitioner with Eskenazi Health, had an idea: to start the first transgender health clinic in the state. Since its creation, the Transgender Health & Wellness Program has been recognized by the Human Rights Campaign as a leader in LGBTQ Healthcare Equality. The clinic offers everything from primary care to gender-affirming surgery and mental wellness care. Doctors like Fogel will be the driving force behind the spread of cultural competency in Indiana's healthcare. And, by training the next generation of doctors to see and service diversity, it's another step toward equality in a state that has lagged behind for too long.
Chef Greg Hardesty
Indianapolis is becoming known as a top culinary destination to people around the world. And, while that's exciting, we have to remember we didn't get to this point overnight. We did so through decades of hard work from an array of chefs, cooks, restaurateurs, servers and bartenders. While it was a team effort, one chef and restaurateur helped shape our culinary field massively: Greg Hardesty (H2O Sushi, Elements, Room 4, Recess). Hardesty recently retired from the kitchen after closing his popular restaurant Recess, but during his 25 or so years in the industry, he's fostered some of Indy's top talents including chefs from Bluebeard, Pizzology, Milktooth and more. We are excited to honor Chef Hardesty for all that he has done to help make Indianapolis the food city it is today.